Jose Mourinho has delivered a scathing assessment of teenager Ruben Loftus-Cheek's post-season form, hauling him after 27 minutes of a friendly in Sydney and telling the 19-year-old their relationship had been damaged.
Mourinho pulled no punches with Loftus-Cheek who has made four senior appearances this season and is regarded as the first of the latest round of great hopes from the Chelsea academy who will make the leap to first team squad regular next season. Chelsea won the game against Sydney FC, in front of a 83,898 crowd at the ANZ Stadium, with a goal from Loic Remy and Mourinho had initially selected Loftus-Cheek to start, only to replace him with  the French academy boy Jeremie Boga in the line-up shortly before kick-off.
Lotus-Cheek came on for Diego Costa five minutes before half-time but played just 27 minutes before he was replaced by Jordan Houghton, also 19, another academy boy. Mourinho said: "When Chelsea had the ball he [Loftus-Cheek] was playing very well, but when Sydney had the ball I think he was more impressed by watching Nemanja Matic and John Obi Mikel work, instead of him working.
"So, with Ruben, it's one step back in terms of my relationship with him. If he doesn't know what it is to play for me and Chelsea, it's one step back. He has to learn that at 19 you have to run three times more than the others, you have to play to your limits and not play like a superstar with the ball at your feet because this is not Under-18s."
Chelsea v Sydney FC player ratings
Chelsea v Sydney FC player ratings
1/14 Petr Cech - 8/10

In what could be his last game as a Chelsea player, the goalkeeper was called into action several times but was never seriously threatened until the 88th minute when he made a top-class stop.

2/14 Cesar Azpilicueta - 6

The full-back brilliantly helped create the space that allowed Remy to score the opener.

3/14 Branislav Ivanovic - 6

The defender proved crucial in maintaining Chelsea's lead with two last-ditch clearances in the first half.

4/14 John Terry - 6

The Blues skipper made a strong challenge in the second minute of game and did well to clear the danger from Sydney late on.

5/14 Nathan Ake - 6

The left-back made a lovely run in the 23rd minute to create an early chance. He was a threat down the left flank before being replaced at half time.

6/14 Jon Obi Mikel - 6

Looked comfortable in midfield and his work allowed Matic to go further up-field.

7/14 Nemanja Matic - 6

Was freed to get involved in some of Chelsea's attacks and indeed went for goal in the 11th minute.

8/14 Loic Remy - 8

The Frenchman made up for driving an early shot wide with his stunning opener. He was a constant threat throughout the game and really should have doubled Chelsea's lead in the second half.

9/14 Jeremie Boga - 6

The French attacking midfielder was quiet early on, but played a role in the opening goal before driving a shot high later.

10/14 Eden Hazard - 8

The Belgian showed why he picked up the PFA Players' Player of the Year award as he constantly impressed with his skills and fancy footwork although he didn't get on the score-sheet.

11/14 Diego Costa - 7

The striker twice came close to scoring in the first half and looked sharp and alert until being substituted minutes before the break.

12/14 Ruben Loftus-Cheek - 4

Lasted about 20 minutes before being forced off with an apparent knock, although Mourinho's criticism afterwards suggested there might be more than meets the eye.

Getty Images

13/14 Dominic Solanke - 5

It was a quiet game for the player who scored against Thailand All-Stars and he was brought off eight minutes from time.

14/14 Andreas Christensen - 5

Unleashed a fine shot in the second half which was saved by Sydney's goalkeeper.
He continued: "The Under-18s competition is too easy for him. He's too good to play in the Under-18s. But I don't accept that when he's playing in midfield with Mikel and Matic, when we don't have the ball he doesn't press, doesn't have intensity and he's waiting for everybody else to recover the ball. I don't accept that in the superstars so how can I accept that in a kid? He has to learn what it takes to play for us."
Costa has denied suggestions in Spain that he is unhappy at Chelsea and wants to return to Spain. The Spain international, from Brazil, said: "It's always a bit more difficult in the first season for adaptation, but I have no reason to leave this place, I love it, the fans love me and I want to stay."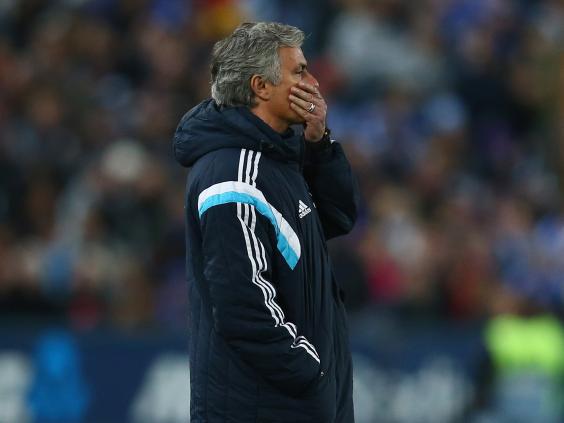 Mourinho said: "He [Costa] is the guy responsible for everything good we have in the dressing room. He's so happy, so funny. He enjoys every minute and is the happiest guy in the dressing room. If this is unhappiness I'm happy with that. He was not happy with the news [that he might leave]."
Reuse content