The party lasted a mere 20 seconds. When referee Martin Atkinson blew his whistle to signify the most miserable and inept of seasons had thankfully finished without the disaster of relegation, there had been celebration.
Then the Gallowgate End, the heart of St James' Park, burst into song: "Get out of our club, get out of our club, you fat cockney bastard, get out of our club."
It was an instant reminder that the romance of Jonas Gutierrez scoring on his farewell appearance after recovering from cancer to save Newcastle would not erase the problems and the deep anger that lies within the support towards the club's owner, Mike Ashley.
Banners were unfurled. "Same again next season," read one. There was an attempted sit-in – and many fans did stay – but the relief that the misery was over propelled most  to Tyneside's watering holes.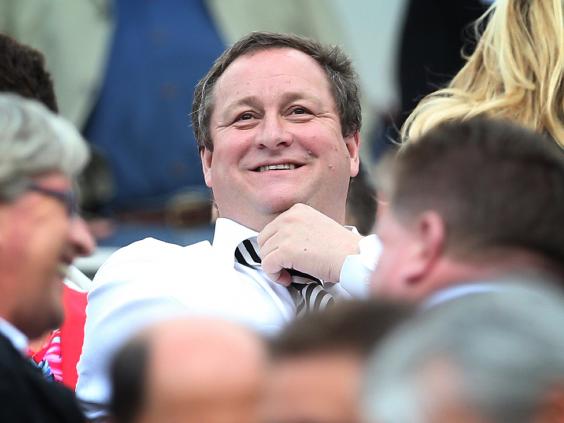 Ashley had issued a chilling warning to the Newcastle fans before a ball was kicked, promising, in a rare interview, to stay at the club until a trophy had been won.
It is worth remembering two things.
Firstly, a comment from former manager Alan Pardew, who ran from this mess as soon as he had the chance. "He [Ashley] sometimes can't understand how it works and it confuses and upsets him," Pardew had said. "And when he is upset he does things that aren't brilliant for the football club." Staying would perhaps fall into that category.
Second, there are the findings of the Premier League arbitration panel back in 2008, after Kevin Keegan successfully sued the club for constructive dismissal. Officers of the club had made statements that Keegan had the final say on transfers that they later claimed were "simply untrue" and "nothing more than an exercise in public relations", comments the panel found "profoundly unsatisfactory" and a reminder to take Newcastle statements with a pinch of salt.
The statement Newcastle made on the pitch spoke  volumes.
West Ham had scored only once in their previous five games away from Upton Park, their manager, Sam Allardyce, knew he was leaving and the players had spent five days on their jollies this week. Yet, it was still a desperate struggle for Newcastle, who have largely forgotten how to play the game.
Emmanuel Riviere was the only centre forward Newcastle thought they needed to sign last summer. Once again yesterday he was pitiful, missing two chances in the first half and one in the second.
When Moussa Sissoko headed in his goal, after 54 minutes, there was a burst of relief from the terraces.
With five minutes remaining, Gutierrez, a vocal critic of the club this season, slipped a second into the bottom corner of Adrian's goal.
Pandemonium ensued as the Argentine held his hands to his ears after twirling his shirt around his head. In that moment, Newcastle felt like a football club again.
Reality looms, however. Newcastle do not have the players, a manager or a board to inspire confidence that this situation will not be played out again in the future.
"He [Ashley] wants this club to be united," said the temporary head coach, John Carver.
It isn't. It is a million miles away from being united.
Reuse content