West Ham were widely expected to end their association with Sam Allardyce at the end of the season - and they duly did.
Just minutes after the final kick of the ball in their game against Newcastle, the club published a statement on their website confirming that they would not be renewing their manager's contract.
However, in an embarrassing glitch for the club, the statement on their official website appeared ready to go during half-time of West Ham's 2-0 defeat at St James' Park.
The publish date says the statement was last updated at 15:52 - about the time Allardyce would have been talking to his players in the changing rooms.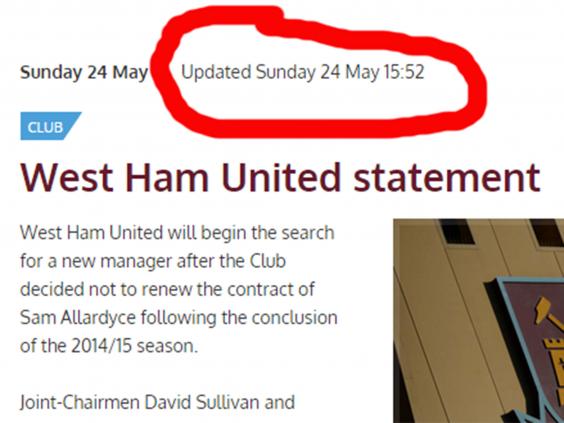 However, the actual article was not available for the public to view until after the final whistle at St James' Park and the club say the time appearing on the article is due to an issue with their website's clock.
In the statement on Allardyce's departure, it says that joint-chairmen David Sullivan and David Gold "will now oversee the recruitment process for a new manager to lead the Club into one of the most exciting eras in its history."
STATEMENT: The Club have begun the search for a new manager after deciding not to renew Sam Allardyce's contract http://t.co/wHlHhyMLZE

— West Ham United FC (@whufc_official) May 24, 2015
Among those liked with the role are former player Slaven Bilic and former Manchester United manager David Moyes.