Regrettably, it is still the case that after three years as the first-team doctor at Chelsea, Eva Carneiro is occasionally invited by opposing fans to "get your tits out for the lads" when she is tending to an injured footballer or walking along the touchline.
As Dr Carneiro will doubtless be aware, there is no known cure for the insecure male who enjoys demeaning women as part of a larger crowd of similarly insecure men. It is a condition he will probably have to endure for the rest of his life unless by some miracle he develops late-onset maturity. Either way, it does not seem to concern Dr Carneiro, who has enjoyed an impressive five-year career at a club where the pressure is high and the demands relentless.
Not that she has ever courted publicity or given an interview to a British newspaper. The head of the club's medical department is Dr Paco Biosca, with Dr Carneiro the most visible because she comes on to the pitch to treat players. She has worked under four first-team managers, starting with Andre Villas-Boas and flourished under all his successors, not least Jose Mourinho, who cleared out the club's medical department in his first stint at the club.
It strikes me that if Mourinho had to be told a hard truth about one of his players – that, for instance, an individual was in danger and had to leave the pitch – Dr Carneiro would not hesitate for a second to do so. She is, after all, a professional and whatever the demands that Mourinho makes of his players in all games, her priority is the players' well-being.
During Sunday's win over Arsenal she judged the Chelsea goalkeeper Thibaut Courtois, after a 56-second examination, well enough to stay on the pitch following his collision in the 12th minute with Alexis Sanchez. Fourteen minutes later, Courtois signalled to the bench, sat down on the pitch and was taken off immediately.
It prompted an outbreak of concern that concussion was not being taken seriously enough in football. Taylor Twellman, the former MLS player who was forced to retire because of concussion-related injuries, tweeted (below): "Courtois wasn't evaluated properly".
So you guys want me to be convinced that the EPL Concussion Protocol has made a difference?! Courtois wasn't evaluated properly. #CHEvARS

— Taylor Twellman (@TaylorTwellman) October 5, 2014
In a statement, the brain injury charity Headway's chief executive Peter McCabe said it was "hard to understand how a concussion was not suspected following the sickening clash". He acknowledged the difficulty of a television diagnosis but pointed to footage of Courtois bleeding from the ear as an indicator that the injury could have been serious.
As it turned out, McCabe was certainly right about the dangers of a television diagnosis. The blood that Carneiro could be seen to be wiping away from the side of Courtois' face was not coming from his ear but, the club have indicated, an external cut. On the pitch, Courtois was subject to an approved concussion detection procedure which he passed. When he later went to hospital for precautionary tests, they revealed he was not suffering from concussion. He was sent home later on Sunday evening.
After the match, Mourinho confirmed there was no input from him on whether the goalkeeper should stay on. "I always tell them [the medical department] that, when I'm on the bench, I don't want to communicate with them. I just want them to give me a decision. They gave me their decision. For me, that's correct."
The issue of concussion in sport is naturally enough a delicate one. McCabe called for a "safety-first" approach. Previously he had said that all players under suspicion of concussion "must be removed from the field of play and not allowed to return". But not every head injury can be concussion, and in this instance it turned out that even Courtois' subsequent withdrawal from the game did not make that the case.
At Stamford Bridge on Sunday, as per the new concussion protocols in the Premier League, a doctor was stationed in the tunnel with access to replays. He can be called on for a second opinion and was consulted after Courtois went off the pitch.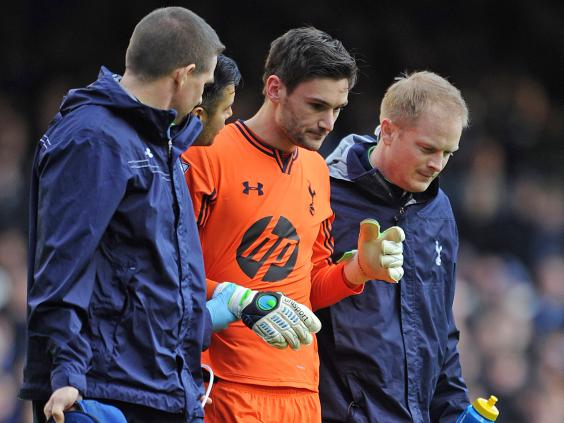 These protocols were brought in to guard against the kind of mistakes that meant Twellman played on having suffered concussion. A factor in their introduction was the blow to the head sustained by the Tottenham Hotspur goalkeeper Hugo Lloris last season, so too the head collisions for the Everton striker Romelu Lukaku and the Stoke defender Robert Huth.
Although there are other sports, such as American football, where there is a much greater risk of injury through concussion, it can never be taken lightly by English football, especially with modern players conditioned to go quicker and harder than their predecessors.
That said, every case has to be judged on its merits. It is quite a leap to make the diagnosis remotely, although Headway's decision to seize the agenda yesterday shows that alone is not enough to deter some. Subsequently, Chelsea had little choice but to release a statement on Courtois, not something they tend to do as a matter of course with injuries.
In the middle of all this is Dr Carneiro, who got it right on Sunday. As with all her counterparts in the Premier League, the responsibility of making that call on the pitch – and what a huge responsibility it is – rests with her. It is a comfort to know that she and her fellow doctors have the final word on whether a footballer stays on or comes off. The rest we leave to their expertise.
Let's send for Lineker to complete his half-century
Having given long consideration to the problem of filling Wembley on Thursday for the Euro 2012 qualifier against San Marino, my view is that it presents a unique chance to rewrite the history of the England team. England have scored 26 goals in their four qualifying games against the Most Serene Republic. So let's share those goals around – and I'm not just talking about the back four. For the last 20 minutes, and hopefully with victory assured, why not send on Gary Lineker to get his England goal No 49, and maybe even No 50?
It would be a sporting spectacle like no other. The England international you never thought you would see again, scoring the goals he never quite managed 22 years ago. Uefa might claim it would be failing to take the game seriously. But what could be less serious than Uefa failing to ensure a competition in which the hapless San Marino have to pre-qualify?
Granted, Roy Hodgson and Lineker (in decent nick at 53) have not always seen eye to eye. But look at it this way, Roy. It would put another 20,000 on the gate.
Van Gaal should keep his players close this winter
International week beckons and so begins the usual run of money-spinning friendlies in far-flung places well away from the territory of the countries playing. Argentina meet Brazil in Beijing and then travel to Hong Kong for a match against that national team, rated 162 Fifa ranking places below them in 164th. Louis van Gaal's frustration that Angel Di Maria and Marcos Rojo must travel all that way for a game without merit is understandable. Although if United embark on lucrative midweek friendlies in the Gulf this winter, his point will be diminished.
Reuse content