In 2009, Raheem Sterling won the London Youth Games Under-14s football tournament with his London borough representative team, Brent, a small but significant step in his development as a footballer who, by the age of 17, was a substitute for Roy Hodgson's England team at the biggest stadium within Brent's borders, Wembley.
One aspect of Sterling's development that stood out was his loyalty to playing for his borough – or district, as it is known in London schoolboy football – even after he was scouted and enrolled at the Queen's Park Rangers academy. Often the academies of Premier League and Championship clubs pressure their players into abandoning their district teams but some, like Sterling, play on anyway, because it is a high standard of football with a kudos attached.
Winning at the London Youth Games loomed large in the life of Sterling. He was the star of the team even then, 10 years after his mother had brought him and his sisters from Jamaica to live in north-west London. The Youth Games are like the World Cup and the Olympics rolled into one for London schoolchildren, encompassing athletics, basketball, golf, fencing, judo, angling and even sailing among their 31 sports.
Alumni of the games include Rio Ferdinand and Ashley Cole, as well as the latest big prospect, Jordon Ibe. Beyond football, Mo Farah, Christine Ohuruogu, David Weir, Bradley Wiggins and Luol Deng are among those who have competed. It has been going for 38 years and, spread over nine months, bills itself as Europe's largest annual youth sports event. For exceptional sporting teens – and even those who are simply good – it is the biggest date of the sporting calendar.
Brent Council has let it be known this year that, for the first time, it will not be entering any sports team in the Youth Games. Funding cuts imposed by central government mean the £7,000 entrance fee across all disciplines is a cost the council believes it can no longer justify.
It is hardly the first austerity measure the borough has had to bear: it shut six libraries in 2011 and, as a resident, every day I walk past one that was boarded-up after 110 years of service. The news about the Youth Games has come as a punch in the gut for those who give their time for free to run teams for boys from often deprived backgrounds, in an urban football district intensively scouted by professional clubs.
Not that the picture is much better across the neighbouring London boroughs spreading out from Wembley, the home of the Football Association. Ealing and Hounslow no longer even have district teams, Harrow has a reduced number and Haringey runs them only at junior school level.
The difference £7,000 would make in the same month the Premier League announced its £5.13bn television deal hardly needs pointing out. Nevertheless, Brent's cut is essentially government-enforced and Richard Scudamore, the Premier League chief executive, has already made it quite clear that he will not be filling the funding gap left by the politicians. Who can blame him? They would spend that money in the blink of an eye.
The political opportunism in the backlash to the Premier League's new television deal has been risible at times, and its blatant nature has brought out the worst in Scudamore. He has a tendency to lash out when cornered and so it proved in that fateful BBC interview the day after the deal was announced when Scudamore retorted that the League was "not a charity".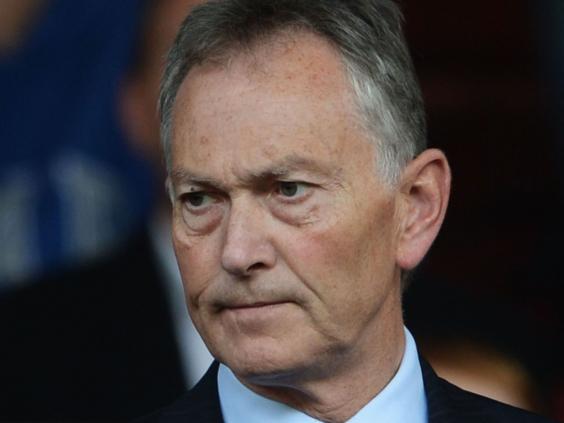 No one would claim that the League should have a charitable relationship in places like Brent with unpaid coaches, who act as administrators and minibus drivers. That would be to suggest those people bring nothing to the table that was worth paying for. Instead, they have done much that you could put a price on – the development of Sterling, for a start – and whoever the next star is on the football pitches at the 2015 London Youth Games.
Scudamore has always preferred putting the League's charity money into physical assets, mainly 3G pitches like the one in Willesden, in Brent, where the League held its big-name media launch in August. But, as cuts bite deep into sports provision, that policy needs to change. There is a point in youth development where the responsibilities of government, local authorities and elite football meet and where those responsibilities have to be discussed and shared out fairly.
That responsibility is difficult to measure, but the longer the Premier League resists, then the more the domestic production line to its League is damaged. It is hard to put a figure on the work of people who run the elite district football in places like Brent, scouting and coaching teams that might produce one future pro a year, or two, or none. It is hard, but if no one tries it might stop altogether and then the output will be none every year.
Of course, Scudamore can always frame solid arguments that this is government's responsibility or a problem for the FA. He can reject the clamour for clubs to pay a living wage to all staff, because he is under no legal obligation to do so until the politicians legislate. But if you were to spend a day on the touchlines of representative teams like the one in Brent, you might start to wonder if those spheres of responsibility are as clearly defined as you think.
The head of Brent schools football association, Chris Ampofo, is a friend of mine. Sometimes Chris covers the cost of teams' minibus hire out of his own pocket and tries to work out a way of paying himself back over the next few months' budget. He does it because he loves football and played for Brent himself as a schoolkid in the 1970s, when he was scouted by West Ham.
The Premier League charitable fund has given Brent £1,000, albeit with the strict stipulation it must be spent on a new Premier League-branded kit. The money was appreciated, although it does not get close to solving the London Youth Games issue. Yet every time Chris's team plays, he cannot help but notice that on the touchline he sees the faces of men who, he knows, scout for Premier League clubs.
They are there because teams like Brent are an important part of the supply line, operating a scouting network in a population of around 20,000 schoolboys and girls to produce elite district teams. They just want the basic means to find and develop more footballers like Raheem Sterling and they do not want to beg for charity. The modern reality for them is that they have no choice to do anything but.
Reuse content