Sean Dyche has appeared in a 10-minute online interview to hit back at Chelsea manager Jose Mourinho after he appeared on TV on Sunday to criticise the performance of referee Martin Atkinson in the wake of the 1-1 draw with Burnley.
Mourinho claimed there were four "crucial moments" that Atkinson got wrong, which had an effect on the final result, while he took aim at Burnley forward Ashley Barnes for his sickening challenge on Nemanja Matic that led to the Serbian being sent-off.
Matic felt the full force of Barnes as his studs-up challenge landed halfway up his shin, and the Chelsea midfielder was lucky to escape any serious injury in what Mourinho labelled a "criminal challenge".
However, Matic, after rolling on the floor briefly, shot up to his feet and made a beeline for Barnes, pushing him over n an aggressive manner that earned himself a straight red card and possible three-match ban.
It has been reported that Chelsea will appeal the ban, although the Football Association yesterday confirmed that Barnes would not face any retrospective action as Atkinson saw the incident at the time.
In a 10-minute interview with Burnley TV, which Dyche claimed was necessary to "give a balanced view" on the game's events, the Burnley boss defended Barnes' challenge.
Watch the video below...
"When moments like that occur, it's very rare there is not a reaction to that moment in the stadium," Dyche said.
"Look at the reaction from a bunch of expert footballers from the Chelsea side - the likes of John Terry, Kurt Zouma, Branislav Ivanovic - big, strong boys who are on right top of this moment.
"Jose Mourinho has a similar view to me, the crowd behind me, circa 15,000, no-one reacts. In live time no-one reacts except Matic.
"After the event, with hindsight and slow motion, statements like 'criminal tackle' are being used. I find that hard to adjust to."
Dyche also believes Barnes' tackle was not malicious, but instead a natural movement of his leg after the forward failed to complete a pass.
"After the event of course, it looks an ugly challenge," Dyche said.
"Ashley Barnes tried to play the ball down to Dave Jones behind him, his momentum and the pendulum motion of his leg swings up through the ball.
"Matic is late getting there - not in a vicious way - but that means his (Barnes') leg pendulums through and hits him on the shin."
Dyche also addressed the other three incidents that Mourinho cited, including two Chelsea penalty appeals that Atkinson turned down before half-time.
Watch Mourinho's original comments below...
The Burnley boss admits Michael Kightly's handball in the 33rd minute would "usually" result in a spot-kick but insisted Jason Shackell's apparent push on Diego Costa eight minutes later was harder to call.
"Jason Shackell definitely gets a mild hand on him - is that enough for him to go down? It's a real debating point," Dyche said.
"That's a close one. The first one usually gets given but that one is a real tough one for referees.
"He (Costa) is off balance anyway, he gets a slight nudge and he goes down.
"I'm not remotely saying he went down easily or is trying to simulate, I just mean it's a mild contact which inevitably means he ends up on the floor.
"I think that's a tough one, particularly when you consider the referee's actual angle to see that incident."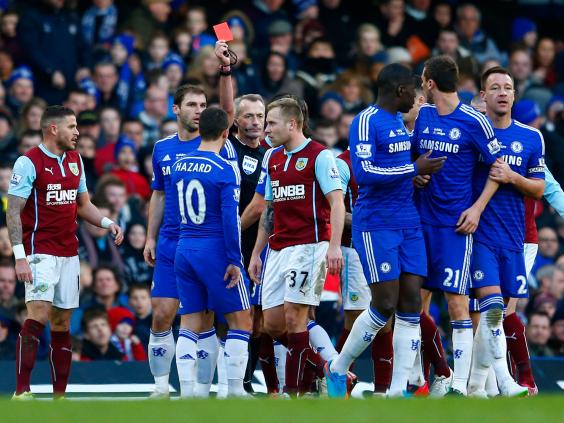 Chelsea felt aggrieved that Burnley were not reduced to 10 men after half an hour when Barnes jumped into Ivanovic, thrusting his knee into the defender's back.
Dyche, however, argued the movement was similar to that which "goalkeepers take when they receive a ball in the air to protect themselves" and believes it merited "at most a yellow card".
He also had two complaints of his own, suggesting Costa could have been punished for kicking out at Shackell late on and that Chelsea should have given Burnley the ball back after the visitors had put it out of play.
Additional reporting by PA
Reuse content