SUNDERLAND MUST TAKE CHANCE EARLY AGAINST SLOW-STARTING ARSENAL
Arsenal didn't have a shot on target in the first half against Swansea last week, but that's more that can be said of their 1-1 draw with Manchester United on Sunday.
The Gunners didn't manage a single shot in the opening 45 minutes, let alone one that was heading in the direction of David De Gea's net, and their recent slow starts have to be cause for concern for Arsene Wenger for their remaining games this season – which includes the FA Cup final.
Before the Wembley showcase comes around though, Arsenal face a Sunderland side needing a point to stay in the Premier League next season. If the Black Cats are to gain any success, they will have to storm out of the blocks and catch the Gunners cold. Arsene Wenger has named an unchanged line-up for their last six games and fatigue does look to be a factor, and if Sunderland can convert their chances early on, the Mackems can prepare for another season in the top flight with a game to spare.
Manchester United 1 Arsenal 1 player ratings
Manchester United 1 Arsenal 1 player ratings
1/24 David De Gea

Didn't have a single shot (either on or off target) to contend with in the first half as Manchester United kept Arsenal at arm's length. Alarmingly for the Old Trafford faithful, his departure felt like it could be his last. 7

GETTY IMAGES

2/24 Antonio Valencia

Galloped down the flank with intent and was prepared to track back when required. 7

GETTY IMAGES

3/24 Chris Smalling

A surprise choice to captain the Red Devils, in Wayne Rooney's absence, the England defender delivered a composed and authoritative display. 7

GETTY IMAGES

4/24 Phil Jones

His head-first 'slide tackle' is likely to be lighting up Twitter news feeds this evening but it was an instance which underlined his determination to succeed at Manchester United. 7

GETTY IMAGES

5/24 Marcos Rojo

Was on hand to denyAaron Ramsey in the second half on one of the rare occasions where Arsenal managed to forge a way through the United backline. 7

GETTY IMAGES

6/24 Daley Blind

An assured and impressive display from one of the more reliable figures at Louis Van Gaal's disposal. 7

GETTY IMAGES

7/24 Juan Mata

The Spaniard likes to pull the strings and, with Marouane Fellaini and Ander Herrera by his side, he was given licence to do just that. 7

GETTY IMAGES

8/24 Ander Herrera

Another excellent and exuberant performance from the little man in midfield. If he wasn't 'dancing' through his Arsenal peers, he was spraying the ball across the pitch to his United colleagues. 8

GETTY IMAGES

9/24 Marouane Fellaini

A quieter outing than usual for the former Everton man. Gave United his typically menacing aerial threat but nothing much else. 6

GETTY IMAGES

10/24 Ashley Young

Never stopped running after lost causes and creating opportunities out of nowhere. If Ashley Young does not receive an England call-up, football pundits across the land should eat their hats. 9

GETTY IMAGES

11/24 Radamel Falcao

He tried, of course he did, but it just isn't going for the Colombian at Old Trafford. Leaving the pitch, to make way for Robin van Persie, he even appeared to wave to the United supporters. 6

GETTY IMAGES

12/24 Off the Bench: Víctor Valdes

Made his quite awaited debut during second half where he replaced an injured David De Gea. Had no responsibility for the equaliser but only played for 20 minutes. 4

GETTY IMAGES

13/24 David Ospina

Like David De Gea at the other end, the Arsenal goalkeeper had precious little to do. He could have read today's copy of the Independent on Sunday on occasions. 7

GETTY IMAGES

14/24 Hector Bellerin

Faster than Theo Walcott, you sometimes wish the former Barcelona man would run at opponents more often. Nonetheless this was an impressive outing. 7

GETTY IMAGES

15/24 Per Mertesacker

Luckily for the German defender, Manchester United don't have too many pacey attackers at their disposal at the moment. His aerial talents continue to play their part. 7

GETTY IMAGES

16/24 Laurent Koscielny

Had to be alert with Ashley Young stalking the flanks with intent but stood firm when crosses were fired his way. 7

GETTY IMAGES

17/24 Nacho Monreal

Often liable to be caught in possession, Nacho Monreal was clearly keen to keep the ball and distribute well this afternoon. As far as that ambition goes, he did well. 7

GETTY IMAGES

18/24 Francis Coquelin

The Frenchman's superb breakthrough season continues. This was a hardly glittering display from the ex-Charlton loanee but he played his part in a valuable away point. 7

GETTY IMAGES

19/24 Santi Cazorla

With his wasp-like attitude to chasing lost causes, the Arsenal playmaker was a menace without doing anything too menacing. His presence is enough to alarm defenders and, on another day, he could have won it for Arsene Wenger. 7

GETTY IMAGES

20/24 Aaron Ramsey

One of Arsenal's best players. The Welshman always knew where his teammates were and has the quality to find them with an unrivalled precision. 8

GETTY IMAGES

21/24 Mesut Ozil

Another quiet outing from Mesut Ozil but, considering his brilliant form of late, we'll forgive him for one off-day. The German toiled with Marouane Fellaini in the centre of the park but often came off second best. 6

GETTY IMAGES

22/24 Alexis Sanchez

If Arsenal were to have a foray into the United half, it would usually have something to do with their Chilean superstar. Alexis Sanchez is the sort of player Arsene Wenger can build a team around. 7

GETTY IMAGES

23/24 Olivier Giroud

It's been an odd season for the Gunners' forward but his head has never dropped and that is most definitely to his testament. 6

GETTY IMAGES

24/24 Best of the Bench: Theo Walcott

Benefited from a very generous slice of luck to drag Arsenal level but nonetheless had to be in the right place at the right time to score his goal. 7

GETTY IMAGES
GIROUD HAS HIS TALENTS, BUT HE SIMPLY DOESN'T OFFER ENOUGH
Olivier Giroud has done well to answer his critics who said he wasn't good enough for Arsenal, but the time has come for the club to reassess where they're aiming for and the simple matter is Giroud doesn't have the skill set to lead a Premier League title challenge. Giroud missed a glaring opportunity when one-on-one with De Gea, and he lacks the yard of pace that would make him a dangerous striker rather than just a talented one.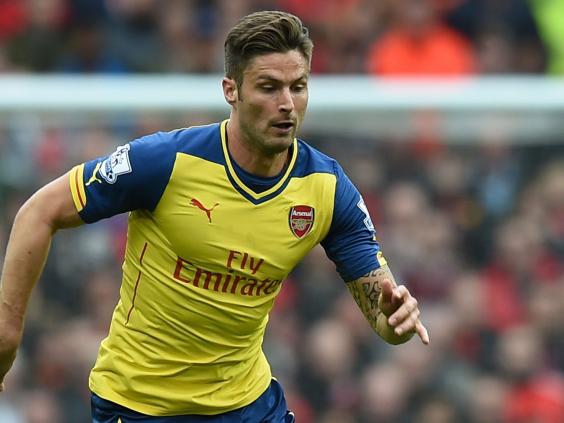 With Mesut Özil filling the attacking midfield role, Arsenal need a striker who is just as good as finishing as he is blessed with pace, given that the German rarely accelerates into top gear. The Walcott certainly has the pace but he is yet to display the natural finishing ability, and Giroud simply doesn't meet that criteria, so who does? The answer is in the transfer market.
LIVERPOOL LOST TO PALACE BEFORE GERRARD HAD WALKED OUT AT ANFIELD
Take a second to think about what was going through Jordan Henderson's mind ahead of Liverpool's 3-1 defeat to Crystal Palace. Or Raheem Sterling's, or even Simon Mignolet's. The way that Steven Gerrard's final game at Anfield was built up, both by Liverpool and by Sky Sports, meant that every other player in Red was rendered obsolete from the word go.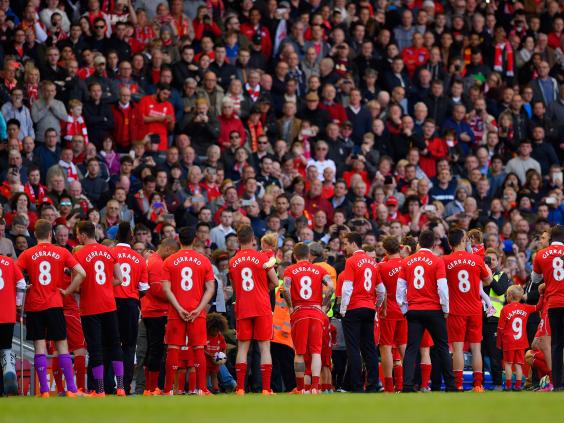 The whole thing was billed as Gerrard's special day, only no one had told Placae the script, and their players turned up with their heads screwed on in the hope of an upset. The performance echoed that of Pardew's arrival at the club, where eight victories in 12 matches secured their Premier League status, and the problem for Liverpool is this wasn't even Gerrard's final farewell – we'll have to sit through the same against next Sunday.
PEARSON IS LIKE MARMITE, BUT YOU HAVE TO RECOGNISED HIS ACHIEVEMENT
Like him or love him, Leicester have performed a miracle to remain in the Premier League given their start to the season. A glance at the form table says everything you need to know about their turnaround, having taken as many points in their last eight games as they did in their first 29. The draw with Sunderland confirmed their status in the Premier League for a second season, and a glance at the Pearson highlight reel makes that accolade even more impressive.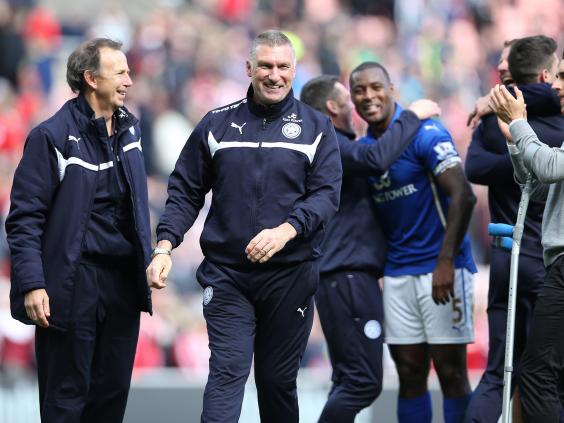 An on-field spat with Crystal Palace midfielder James McArthur, an X-rated rant at a Leicester fan and a bizarre back-and-forth with a journalist regarding ostriches have all put Pearson in the headlines for the wrong reasons, but the survival with a game to spare has overshadowed all of those incidents for the right ones. Premier League manager of the season? Perhaps not, but if it was judged on pre-season expectations alone then he'd be a shoe-in.
WHEN WILL IT BECOME TOO MUCH FOR NEWCASTLE?
You have to credit Newcastle fans, but where do they draw the line? They've protested relentlessly against the club's owner Mike Ashley, shown their distinct disapproval at manager Alan Pardew and are now facing a second possible relegation in six years. They got their wish with Pardew – who must be looking at the table with half a smile on his face despite wishing his old club the best – but in John Carver they've slipped relentlessly down the table and with just one game remaining are far from safe.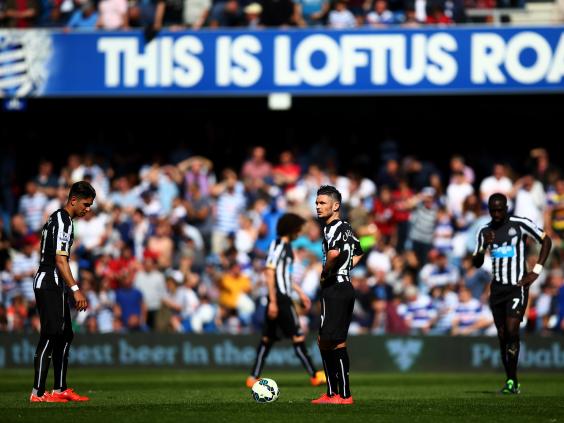 Yet the fans refuse to give up wholeheartedly. They still travel to St James' Park on the weekend in the hope of a rare victory, some of them even travel up and down the country to follow the Magpies, and with ever-increasing ticket prices not doing them any favours the question must be asked of where do they draw the line? The 2-1 defeat to already relegated Queens Park Rangers could be the reason they needed to boycott the final game.
SHERWOOD NEEDS TO ADDRESS VILLA'S WOES AT THE BACK AS WELL AS ATTACK
Christian Benteke has already been sounded out by Liverpool ahead of a proposed summer move, and he showed his hunters instinct once again to score a header against Southampton on Saturday. The problem was though that Aston Villa had already conceded five times in the first half, and allowed one more past goalkeeper Shay Given before the one-sided fight was officially called off.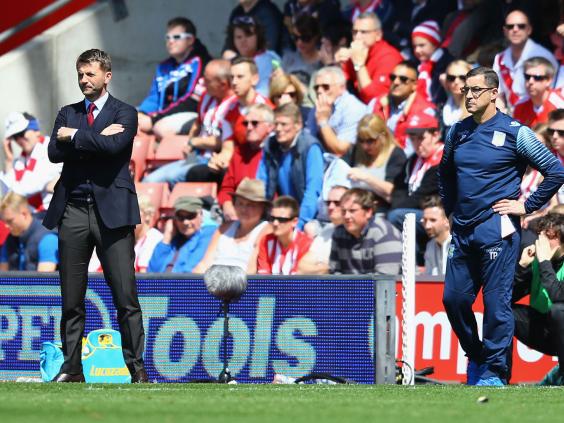 If Tim Sherwood could have thrown in the towel he may well have done in order to save any little bit of confidence for the FA Cup final in two weeks' time. Villa's defence, having been cut open so easily by Sadio Mane, Shane Long and Graziano Pelle, will need rebuilding mentally before they can take to the pitch again and be confident that they can keep a clean sheet. Sherwood has a mountainous task on his hands.
BRUCE COMPLETELY LET DOWN BY LIVERMORE
The post-game interview with Steve Bruce following the 2-0 defeat to Spurs was almost heart-breaking. The manager has to contend with the fact that barring a miracle on Sunday, his side will be playing in the Championship next season having just witnessed a number of chances spurned by the Tigers in a game they realistically could have won.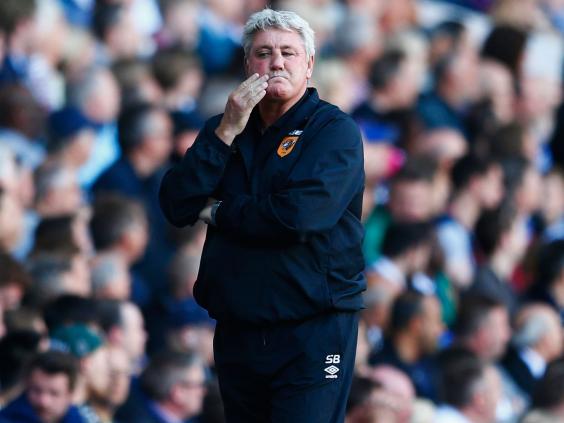 But the killer blow was the news that emerged on Friday afternoon that Jake Livermore has failed a drugs test after testing positive for cocaine. Having spent £40m in the summer in the hope of Premier League survival, £8m of which was spent on bringing in Livermore on a permanent deal from Spurs after a successful loan spell, Hull could ill-afford to lose one of their key players in such circumstances. Bruce admitted his feelings were ranging from upset, angry and let down, and you got the idea that he represented not just the club, but every single person that calls themselves a Hull fan.
Reuse content