Manuel Pellegrini said that his Manchester City team had the spirit and personality to fight Chelsea all the way for the Premier League title, after they made up two points on the leaders this weekend with a 3-0 victory over Southampton.
City moved into second place above Ronald Koeman's side with goals from Yaya Toure, substitute Frank Lampard and the first for the club for Gael Clichy. Pellegrini also forgave referee Mike Jones for mistakenly booking Sergio Aguero for diving when in fact the Argentine striker deserved a first half penalty for a foul on him by the Southampton captain Jose Fonte.
Asked whether the result against Southampton, coupled with Chelsea's 0-0 draw against Sunderland showed that the title race was by no means a foregone conclusion, Pellegrini said: "I repeat exactly the same words as last week against Swansea. We have to play 25 games more. It's a lot of points. No one knows what happens in the future. In one week, you can change things. Chelsea are playing very well. Let's see what happens in the future. We just have to work on us."
He added: "I think we can complain about a lot of things in this team during this year, conceding too many goals and not scoring as many as last season, but the only thing we cannot complain about is the spirit, the personality and the ambition of this squad."
Southampton 0 Manchester City 3 player Ratings
In the decision by Jones, Pellegrini said he could afford to be generous: "I thought it was a penalty but I'm not the referee. One thing I was sure was Sergio never dived. He doesn't try to cheat the referee … so he wouldn't have done it that way. It's not frustrating. It's not important what happened. He is a human person and he can make a mistake."
The City manager said that he could not dispute the dismissal of Eliaquim Mangala in the second half for his second yellow card. The defender was played into trouble by Toure and barged substitute Shane Long off the ball. He said: "I think Mangala played very well. It was an unnecessary foul.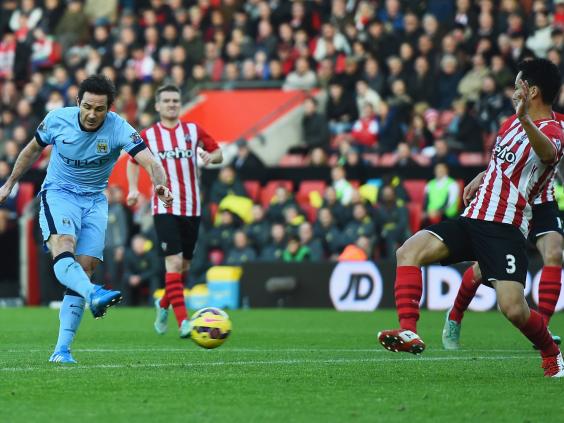 "It was not Mangala who lost the ball. He and Kompany played very well. Remember, Southampton have two important strikers and they had just one chance against the goalkeeper."
Pellegrini was once again evasive on the question of Lampard's future at the club this season. His loan deal with MLS franchise New York City runs out at the end of January and Pellegrini said that a decision would be made "in December" as to whether Lampard would remain at the club any longer.
He said: "I don't think anyone can be surprised in the way Frank Lampard plays football. He knows how to play. Maybe, at 36, he's not able to play three games in a week, not 90 minutes every game, but he played 90 minutes on Wednesday an did well so it wasn't good for him to start again. He always makes a difference because he's a top player."
Ronaldo Koeman suggested that Jones made the decision over Aguero because he had made an earlier mistake on booking Victor Wanyama. The Saints manager was hard on his team who he felt had made critical errors.
"Wednesday [against Arsenal] we will get a new opportunity to show the qualities. Okay, there's no time to be disappointed. We made too many mistakes and we were punished for that, because they have a very strong team and very good players. We knew that before. We saw it."
He added: "If I look to my team, I think maybe two or three players reached the level what they can show. Toby [Alderweireld] played fantastically well. We had good organisation in the first half, but in an attacking way it's different. To create that kind of chances, what we can do against a team or defenders like Man City's, it was not good enough. We were punished for that. They showed us that difference today. That's football. It was not good enough."
Reuse content