It might be too early to crown Ronald Koeman manager of the season. Let's settle instead for manager of the first 21 games. With more than half the Premier League campaign gone, Southampton are looking down on the big red establishment – Manchester United, Arsenal and Liverpool – from third place in the table.
This inversion is all the more remarkable since Southampton lost their manager and a number of key players in the summer, suggesting a season battling relegation was more likely than the pursuit of a Champions League place.
Koeman's performance dumps for ever the idea that managers need time to prosper. He arrived with not so much a blank sheet as one torn asunder by the departure of predecessor Mauricio Pochettino to Spurs, plus the exit of £100m quintet Luke Shaw, Adam Lallana, Calum Chambers, Rickie Lambert and Dejan Lovren.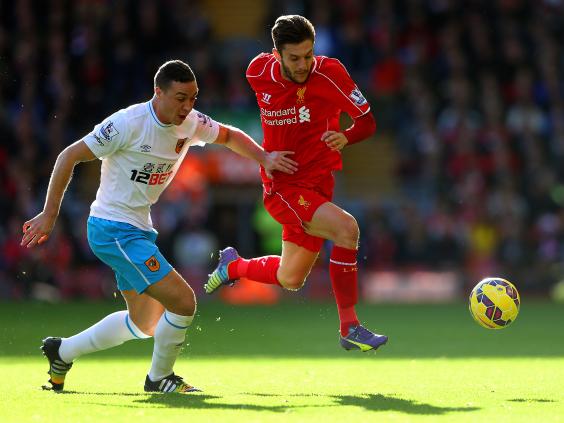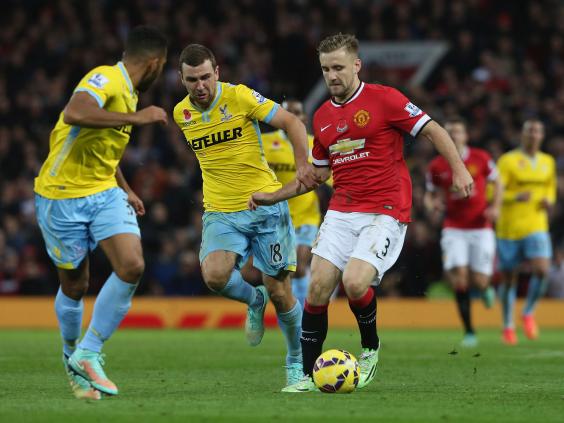 Among the 10 replacements brought in, defender Toby Alderweireld, striker Graziano Pellè and midfielder Dusan Tadic, who scored the winner at Old Trafford on Sunday, are at the heart of Southampton's success. All three would improve a United side augmented by talent worth £160m, almost three times Koeman's £57m outlay.
The result reversed the injustice of the 2-1 defeat to United at St Mary's last month in a run when Southampton lost four league games on the spin. Had scores reflected the run of play during that sequence, they might be looking down on Chelsea and Manchester City, too. Only in the 3-0 defeat to City have they been truly bettered but they bounced back with a draw against Chelsea and wins over Arsenal and United.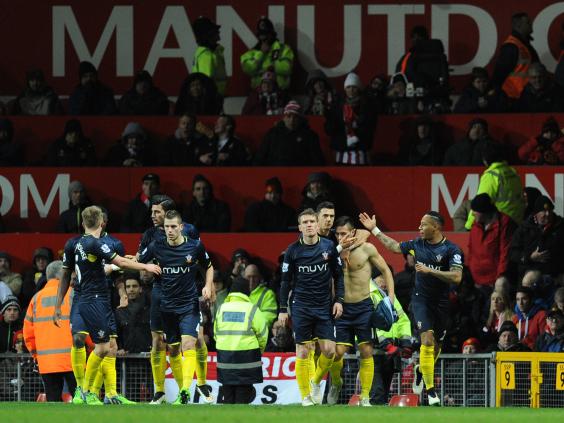 --
Q | What's Koeman's secret recipe for success?
A | Sound organisation based on a keen understanding of his own players' qualities, plus the tactical threat presented by the opposition underpins Koeman's work.
There is no great technical innovation. He likes four at the back, with attacking full-backs, a midfield three including a defensive linchpin (Morgan Schneiderlin), and a mobile front three revolving around a traditional centre-forward (Pellè).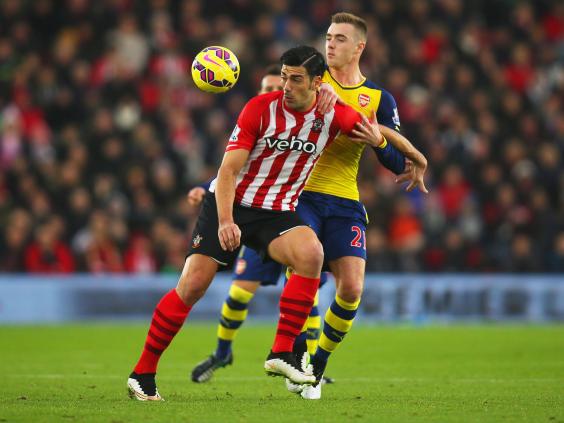 United did not even have a shot on target on Sunday, the first time that has happened at Old Trafford since the visit of Arsenal in May 2009. Not for nothing is Southampton's defence the meanest in the Premier League this season, conceding only 15 goals, four fewer than Chelsea.
Compare Koeman's output with the performance of his celebrated fellow Dutchman Louis van Gaal, who has presided over a points return exactly the equal of United predecessor David Moyes, 37 from 21 games, which was precisely the kind of form that earned Moyes the sack.
Van Gaal talks a lot about philosophies yet sent out a team to face Southampton noticeably lacking in attacking ideas. To claim the visitors played for a draw is not only a gross misrepresentation of Southampton's approach, it utterly missed the point. Defeat resulted not necessarily from what Koeman's side did but what his own team failed to do. That is the issue that should concern Van Gaal.
Q | Who are the players making Saints tick?
A | Take your pick. The victory over United demonstrated how well individuals know their jobs in Koeman's system. After Southampton lost Alderweireld to injury early on, Florin Gardos stepped into the centre of defence without missing a beat.
Nathaniel Clyne and Chelsea loan signing Ryan Bertrand fit the template of the modern full-back, supporting the attack with rapier raids while defending strongly. In front of the back four, Schneiderlin controls the tempo brilliantly and Victor Wanyama cracks a very big whip.
Tadic has erased the memory of Lallana with his creative thrust and energy in the last third, coming off the bench to turn the game against United. His semi-naked celebration earned his manager's anger while revealing a Ronaldoesque torso that goes some way to explaining his tireless endeavour.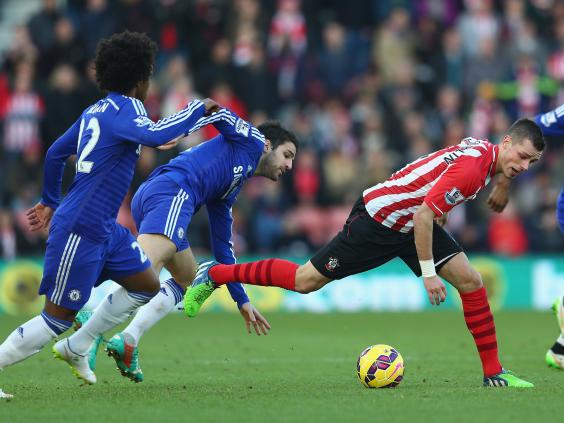 Up the middle Pellè is Lambert with knobs on. Though you could never describe him as quick, the Italian is well balanced and mobile for a big unit and led Chris Smalling a dance. It was his shot that came back off a post so invitingly for Tadic, suggesting the prolific form of early season might flower again.
Pellè cost £8m from Feyenoord, less than United paid to bring Radamel Falcao, he of the three goals, on loan from Monaco. Falcao did not even make the bench on Sunday, raising questions about his future under Van Gaal.
Koeman bought Pellè and Tadic from Dutch clubs. He was about his business in the summer, knowing exactly what he was getting. Van Gaal, was otherwise engaged, managing the Netherlands at the World Cup, and took an almighty punt on Falcao, one clearly not paying dividends.
Q | Can they qualify for the Champions League?
A | The table does not lie. Their rivals are simply not convincing. United's unbeaten run of 11 games does not bear scrutiny. Six successive victories included two at Arsenal and Southampton that defied belief, and another at home to Stoke that might easily have ended in parity. Three draws in four league games preceded the Southampton defeat, a corrective that puts matters in better perspective.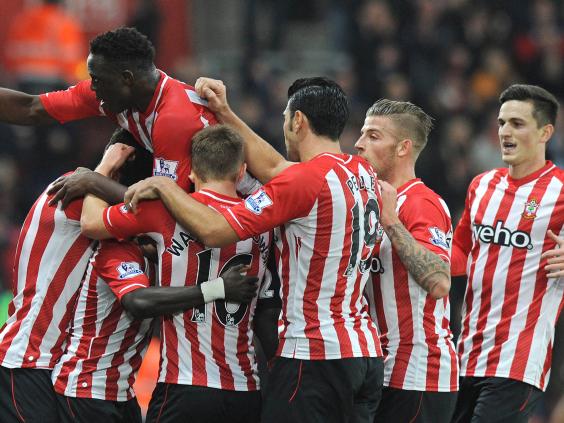 Arsenal are buoyant this week, but Arsène Wenger is only a match away from febrile scrutiny. Their visit to Manchester City on Sunday might easily usher in a new round of hand-wringing at the Emirates. Liverpool appear to be riding the same fortuitous wave that took United into the top four. Edging tight victories by the odd goal at the likes of Burnley and Sunderland hardly makes their case, and they are still seven points behind Southampton.
Tottenham followed their eye-watering victory over Chelsea with defeat at Crystal Palace, after taking the lead. So yes, the Saints can go marching on.
Q | What big hurdles remain in their path?
A | Southampton have still to visit Chelsea in March and Manchester City on the final day of the season. By the time they pitch up at the Etihad, their top-four fate might be decided positively, thus taking the sting from the occasion.
Fixtures against their immediate rivals for Champions League qualification, United and Arsenal, are complete, and the teams immediately below them – Spurs, West Ham and Liverpool – must all visit St Mary's.
--
ENDING THE DROUGHT AT OLD TRAFFORD
On Sunday Southampton were the sixth team in the last two seasons to end a long winless run against Manchester United at Old Trafford:
11 January 2015
0-1 Southampton (27 years)
16 August 2014
1-2 Swansea (first win)
3 May 2014
0-1 Sunderland (46 years)
7 December 2013
0-1 Newcastle (41 years)
4 December 2013
0-1 Everton (21 years)
28 September 2013
0-1 West Bromwich (35 years)
Reuse content