The battle for Champions League football is the tightest it has been since the 2005/06 season, analysis shows.
With just 14 matches of the Premier League season remaining, a host of teams remain in contention for the top-four positions that with them bring access to Europe's elite competition.
League leaders Chelsea and reigning champions Manchester City appear nailed on to secure their places amongst the top four but after that the picture is less clear.
Southampton in third through Manchester United, Tottenham, Arsenal, Liverpool to West Ham in eighth all retain a genuine chance of finishing the season in the much coveted positions.
The six teams occupying 3rd to 8th in the table are separated by just eight points and as the weekend's matches showed - with Tottenham beating Arsenal and West Ham holding Manchester United - the battle between them is almost impossible to call.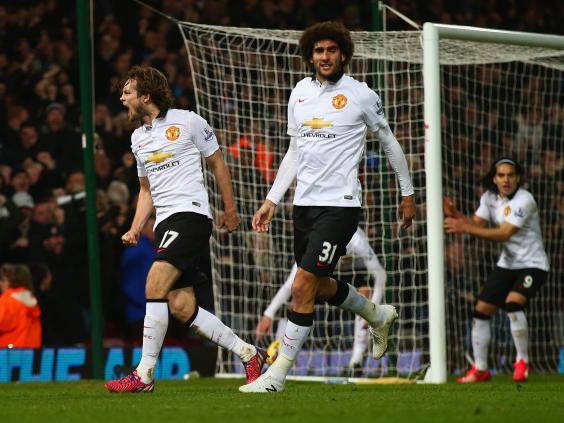 Not since the 2005/06 season have the six teams occupying those positions been so close at this stage of the season.
Last season there was a 16 point gap, ranging from Chelsea in third on 53 points to Newcastle in 8th with 37. Over the last 10 years, the 2011/12 season saw the largest gap between this range of sides, with Tottenham in 3rd on 50 points and Sunderland in 8th on 33 points, a gap of 17 points.
During the 2005/06 season, just seven points separated them, with Liverpool in 3rd and West Ham in 8th.
Tottenham 2 Arsenal 1 player ratings
Tottenham 2 Arsenal 1 player ratings
1/22 Hugo Lloris - 6

Could do nothing to stop Ozil's effort, but had little else to do as Arsenal faded during the game.

Getty Images

2/22 Kyle Walker - 6

Tried to get down the right flank when the opportunity presented itself but was targeted by Ozil, Cazorla and Welbeck as Spurs' weak link.

Getty Images

3/22 Eric Dier - 7

Stuck to Giroud like glue and did his best to negate any threat from the big French striker.

Getty Images

4/22 Jan Vertonghen - 6

Rarely found himself threatened by Arsenal's attack, although he could have helped Rose out when Wlebeck broke free for the goal.

Getty Images

5/22 Danny Rose - 5

Managed to get under Welbeck's skin but was surprisingly outpaced for the opening goal. Had a few long-range efforts at goal.

Getty Images

6/22 Nabil Bentaleb - 8

His return strengthened Spurs and gave them extra protection against Arsenal's attack. Controlled things from the base very well. Deep cross gave Kane the perfect platform to score the winner.

Getty Images

7/22 Ryan Mason - 8

Was the brightest spark in Spurs' midfield as he looked to work an opportunity for the trio in front of him. Very impressive performance.

Getty Images

8/22 Erik Lamela - 6

Showed a preference to cut in and try to work a chance on his left foot, but prevented Spurs having any threat down the right.

Getty Images

9/22 Moussa Dembele - 6

Probably the quietest of Spurs' attacking players but it was his header that was deflected into the path of Kane's for the opener.

Getty Images

10/22 Christian Eriksen - 7

Had a free-kick chance that given his recent form would usually have found the back of the net, but still threatened whenever he had the ball at his feet.

Getty Images

11/22 Harry Kane - 9

Kept up his impressive scoring rate with a match-winning brace for Spurs, and his second was a lovely header that any striker would've been delighted to see nestle in the back of the net.

Getty Images

12/22 David Ospina - 6

Pulled off some lovely diving saves in the first half, but began palming the ball into danger areas which led to Kane's first.

Getty Images

13/22 Hector Bellerin - 5

Came under pressure from Rose as the left-back looked to press forward wherever possible. Will learn from the game, but won't enjoy reflecting on the experience.

Getty Images

14/22 Per Mertesacker - 5

Let Kane drift away for the winning goal and again saw himself get beaten in the air, which just simply shouldn't happen.

Getty Images

15/22 Laurent Koscielny - 6

Had an effort saved by Lloris and didn't do a lot wrong.

Getty Images

16/22 Nacho Monreal - 6

Another who won't be happy with his day's work and had his hands full for the 90 minutes.

Getty Images

17/22 Francis Coquelin - 5

Came under the biggest pressure he's faced since coming back into the side. Enjoyed a good start but wilted as Spurs stepped up a gear.

Getty Images

18/22 Aaron Ramsey - 6

Not as prominent in games as he was last season, and his form is a worry for Arsenal. Booked at the end of the match for barging Bentaleb in frustration.

Getty Images

19/22 Danny Welbeck - 7

Allowed himself to be caught up in a war of words (and slightly more) with Rose, which distracted him from his game. Outpaced the left-back to set-up the goal though, and had a good effort saved by Lloris.

Getty Images

20/22 Santi Cazorla - 7

A rare below-par performance from Arsenal's in-form midfielder. Hauled off midway through the second half for Tomas Rosicky as Wenger seeked more solidity in defence.

Getty Images

21/22 Mesut Ozil - 7

Took his goal very well to keep up his strong from of late. Improved physicality is certainly helping his game.

Getty Images

22/22 Olivier Giroud - 5

One of his quietest performances since returning from injury and suspension but that is largely due to the Spurs defence sticking to him.

Getty Images
Over the last 10 seasons, including the current campaign, the average number of points separating the teams competing for a place in the Champions League between 3rd and 8th has been 13.1 points - a figure that highlights how fascinating this year's tussle is developing to be.
GAP BETWEEN TEAMS IN 3RD AND 8TH AFTER 24 GAMES*
2014/15 - Southampton, Manchester United, Tottenham, Arsenal, Liverpool, West Ham (teams occupying 3rd to 8th)
45-37 (points for team in 3rd and team in 8th) - eight point gap
2013/14 - Chelsea, Liverpool, Everton, Tottenham, Manchester United, Newcastle
53-37 - 16 point gap
2012/13  - Chelsea, Tottenham, Everton, Arsenal, Liverpool, Swansea
46-34 - 12 point gap 
2011/12 - Tottenham, Chelsea, Newcastle, Arsenal, Liverpool, Sunderland
50-33 - 17 point gap
2010/11 - Manchester City, Chelsea, Tottenham, Sunderland, Liverpool, Blackburn
45-31 - 14 point gap
2009/10 - Arsenal, Tottenham, Liverpool, Manchester City, Aston Villa, Birmingham
49-34 - 15 points gap
2008/09 - Chelsea, Aston Villa, Arsenal, Everton, Wigan, West Ham
48-33 - 15 points
2007/08 - Chelsea, Everton, Aston Villa, Manchester City, Liverpool, Blackburn
53-38 - 15 point gap
2006/07 - Liverpool, Arsenal, Bolton, Portsmouth, Everton, Reading
46-34  - 12 point gap
2005/06 - Liverpool, Tottenham, Arsenal, Wigan, Bolton, West Ham
45-38 - seven point gap
* Figure for some seasons taken when majority of teams in range had played 24 games, due to teams not having completed the same number of fixtures.
Reuse content