The miraculous Arsenal top four charge might be about to happen again. That's the aim for Arsene Wenger after the victory over Manchester United last weekend, but he already knows that they simply cannot afford to drop any points over the next two weeks.
By all accounts, any manager would be unhappy with playing four matches during that time period, but it's what gives Arsenal a chance to pip Liverpool to second place. Jurgen Klopp's side have just two matches left this season and, after Sunday's 0-0 draw with Southampton left them seven points ahead of the Gunners meaning they can ill-afford to drop any points or else open the door for Wenger's side to snatch fourth on the final weekend of the season.
However, rather than focus on catching Liverpool, Arsenal need to give Southampton their full attention or they will, again, come a cropper on the south coast. Arsenal have not won at St Mary's in the Premier League since December 2003, with their crushing 5-0 victory in January coming in the FA Cup fourth round against a seriously weakened Southampton side.
Anything other than three points for Arsenal against Saints will all but end their Champions League chances unless Liverpool contrive to lose both games, but the problem for Wenger is that Southampton seem to have something of a mental edge over his side when it comes to pressure games between the two.
It was Southampton who eliminated Arsenal from this season's EFL Cup, and it was Southampton who inflicted a 4-0 defeat on the north London side last season on Boxing Day that proved to be the first blip for Wenger's side as they missed out on the Premier League title.
Wenger knows this, and said as much when asked about Claude Puel's side by the media. "They have done well against the big teams. Overall he has done well." Wenger is half-right. Southampton do well against Arsenal and Liverpool, not so much the rest of the big teams. They have taken two points off Klopp's side this season in their two league meetings, and also knocked them out of the League Cup semi-finals, winning both legs 1-0.
But they have not taken a single point off Chelsea, Tottenham, Manchester City or Manchester United this season, yet it's against Arsenal that they always seem to raise their game against. In recent years, it has been Southampton's ability to lull Arsenal into a false sense of security that has paved the way for their downfall. Arsenal find their rhythm, dominate possession, and instantly get hit on the counter-attack. This was evident no more than in this meeting last season, where Arsenal enjoyed 65 per cent of the possession, and promptly lost 4-0 with Shane Long doing the bulk of the damage after Cuco Martinez's stunning opening goal.
Arsenal have the same season every year
Arsenal have the same season every year
1/8 Surprise early defeat

A surprise early defeat, such as 2013/14's to Aston Villa or 2015/16's to West Ham United, makes July's Emirates Cup win seem like a distant memory.

Getty

2/8 Impressive win against top club

A promising win against a title rival, like last season's 3-0 victory over Manchester United or this season's win over Chelsea, has the Emirates hoping for the best again.

Getty

3/8 Injuries start to mount up

However, a long queue starts to form outside the treatment room. Key players, as well as regular absentees, tend to be the victims.

Getty

4/8 November curse strikes again

Arsene Wenger's side then begin to unravel in November, with the curse kicking in after an away defeat against one of the top flight's lesser lights. It's around now that the already-faint hopes of a title challenge start to fade.

Getty

5/8 Champions League elimination

The most predictable part of it all comes in February, with Champions League elimination, usually to Bayern Munich, Barcelona or Monaco, if they are really unlucky.

Getty

6/8 Title hopes finally killed off

A heavy, signature defeat to a fellow top six side puts paid to any lingering hopes of a title challenge in late February or March. 2013/14's 6-0 reverse at Chelsea, Arsene Wenger's 1,000th game in charge, is perhaps the most memorable example.

Getty

7/8 Strong rally to finish

The pressure is off, time to turn the style on. A rally at the tail end of the season does wonders for Arsenal's league standing, but little to combat allegations of flakiness.

Getty

8/8 Top-four finish

Arsene has his 'trophy'. Champions League football is coming to the Emirates again next year. What more could the fans want?

Getty
Rewind a year further to Boxing Day and again, having held 59 per cent possession, Arsenal went behind when Sadio Mane hit them on the counter, before Dusan Tadic wrapped up the 2-0 victory midway through the second half.
I think this game will be open and perhaps we will see more opportunities for them and for us
Puel also appears to be targeting this game, solely in the hope that the time and space that Arsenal will give Saints will hopefully lead to Manolo Gabbiadini scoring his first goal since returning from injury after his run of form following his January arrival was halted by a groin strain.
"Sometimes it's difficult when you come back from an injury, it's always difficult to find the first game after with good rhythm and good intensity," Puel said of his star striker. "Of course we played a difficult opponent for a striker. Against Liverpool it's difficult for a striker.
"It was difficult but against Arsenal it will be another game.
"I think this game will be open and perhaps we will see more opportunities for them and for us."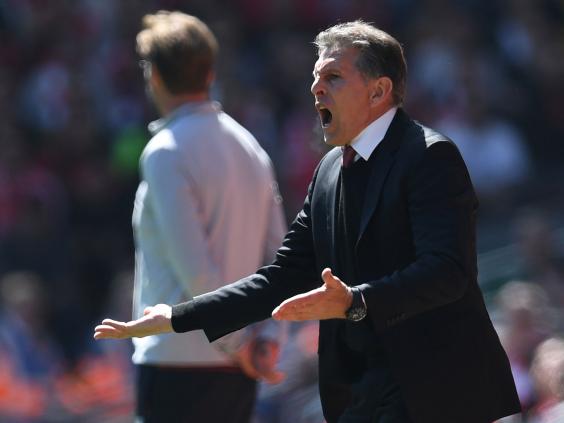 Southampton are right to target Wednesday's encounter given they need a win to pull clear of the mid-field back and catch West Bromwich Albion, a team who they were expected to finish well above at the start of the season. Puel wants Saints to be the 'best of the rest', the side that finishes in eighth behind the top six fighting for Europe plus Everton, but defeat by Arsenal would be a serious setback for that pursuit.
Wenger on the other hand believes his side, again, has come through the mud and is on a late charge for the European competition that has given him ammunition to fight his critics over the years when calling for him to leave Arsenal.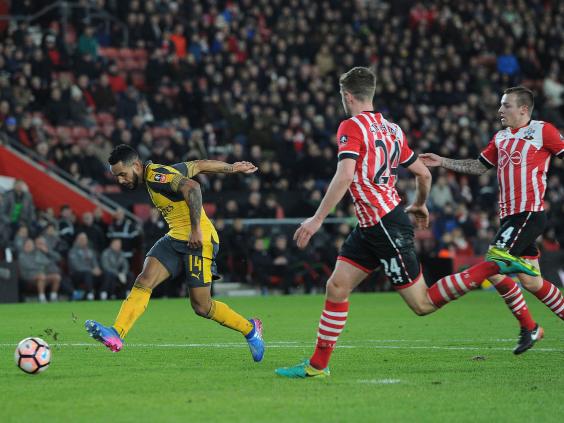 "We had a bad spell but we have recovered from it. We need to show we can be consistent until the end of the season," Wenger said of his hope to secure a 21st consecutive year in the Champions League.
But how fitting would it be that, having triggered their slumps at St Mary's other the past two years, that it's Southampton again who destroy Arsenal's ambitions once again. If Wenger wants to prove he is capable of change, ending a 14-year barren run on the south coast would be a very timely way to prove it.
Reuse content