Arsenal may be stumbling rather than sprinting their way through this underwhelming race for a spot in the top-four, but a 2-0 victory over Southampton means that with three games remaining this season, they still have something to run for. 
For long spells at St Mary's they struggled to create any clear goal-scoring opportunities and their hitherto impressive three-man defence looked brittle. However an exquisite finish from Alexis Sanchez as well as a close-range header from Olivier Giroud won them three priceless points they looked in danger of throwing away. The two goals were fleeting reminders of the talent this team possesses, but decisive ones. 
Southampton were ultimately made to pay for adopting a more adventurous approach than in recent matches. They managed three shots on target here — which is three more than they registered in Sunday's draw against Liverpool — but faded in the closing exchanges and failed to capitalise on the hard-work of Manolo Gabbiadini and Nathan Redmond. This defeat will have done nothing to quell the rumours that Claude's Puel job could well be under review at the end of the season.
Southampton 0 Arsenal 2 player ratings
Southampton 0 Arsenal 2 player ratings
1/22 Fraser Forster – 6 out of 10

2/22 Cedric Soares – 5 out of 10

3/22 Jack Stephens – 7 out of 10

4/22 Maya Yoshida – 6 out of 10

5/22 Ryan Bertrand – 6 out of 10

6/22 Steven Davis – 7 out of 10

7/22 Oriol Romeu – 5 out of 10

8/22 James Ward-Prowse – 5 out of 10

9/22 Dusan Tadic – 5 out of 10

10/22 Nathan Redmond – 6 out of 10

11/22 Manolo Gabbiadini – 5 out of 10

12/22 Petr Cech – 7 out of 10

13/22 Rob Holding – 7 out of 10

14/22 Shkodran Mustafi – 6 out of 10

15/22 Nacho Monreal – 6 out of 10

16/22 Alex Oxlade-Chamberlain – 7 out of 10

17/22 Aaron Ramsey – 8 out of 10

18/22 Granit Xhaka – 6 out of 10

19/22 Kieran Gibbs – 5 out of 10

20/22 Mesut Ozil – 6 out of 10

21/22 Alexis Sanchez – 8 out of 10

22/22 Danny Welbeck – 7 out of 10
On paper at least, Arsenal were up against it. They went into this fixture having lost five of their last six away Premier League games, and without a league win at St Mary's since the 2003/04 season, when the likes of Patrick Viera and Thierry Henry led them to the last of their 13 league titles.
But after a lively start to the match during which Ryan Bertrand and Redmond both went close after good runs down the left, Arsenal began to assert their dominance. As expected, up went the red and white striped wall, as Southampton looked to replicate the pragmatic performance which won them a point in their last match at Anfield.
Not that this surfeit of largely pointless possession amounted to much. One of Arsenal's most striking problems this season has been their repeated struggle to translate a dominance of the ball into goal-scoring opportunities, and so it proved early onagainst a team as shrewd and as organised as Southampton.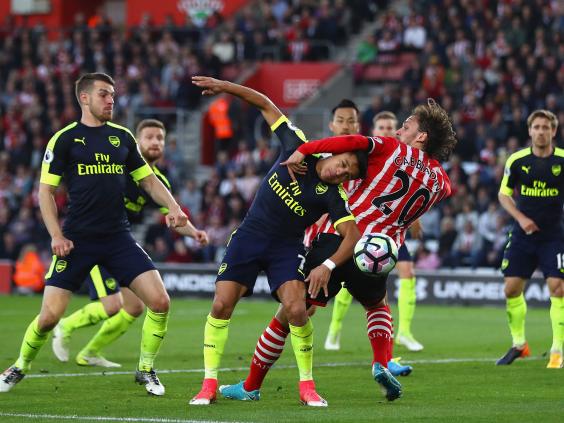 Aaron Ramsey curled a shot disappointingly wide of the post from the edge of the area. Danny Welbeck's high top fade was about an inch too low from nodding a Hector Bellerin cross towards goal. And for all of Mesut Ozil and Granit Xhaka's soft-shoed elegance in the middle of the pitch, Oroil Romeu was always on hand to snuff out anything approaching an attack. On the rare occasion that he wasn't, Jack Stephens saved the day with a perfectly-timed sliding tackle in the box to halt Welbeck. 
Even more concerning for Wenger was how nervous his three-man defence looked every time Southampton bombed a long-ball into the channels for Manolo Gabbiadini to chase. The Italian had his team's first shot on target in over 120 minutes when he blasted a shot from close-range into the chest of Cech, and fizzed a free-kick narrowly wide of the post moments later.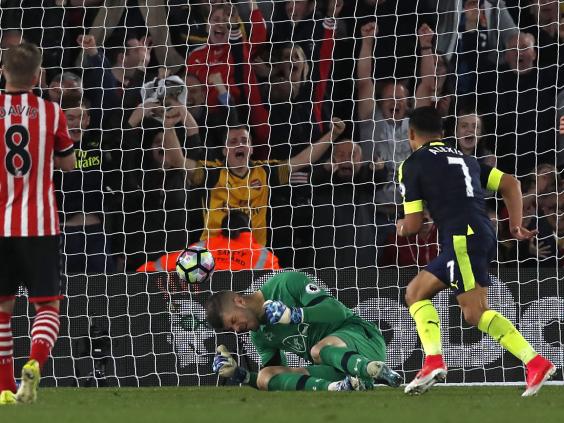 Gabbiadini's industry buoyed the home team at the start of the second-half. And encouraged by the enforced substitution of Alex Oxlade-Chamberlain, who had been playing well before tweaking his hamstring shortly before the break, Redmond twice stretched the Arsenal defence with winding runs from the left, although a lack of cutting-edge saw his pair of inviting through-balls criminally wasted. 
Arsenal were beginning to lose control of the game and so Sanchez's goal, when it finally came, could not have been timed any better. Sweeping down the pitch on the counter, Ozil tapped Sanchez into a pocket of space just inside the area. The Chilean flicked his way in the box and shaped as if to shoot on the turn, only to dummy the ball. The end result: both Stephens and Maya Yoshida left flat on their backsides, with the ball belted past Forster nanoseconds later.
Still Southampton targeted Bellerin down the left, with Bertrand's deep cross into the box headed wastefully wide by James Ward-Prowse, but for all their running and success out wide, Puel's side never truly looked like troubling Cech in goal.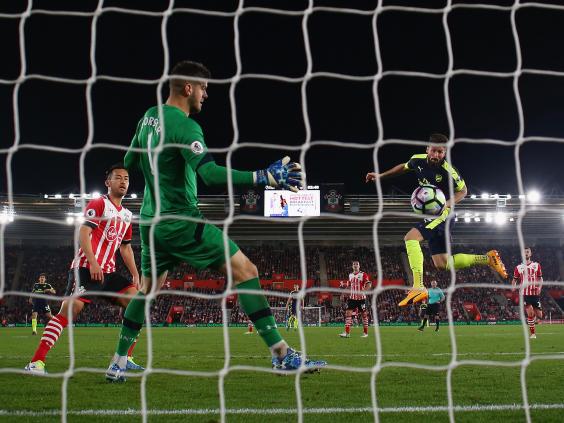 Confirmation of their defeat — which extends their winless run in the league to five matches — came when Giroud ran off the bench to score. Again Sanchez was at the heart of the move, skipping forward and hanging a lofted pass across the face of goal for Aaron Ramsey to attack. The midfielder selflessly and smartly elected to head the ball across the face of goal rather than going for glory, allowing the Frenchman to nod home for his 10th goal of the season.
The result means that, with three games left to play, Arsenal still have a chance of gatecrashing the top-four and salvaging another campaign of Champions League football from this sub-par season.
The reality of that may remain as remote as Wenger deciding at the end of the season that, actually, he could do with some time spent tending his garden and a few Saga holidays after all, but with Liverpool and Manchester United both out of form Arsenal will hold some hope of catching them.
Southampton: Forster, Cedric, Stephens, Yoshida, Bertrand, Davis, Romeu, Ward-Prowse (Boufal 70), Tadic (Rodriguez 80), Gabbiadini, Redmond (Long 70). 
Substitutes not used: Caceres, Hojbjerg, Pied, Hassen. 
Arsenal: Cech, Holding, Mustafi, Monreal, Oxlade-Chamberlain (Bellerin 35), Ramsey, Xhaka, Gibbs, Ozil (Coquelin 89), Sanchez, Welbeck (Giroud 80). 
Substitutes not used: Gabriel, Ospina, Walcott, Iwobi. 
Referee: Jon Moss (W Yorkshire) 
Reuse content