Ronald Koeman, the  Southampton manager, could not have stated his team's case any more strongly ahead of tomorrow's home match against Manchester City. "We have played 12 games now and I didn't see one team better than we [are] in these 12 games, and we played against Liverpool and we played against Tottenham," he said. "Maybe Sunday, but we  will see."
We will indeed. So far it has been nothing but glory and success almost all the way for Koeman's second-placed Saints, but now comes the tricky bit. The two opponents Koeman highlighted, Liverpool and Tottenham Hotspur, are the only sides Southampton have played who finished in last season's top seven – and both beatthe South Coast team. For all their lofty league position, Koeman's men have yet to take any especially impressive scalps, and in the next eight days they face their most challenging sequence of fixtures to date. After City's visit, they play away to Arsenal on Wednesday, and Manchester United visit St Mary's on Monday week.
So is this the week when Saints are found out? Not many will have followed the example of one punter known to this writer who has put a speculative fiver on Southampton to go down at odds of 1,000-1. But when the Northam End chanted "The Saints are staying up" during their most recent home game, a 2-0 victory over Leicester, as a gleeful riposte to the pre-season tipsters who made their team favourites for  relegation, it was not strictly accurate – not just yet, anyway. And it is surely worth noting that it was on the equivalent weekend last season that  Southampton's Premier League campaign peaked, as they briefly moved into second place when they took an early lead away to Chelsea before losing 3-1, and drifting down the table to  finish a creditable, if somewhat  anticlimactic eighth.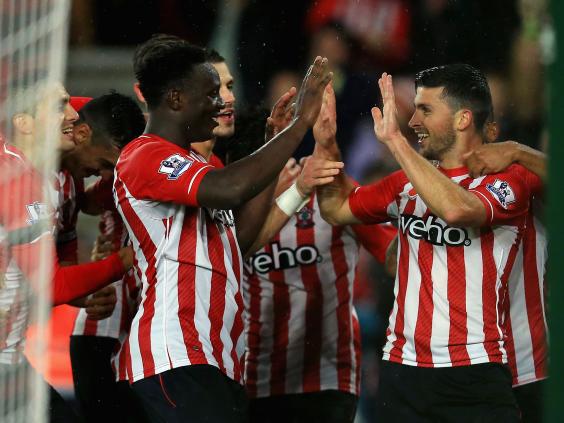 Of course, good results from this difficult run of games will surely silence the doubters, and in Saints' favour is an iron-clad defence that has conceded only six league goals, one at home and five on the road – the best record in the four divisions. One  Premier League first-team coach told The Independent that he believed that rearguard had not yet been truly tested – before his team were beaten without so much as denting it.
Sergio Aguero and  company will represent themost formidable trial of Southampton's defensive credentials to date, and Koeman argues the presence of the Argentine is evidence Manuel Pellegrini's squad operates at a higher level than his. "Big teams always have individual qualities and players who win games by themselves," he said. "In our team organisation we are as strong as City but these kind of players can make  the difference.
"The best player to compare with Aguero is, I think, Romario. I don't know if you know him? I played with him [for PSV Eindhoven and Barcelona]. You think he's sleeping and then the next second he's scoring. That means a lot of concentration for defenders. He's fast and he's always on the last line of defenders." But there was a good-humoured flinging down of the gauntlet to his defence when he added: "It's a nice challenge for our defenders to keep the [clean sheet] behind them this Sunday."
Part of that defensive strength comes from  continuity. England goalkeeper Fraser Forster and three of the back four have been ever-present, with Toby Alderweireld replacing Maya Yoshida after four games. But perhaps only Arsenal are as short of defensive depth and sooner or later – perhaps even in the next eight days – there will have to be changes.
Further forward Southampton have even less scope for rotation. The impressive Graziano Pelle and Morgan Schneiderlin are only one yellow card each away from suspension, while possible replacements Jay Rodriguez and James Ward-Prowse are both still weeks away from fitness after long-term injuries. Koeman suggested Emmanuel Mayuka as a possible deputy for Pelle, but the Zambian has yet to score a league goal in 13 appearances. And Koeman admitted that the injury that forced Steven Davis to miss the 1-1 draw away to Aston Villa on Monday, and makes him a doubt for tomorrow's match, had affected the  balance of the Southampton central midfield.
But if Koeman himself shares any of the doubts about his team, he hides them well behind a cool façade. He expects his players to set tomorrow's agenda and backs his team's togetherness against City's individuals. "The most important [thing] is to keep our style of play and it doesn't depend on the opponent," he said. "If you play your own style, what you train for during the week, then the chance to be successful is always much higher.
"We realise that this Sunday we play against one of the teams who can win the title, who won the title last season. But it's not easy to beat Southampton and we will show that this Sunday. [City will] take us seriously. They know that we are strong. One of our qualities is the organisation in the team. If we don't have that organisation, it's not possible to concede only six goals in twelve games.
"If we want to do better than last season, this period is important. And we know that if we want to do something special then we have to win this kind of games."
--
Southampton have lost just two of 15 matches this season, but face a tough nine days...
Results so far
17 Aug PL Liverpool (a) L 2-1
23 Aug PL WBA (h) D 0-0
26 Aug LC Millwall (a) W 2-0 30 Aug PL W Ham (a) W 3-1
13 Sept PL N'castle (h) W 4-0
20 Sept PL Swansea (a) W 1-0
23 Sept LC Arsenal (a) W 2-1
27 Sept PL QPR (h) W 2-1
5 Oct PL Tottenham (a) L 1-0
18 Oct PL S'land (h) W 8-0
25 Oct PL Stoke (h) W 1-0
29 Oct LC Stoke (a) W 3-2
1 Nov PL Hull (a) W 1-0
8 Nov PL Leicester (h) W 2-0
24 Nov PL A Villa (a) D 1-1
Next three fixtures
Tomorrow PL Man City (h)
Wed PL Arsenal (a)
8 Dec PL Man United (h)
Reuse content