Manuel Pellegrini has always known how good Sergio Aguero is. The striker was 15 when he first saw him. He was 18 when he tried to sign him and 26 when Aguero saved his job. The first two statements are true and, if the third is exaggerated, it is not by very much.
Had Aguero not struck twice in the final moments of Manchester City's compelling encounter with Bayern Munich on Tuesday night, Pellegrini's position as manager might fast be becoming untenable.
Two of the reasons why the men from Abu Dhabi fired his predecessor, Roberto Mancini, were a limp defence of a title won by another late Aguero goal and a failure to make any impact in the Champions League. You could say the same of Pellegrini's City this season. But for Aguero's hat-trick against Bayern, City would not have qualified from their group for the third season in four. Pellegrini's defence of his League title has produced four fewer points than Mancini's side had amassed after a dozen games in the Italian's final season. Both had already been knocked out of the League Cup at home. The name of Atletico Madrid's manager, Diego Simeone, is being increasingly mentioned around the Etihad.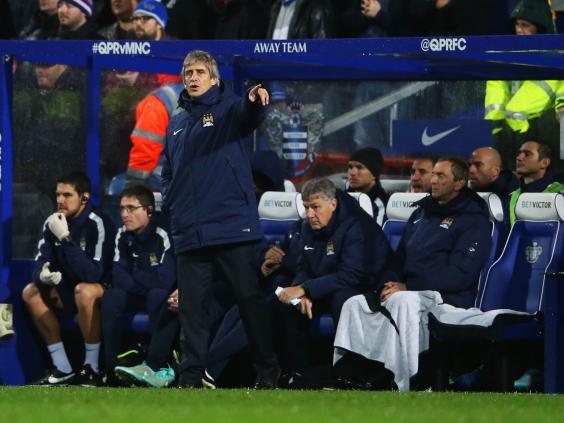 Now, as he prepares to take his side to Southampton, Pellegrini has been talking up City's chances of overhauling Chelsea's commanding lead in the Premier League. Asked if he thought Jose Mourinho's side would walk away with the title, Pellegrini replied: "I don't know why there is that perception. I agree that, if Chelsea continue like this from now until the end of the season, they will win the title, but you never know what will happen. At this moment last season we were six points behind Arsenal and nobody was talking about us. Last year everyone was saying Arsenal were going to be the team that won the League and in the end they were fourth."
The catalyst for City's resurgence was a 3-2 win against Bayern Munich last December, where the hero was not Aguero but James Milner. Again, City had to come from behind to beat Bayern and they won 13 of their next 14 fixtures – the other was a 1-1 draw against Blackburn in the FA Cup. Their latest, against-the-odds victory over the German champions might be the beginning of something equally exceptional. "Every time you beat an important team, the confidence and trust of the squad rises," said Pellegrini.
"But the most important thing is that we have played Bayern Munich four times, lost two and won two. That tells us we are not so bad in  Europe. Though we have made mistakes, especially against CSKA Moscow, we will fight for the chance to win important things in Europe but we will win them as a team and not just with one player."
Nevertheless, there are times – the victory over Bayern, the crushing of Tottenham that saw Aguero score all four goals and the Manchester derby – where City have resembled a club of one.  
The Argentinian's impact was instant. As his team-mate, Samir Nasri, said at the start of the season, very few foreigners adapt quickly to the Premier League and South Americans are especially vulnerable to slow starts. "But not all players who come from South America are players like Sergio," said his manager, who first came across him when breaking through, aged 15, at Independiente in Buenos Aires. 
 "He made a difference straight away for Independiente and then he went to Spain and made an immediate difference to Atletico Madrid," added Pellegrini. "Sergio was 18 when I tried to buy him. I was managing Villarreal. We did not come close because Atletico got him before us."
Aguero's value now is at least double the £38m City paid Atletico for him in 2011. Could Pellegrini see his most precious asset leave? "Manchester City is not a club that sells its players," he said. "We buy players because we want to grow and improve. I don't think he will move but in football you never know."
Southampton have already silenced the pundits and you sense that their manager Ronald Koeman is relishing a chance to prove more people wrong.
Successive home games against City today and Manchester United a week tomorrow, sandwiching a visit to Arsenal on Wednesday, should help establish whether Koeman's team will fall away as they did this time last year or can improve on last season's eighth-place finish.