The feet pointing at 10 to two, the chest out and the shoulders rolling with the easy familiarity of a man strolling up the path to his front door: there is no more recognisable walk in English football than Steven Gerrard leading his team out at Anfield. If you stayed late to work in the Anfield press box you would sometimes spot him stroll across the pitch after a game, suited and booted, the gait as unmistakable as Fred Astaire trotting down a flight of stairs.
When he walks out of Anfield for the last time on 24 May, the club will lose that comfort of an individual of undisputed quality. If you can judge a footballer's value by the gap he leaves behind, then the truth is that there is no Gerrard replacement. There are other good players at Liverpool, and there are new ways of playing, but there is no new Gerrard, just as there was no new Roy Keane waiting in the wings at Manchester United, nor a new Patrick Vieira at Arsenal.
Steven Gerrard in pictures
Steven Gerrard in pictures
1/11 England Under-21s

Steven Gerrard of England celebrates his 13th minute strike during the England v Luxembourg European 2000 Under-21 Qualifying match at the Madejski Stadium, Reading, England. The match finished in a 5-0 win for England

Getty Images

2/11 England 5 Germany 1

Gerrard celebrates his goal in the 5-1 win over Germany, one of his England highlights

Getty

3/11 Euro 2004 qualifiers

Gerrard celebrates after scoring the equaliser during the Euro 2004 European Championships Group 7 against Macedonia at St Mary's Stadium in Southampton, England

Getty Images

4/11 2006 World Cup qualifiers

Gerrard celebrates with Michael Owen during the FIFA World Cup 2006 group six qualification after scoring against Austria in Vienna

EPA

5/11 Beckham and Gerrard

David Beckham and Gerrard in England colours together. The pair were at the heart of England's 'golden generation'

Getty Images

6/11 Beckham and Gerrard

And now Gerrard could follow Beckham in a move to the MLS and LA Galaxy

GETTY

7/11 Champions League success 2005

Gerrard captained Liverpool to their famous penalty shootout European Cup victory in 2005

Getty

8/11 England Player of the Year

Gerrard was named England player of the year in 2013

AFP

9/11 2014 World Cup

Gerrard captained his country to the 2014 Fifa World Cup in Brazil last summer

AP

10/11 An early exit

But was unable to prevent defeats to Italy and Uruguay that paved the way to England's early exit from the tournament

Getty Images

11/11 International retirement

Gerrard would go on to announce his international retirement after the ill-fated trip to Brazil

Getty Images
The simple truth about Gerrard, amid the comparisons to other greats across the ages, amid the nit-picking about where he stood in the pantheon, or the elusive Premier League title, or last season's slip, is that he was one hell of a player. He could not bend every game to his will, but at his best he always offered the possibility. He was an amalgam of just about all the qualities top footballers should have. He was – he still is – four good players in one.
There are few more unforgiving tests of character than being an English football prodigy, when your awkward teens and early twenties are lived in the public gaze and your career is examined for what you failed to do rather than what you did. It was like that for Paul Gascoigne, and it has been the same for Gerrard and for Wayne Rooney, and yet Gerrard has not come close to either of the other two in the front-page material that can damage a footballer's career.
There have, nevertheless, been a few scrapes along the way. We would never have known the finer details of how close he came to joining Jose Mourinho at Chelsea in the summers of 2004 and 2005 if Gerrard had not related them exhaustively in his 2006 autobiography.
By his own admission, he could be high maintenance emotionally, but then we are dealing with one of the most scrutinised footballers of his generation, not the reserve goalkeeper at Tranmere Rovers.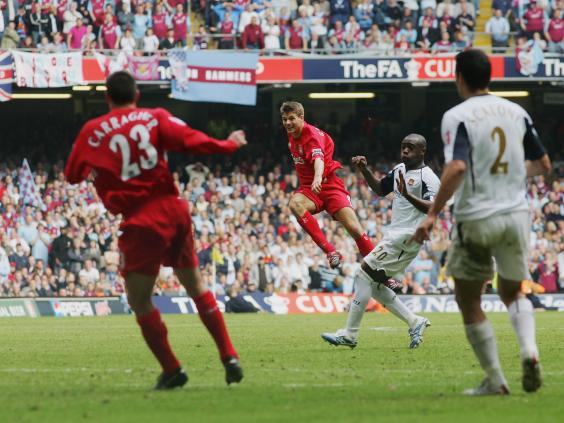 In that respect, he did not try to present himself as the idealised one-club man with never a thought for leaving Liverpool. In fact, the honesty of that book was typical of Gerrard, who has an unusual capacity among footballers to be able to talk openly about his fears and his shortcomings, as much as he does his strengths. It was a quality he had before the arrival on the scene of psychologist Dr Steve Peters and it seems to have served him well.
In England, where his career is judged through the smudged glass of club allegiances, and the endless, unsubstantiated conspiracy theories about why he never left Liverpool, it is tempting to say that perspective has been lost. When you travel abroad there is a much simpler admiration for a player who is regarded as a heroic type of footballer, a last-gasp, one-final-attack match-winner. In England people seem to be embarrassed he is not more like World Cup-winners Andres Iniesta or Andrea Pirlo. In Europe, they appreciate Gerrard's qualities for what they are.
He is one of the last footballers of a bygone era, and not all of that era good, either. He was born in Liverpool in 1980, by which time one reactionary Chief Constable on Merseyside had predicted an "army of occupation" might be needed to keep order in a city blighted with unemployment and depopulation. One year later, Margaret Thatcher's Cabinet was secretly discussing the city's "managed decline" after the Toxteth riots.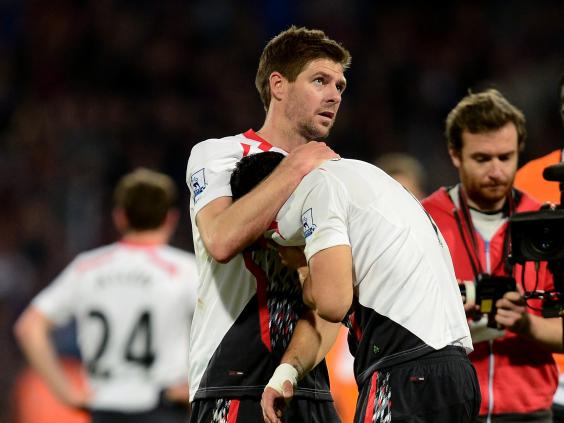 Gerrard is proof that despite the best efforts of the British Establishment, talented, ambitious, successful young people can still walk out of ordinary houses on ordinary streets. Gerrard's was the evocatively named Ironside Road on the Bluebell Estate in Huyton, and it always struck me that Ironside might have served as a good nickname for a battleship of a player who spent much of his Liverpool career seeing off the latest emergency.
A former team-mate of Gerrard's once described to me the experience of playing alongside the Liverpool captain at his all-action best. The way Gerrard would ping a ball into his feet at twice the pace and three times the accuracy of anyone else. And how, by the time he had taken a fraction of a second to control the pass, Gerrard would have covered 40 yards and be demanding the ball back.
That is how Anfield will surely remember their captain, not for the league title that never was, but a man comfortable taking control of the situation – and shaping up to hit another winner.
Club Roll of Honour
FA Cup winner 2001, 2006
League Cup 2001, 2003, 2012
Community Shield 2006
Champions League 2005
Uefa Cup 2001
Uefa Super Cup 2001, 2005
Premier League 494 appearances, 116 goals
FA Cup 39, 13
League Cup 28, 9
Champions League 87, 30
Uefa Cup/Europa League 42, 11
Other 5, 1
TOTAL 695 appearances, 180 goals
Reuse content