Liverpool manager Brendan Rodgers has warned Steven Gerrard there is no easy route back into his first-team plans.
The Reds captain has missed the last six matches with a hamstring injury and, although he has returned to training this week, he will be assessed before a decision can be made on whether he is fit to face Blackburn in Sunday's FA Cup quarter-final.
In his absence they have won five times, with their only defeat coming to Besiktas in the Europa League, but although Jordan Henderson has stepped up to successfully lead the side Rodgers insists the 24-year-old is no carbon-copy replacement.
Liverpool's league record without Gerrard this season has seen them win all six matches in which he has not featured, scoring an average of 2.3 goals a game as opposed to 1.3 with him in the team. Gerrard's absence has coincided with the team's best run of form all season - they are unbeaten in the league since the turn of the year.
The last 11 players Steven Gerrard would want to appear in his tribute game
The last 11 players Steven Gerrard would want to appear in his tribute game
1/11 Ben Foster

Denied Gerrard from the spot in West Brom's 2-0 victory over Liverpool in February 2013. Foster later said saving the spot-kick was 'the equivalent of scoring a goal'.

GETTY IMAGES

2/11 Tony Hibbert

A perennial nemesis from all of those Merseyside derbies. And not exactly the glam name you'd associate with a tribute match.

GETTY IMAGES

3/11 Graeme Le Saux

Gerrard was once dismissed for a high tackle on the full-back in 2003.

GETTY IMAGES

4/11 Dennis Wise

The pair were involved in an ugly confrontation back in 2000 during Liverpool's 3-0 loss by Chelsea.

GETTY IMAGES

5/11 Andrea Pirlo

Gave Gerrard the run-around during Italy's dominant win over England in Euro 2012 and then rubbed it in with his dinked penalty to win the quarter-final. That Gerrard has often been labelled as the 'next Pirlo' but never quite matched him is another good reason not to invite him along to the party.

GETTY IMAGES

6/11 Frank Lampard

They never could play alongside each other, could they?

GETTY IMAGES

7/11 Kevin Campbell

Sent off for nasty tackle on Campbell in 1999 in Merseyside derby. Gerrard has since recounted that he bumped into Campbell in a nearby restaurant, who promptly confronted Gerrard and showed him the marks from the tackle. "He dropped his keks and showed me the stud marks I'd left on his thigh," Gerrard later revealed.

GETTY IMAGES

8/11 Demba Ba

The recipient of that costly slip which allowed Ba to run through and ended Gerrard's title dream.

GETTY IMAGES

9/11 Mario Balotelli

Gerrard said he was "disrespectful" and "mischievous" for snatching the penalty away from then-captain Henderson recently. Would only steal the limelight anyway.

GETTY IMAGES

10/11 Filippo Inzaghi

On the double in the Champions League final of 2007, breaking Liverpool hearts.

GETTY IMAGES

11/11 Hakan Sukur

Involved in brawl during pre-season tie in Amsterdam in 2003 when Galatsaray took on Liverpool. "I felt like a bloody boxer. Chaos reigned" Gerrard wrote in his autobiography.

GETTY IMAGES
But although he is edging near to fitness, that may not mean he is closer to the team and he may find himself spending much of his final three months of his Liverpool career before leaving for Los Angeles Galaxy on the bench.
"There is no-one in the squad who has a God-given right to walk straight into the team," said Rodgers.
"It probably would be (an issue) for other people but certainly not for me and it wouldn't be for Steven.
"He is very much a team player and if he was on the bench because the team was in good form and playing well I think everyone respects that.
"I have shown my time here players who are performing well, irrespective of price or status, they play - simple as that.
"For me the most important thing in the first case is having Steven available.
"He is an outstanding player still and having him back makes us a better squad.
"He is not fit yet so we just need to get him back and then if that (him sitting on the bench for the final three months of his Liverpool career) was the case you would have to ask Steven (how he feels).
"Let's see how the season pans out and then review it then."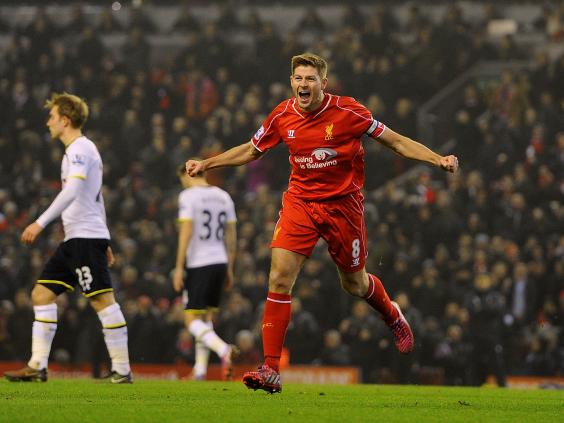 Henderson has assumed captaincy responsibilities in the interim period and his form has seen a marked upturn, with goals in his last two matches.
After he rifled one home against Burnley in midweek comparisons were made to Gerrard but Rodgers said that was wrong.
"Jordan is totally different. Steven is one of the best players of all time in the Premier League and I have said before there is no comparison," he added.
"Jordan is a young guy who is a wonderful talent but a different type of player. Steven is one of the greats of the game, with all respect.
"Someone said he would be irreplaceable but we will find different ways and different types of players but I think you should stop trying to put pressure on a young player like Jordan Henderson.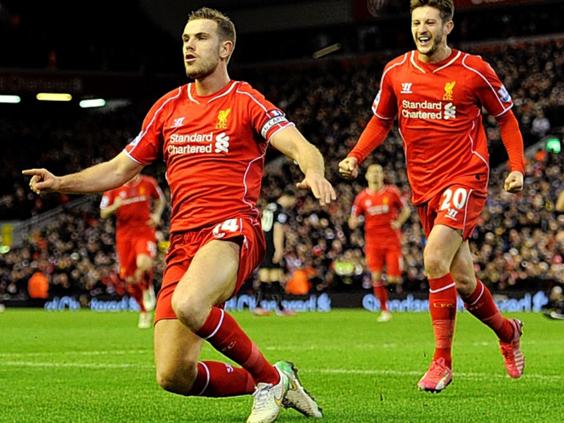 "Because he takes a corner and Steven Gerrard takes a corner it doesn't mean he is the new Steven Gerrard.
"Because of he shoots from outside the box it doesn't mean he is the new Steven Gerrard. He is Jordan Henderson and he is creating his own career and headlines.
"He is vice-captain and has a wonderful role model in Steven but I would ask every young player to follow Steven Gerard by example because he is an incredible professional and football player.
"His stature as a footballer is certainly growing all the time and that is because of his performance level.
"He assists goals, he scores goals, and for me he is just improving every single day. His tactical understanding of systems is developing and he will go on over the next few years.
"He really is a first-class footballer but I think at a big club he will go on and show what a top player he is."
Reuse content