Steven Gerrard's shocking dismissal 38 seconds after coming on in the 2-1 defeat to Manchester United dominated a fiery affair that has seen Liverpool lose ground in the race for the Premier League top-four and Champions League qualification.
But Gerrard's former team-mate Jamie Carragher has put the reasoning behind his moment of madness to Brendan Rodgers leaving the Reds' captain on the bench as he continues his return from a hamstring injury.
Gerrard was brought on at half-time in place of Adam Lallana, and had to immediately make his way back down the Anfield tunnel when he was shown a straight red card for deliberately stamping on United midfielder Ander Herrera.
Liverpool 1 Manchester United 2 player ratings
Liverpool 1 Manchester United 2 player ratings
1/25 Simon Mignolet

A torrid afternoon for the Belgian keeper as his defence provided him with little cover. Made a good save to deny Rooney from the penalty spot. 6

GETTY IMAGES

2/25 Emre Can

Arguably Liverpool's most reliable defender this season and he produced another strong performance, though Di Maria gave him a difficult time when he came on. Conceded a penalty when he committed a daft foul on Blind. 6

GETTY IMAGES

3/25 Martin Skrtel

Another dicey performance from the centre-half. Struggled to cope with Fellaini as he drove forward. 6

GETTY IMAGES

4/25 Mamadou Sakho

Left exposed a lot of the time by Moreno and Mata almost constantly took advantage. 6

GETTY IMAGES

5/25 Raheem Sterling

Played a little out of position on the right of midfield and was therefore not able to make a major impact. 6

GETTY IMAGES

6/25 Jordan Henderson

One of Liverpool's most influential players on a difficult afternoon. His vision unlocked United's defence more than twice but his teammates failed to finish off what he started. 7

GETTY IMAGES

7/25 Joe Allen

He was shown a yellow card early on in the game and that seemed to have had a negative effect on his performance. Not as boisterous in midfield as he usually can be. 6

GETTY IMAGES

8/25 Alberto Moreno

Lost the ball on a number of occasions that left Sakho exposed. He failed on a number of times to track the runs of Mata. Replaced by Balotelli in the second half. 6

GETTY IMAGES

9/25 Adam Lallana

Took a nasty blow to his head when he collided with Jones as they both went for the ball. Let himself down when he pushed his left-footed shot wide of de Gea's goal after finding space. Replaced by Gerrard at half-time. 6

GETTY IMAGES

10/25 Daniel Sturridge

Undeterred by the scoreline, the England striker never gave up and his endeavour was rewarded when he skipped past Jones before slamming his right-footed shot beyond de Gea. 7

GETTY IMAGES

11/25 Philippe Coutinho

Very important again for Brendan Rodgers. He was relentless when going forward with the ball. Linked up midfield and attack expertly. 7

GETTY IMAGES

12/25 Off the Bench: Steven Gerrard

Replaced Lallana at half-time. Sent off within 38 seconds of coming on after he stamped on Herrera. 0

GETTY IMAGES

13/25 Off the Bench: Mario Balotelli

Stroppy when he came on - not exactly the calming influence Liverpool needed and that was proved as much when he received a booking seconds after coming on for Moreno. 6

GETTY IMAGES

14/25 David de Gea

A particularly assured display from the United goalkeeper. He probably should have done better when he was beaten one-on-one by Sturridge. 6

GETTY IMAGES

15/25 Chris Smalling

Made sure Balotelli wasn't able to get ahead of him at set pieces and generally cleared his lines well. He has much more authority now than he did earlier in the season. 7

GETTY IMAGES

16/25 Antonio Valencia

A very strong game from the winger come wing-back come full-back. He was excellent in supplying Mata on the right side. 6

GETTY IMAGES

17/25 Phil Jones

Slightly erratic in a lot of what he does. He was booked when he went in hard on Henderson. Organised his defence well, though. 6

GETTY IMAGES

18/25 Daley Blind

Found himself away from the action quite a lot during the match but he was effective in running the line behind Di Maria. 6

GETTY IMAGES

19/25 Michael Carrick

Sat just in front of the United back four it was his job to stop Liverpool's midfield advancing too far forward. He did that well but was bypassed by Henderson on a number of occasions. 6

GETTY IMAGES

20/25 Juan Mata

Calmly finished past Mignolet after he made a brilliantly-timed run to meet Herrera's pass. He looked a threat when he decided to break forward. Sealed all three points when he pulled off a spectacular bicycle kick to beat the Belgian keeper at his far post. 8

GETTY IMAGES

21/25 Ander Herrera

Provided an excellent through ball for Mata to take advantage of and open the scoring on 14 minutes. He dominated the midfield. 7

GETTY IMAGES

22/25 Marouane Fellaini

His presence very welcome again in the United midfield. He drove forward with intent and rarely lost a battle in the air. 7

GETTY IMAGES

23/25 Ashley Young

Replaced by Di Maria in the second half after he suffered a knock. He was bright in the first half. 6

GETTY IMAGES

24/25 Wayne Rooney

He didn't get as far forward as he usually prefers but he was instrumental in offering Di Maria another option when the winger chose to penetrate the left-side of the Liverpool defence. Held onto the ball well in the last few minutes of the match. Should have done better with his penalty. 6

GETTY IMAGES

25/25 Off the Bench: Angel Di Maria

Replaced Young in the second half and immediately made an impact. His lovely dink teed up Mata for the Spaniard's second goal. 7

GETTY IMAGES
Speaking on Sky Sports after the match, Carragher said: "There's no doubt that not playing at Swansea (in Liverpool's last game) and then not playing this game would be a frustration.
"He's been at Liverpool 17, 18 years, he's always been the man, the captain, there's never been a case where he's been out of the team and as soon as he's fit he goes straight back in the team.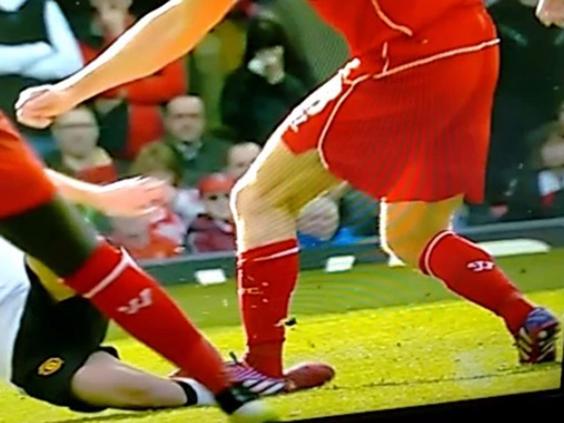 "This is the first time I think, last week at Swansea and today, that hasn't happened, so there'll be frustration there.
"Watching the first half from the bench he'd have been disappointed, Liverpool weren't playing well, they were losing 1-0.
"But there would have been more frustration. I think he'd have been watching players in his position performing not great and thinking, 'Why am I not playing, why am I not on that pitch?"
The dismissal dished out by referee Martin Atkinson stands as the seventh red card of his professional career, and his record shows his tendency to let his emotions get the better of him in not the most important games, but the ones against their biggest rivals.
Twice Gerrard has been sent-off against United, and twice more against Merseyside rivals Everton, and Carragher explains that in his opinion, Gerrard's style to wear his heart on his sleeve means that his moments of pure inspiration also involve these moments of pure frustration.
"Steven Gerrard is an emotional player," added Carragher. "You see that in his career and it's taken teams I've played in into some unbelievable moments.
"Sometimes he hasn't played with his brain in terms of when he's done well, it's been his heart - the (FA) Cup final against West Ham, Istanbul (the Champions League final). That wasn't Steven Gerrard playing with a cold, calculated head, that was just playing from the heart. He can do special things like that.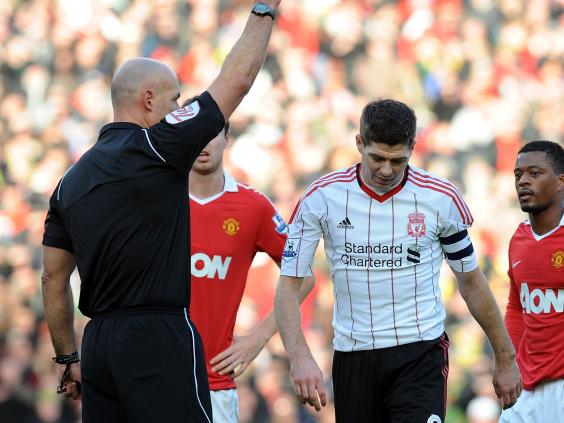 "But on the flip side of that, when he plays in games like this and he comes on maybe a bit frustrated - he's had seven red cards in his career, four of them have been Everton and Manchester United, two each now. An Everton one was coming off the bench, an Everton one was 15, 20 minutes into a game. I think the United other one was an FA Cup game in the first half and if I think right they were all straight reds.
"There's no doubt being a local player, the emotion of these occasions, the frustration coming into this game, has contributed to the moment of madness."
Reuse content