Steven Gerrard has revealed the moment when he realised he was going to leave Liverpool after losing "the buzz" to play when Brendan Rodgers decided he would no longer be a regular starter in the first team.
Gerrard will end 15 years with the Merseyside club when he joins LA Galaxy in the summer once his contract with Liverpool has expired, and he has revealed that it was the idea of being a squad player that persuaded him to move on to pastures new despite his status as a Liverpool hero at Anfield.
Rodgers has shown a tendency to rotate Gerrard with the idea that he cannot play every minute of every game like he has done throughout his career, and despite retiring from international football following the World Cup in order to prolong his club career, he will move to the MLS in the summer.
10 players who could leave Liverpool this summer
10 players who could leave Liverpool this summer
1/10 Steven Gerrard

The Liverpool captain is a certainty to leave this year as he has announced a move to Major League Soccer franchise LA Galaxy, following in the footsteps of his former England team-mate David Beckham and ex-Reds colleague Robbie Keane. Having made his Liverpool debut in 1998, the final Premier League game this season – against Stoke – will bring the curtain down on a tremendous career at Anfield.

Getty Images

2/10 Brad Jones

The goalkeeper situation at Liverpool is a tricky one, given that Rodgers elected to drop first-choice Simon Mignolet earlier in the season after his poor run of form up to Christmas. In came Brad Jones, but the back-up was far from convincing and suffered an injury which allowed Mignolet to return to the starting line-up and rekindle something of his best form. The club are believed to be actively searching for a goalkeeper to provide competition for Mignolet, which would likely spell the end of Jones' five-year stay at Anfield.

GETTY IMAGES

3/10 Glen Johnson

The England defender has been hampered by injuries this season and has fallen down the pecking order on the international stage as a result. His current deal expires at the end of the season, and with no sign of a new offer coming his way – given his current £120,000-a-week wages – it looks as though the 30-year-old will be available for a free transfer in the summer.

GETTY IMAGES

4/10 Kolo Toure

While Johnson is on his way out, Kolo Toure has the option of whether to stay at Anfield or move on. The club have offered him a new short-term contract with his current deal expiring in just over two months. However, while the Ivory Coast international mulls over his future, the belief is that he could hold the key in luring his brother Yaya Toure to the club should he leave Manchester City.

GETTY IMAGES

5/10 Martin Skrtel

A third defender could be set for an exit with Martin Skrtel's future far from clear. The Slovakian captain is yet to agree a new contract, and German club Wolfsburg have emerged as a possible suitor for the 30-year-old should he decide to leave the club in the summer.

GETTY IMAGES

6/10 Javier Manquillo

The Spanish full-back in currently on a season-long loan deal with the club from Spanish side Atletico Madrid, with the Reds holding an option to sign him on a permanent transfer in the summer. Having appeared both on the right and the left of defence as well as further forward in midfield, Manquillo has struggled to tie-down a permanent position in Rodgers' side, and the club are unlikely to take-up the option to complete a permanent move for him, paving the way for him to move back to Madrid.

Getty Images

7/10 Raheem Sterling

Much has been made over the interest in Raheem Sterling given his refusal to sign a new £100,000-a-year contract with the club. Sterling has put off talks until the end of the season, but with two years remaining in his current deal, the club stress they will not be forced to sell this summer. That could change though should Manchester City or Chelsea come calling with a large offer, while European heavyweights Bayern Munich, Real Madrid and most recently Juventus are continuing to be linked with a move.

GETTY IMAGES

8/10 Mario Balotelli

The Italian's £16m move from AC Milan has been nothing short of a disaster, and he looks set to leave the club in the summer after just one season with the club. Balotelli has failed to find anything close to his best, and with Rodgers losing patience over the 24-year-old, who recently ruled himself out of two important matches in their hunt for a top-four finish, it appears his stay at the club will be brought to a premature end.

Getty Images

9/10 Rickie Lambert

Rickie Lambert arrived in the summer in a fairy-tale story that culminated a full circle, having been released by the club he supported when he was a young boy. With a relatively cheap £4m transfer fee from Southampton, Liverpool hinted that Lambert would never be the go-to striker, but even by those standards he has seen his opportunities significantly limited, and needs to leave the club in the summer if he is to make anything of the later years of his career.

Getty Images

10/10 Fabio Borini

Another Italian striker who was determined to show Rodgers just what he was made of proved he couldn't cut it at the club. Fabio Borini rejected a second loan spell with Sunderland in order to admirably fight for his place, but the return of Daniel Sturridge and Rodgers' decision to push Sterling further forward limited Borini to brief cameos from the bench at best. The expectation is that he will join Balotelli and Lambert in being shipped on this summer.

Getty Images
"I think the signs this year were that I'm going to become a squad player, play less," said Gerrard, speaking at the 5Times Liverpool Former Player Association Gala Dinner.
"I'm going to come on as a sub and the buzz changes.
"For me, I go to work on a Monday morning and I look forward to Saturday, to prepare to go to battle with some wonderful people - with good mates - and that's my buzz.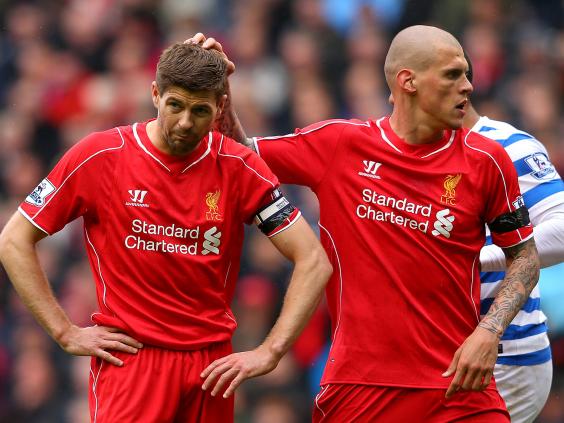 "When a manager gets you into the office and says that's going to change and it's going to become more limited - that's when you make your decision.
"It's not a selfish thing; coming on as a sub's just not the same buzz so things have changed this year."
It was perhaps this different "buzz" that he feels coming off the bench that caused him to get sent-off after just 38 seconds for deliberately stamping on Ander Herrera during the 2-1 defeat to Manchester United in March. It's also why he chose not to sign a new contract extension with the Reds in order to move across the Atlantic and follow in the footsteps of David Beckham and his former Liverpool team-mate Robbie Keane.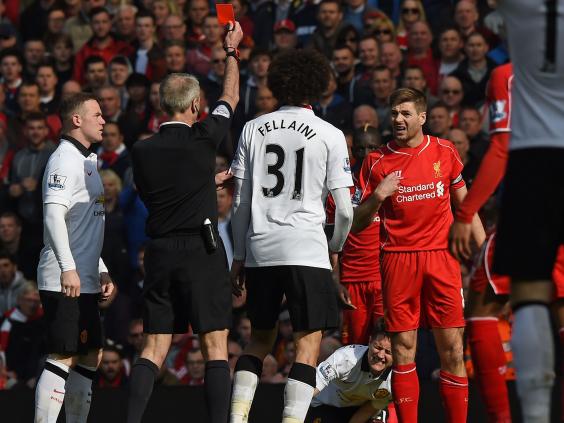 Gerrard is also looking forward to spending time with his family in LA given that the majority of the public will have no idea who he is, unlike his mass following in Liverpool.
"It lets you give a little back to your family," he added.
"You step out of the city, you breathe for a bit, you enjoy your kids and you go to a place where you are going to enjoy it.
"I think the league's going to be good, I can still start games and I can still enjoy it."
Reuse content