These are the games that Jose Mourinho is referring to when he talks about the long slog of winning a league title in England, the first against 13 encounters that would be easily ticked off by the big clubs in Spain or Italy but here have to be fought for to the very end.
There were times when Stoke City pushed the league leaders to the limit, not least a disastrously dangerous tackle by Phil Bardsley on Eden Hazard in the first half that had both benches at each other's throats, but Mourinho's team never lost their cool. They took the lead through John Terry within two minutes before Stoke had even found their rhythm and they never really gave their opponents' a clear sight of goal.
It was Cesc Fabregas who finally won the game with a second goal with 12 minutes remaining and Mourinho could at last feel confident enough to substitute Diego Costa, the man who was set upon Ryan Shawcross to try to neutralise the embodiment of the Stoke team. Costa never got the goal he desperately strained for to make his point to Shawcross in their but he did enough keeping the Stoke defence occupied.
Stoke City vs Chelsea player ratings
Stoke City vs Chelsea player ratings
1/22 Stoke: Asmir Begovic

Couldn't get near either goal, but made a fine stop from Costa late on. 6/10

2/22 Phil Bardsley

Lucky to stay to stay on the pitch after wild lunge on Hazard only drew yellow. 5

3/22 Ryan Shawcross

Frustrated by the movement of Diego Costa all evening. 5

4/22 Marc Muniesa

Like Shawcross, Costa's movement and Fabregas's passing flummoxed him. 5

5/22 Erik Pieters

Offered an attacking outlet for Stoke but his final ball often let him down. 6

6/22 Geoff Cameron

Lost John Terry for the goal, and struggled to get into the game. 5

7/22 Steven N'zonzi

Often overrun by Matic and Mikel in the middle. 4

8/22 Jon Walters

Could never quite get a foothold in the game. 5

9/22 Bojan Krkic

The former Barcelona man showed trickery at times, but lacked incision. 6

10/22 Patrick Arnautovic

Offered some invention down the left wing. 5

11/22 Peter Crouch

Shackled with ease by Terry and Cahill. 4

12/22 Chelsea: Thibaut Courtois

Great reactions to deny deflected N'Zonzi strike and quick off his line to cut out high balls. Rarely challenged. 6/10

13/22 Branislav Ivanovic

Inclined to get forward in the first period as Cahill covered his right flank. Not as watertight as Azpi and allowed Assaidi past him in the latert stages. 6

14/22 Gary Cahill

Cut off every supply route to Peter Crouch, dominant in the air and on the deck as the Blues closed out their hosts. 7

15/22 John Terry

Shook off his marker to head Fabregas's corner home for his first goal of the season. Resolute at the back as Stoke were limited to half chances. 7

16/22 Cesar Azpilicueta

Blocking Stoke attempts down the right as they went in search of a point at 1-0. Successful with every challenge. 7

17/22 Jon Obi Mikel

Made some important interventions and looked composed on the ball. Guilty of a few wayward passes. 6

18/22 Nemanja Matic

Provided a great defensive shield - constantly snuffing out Stoke attacks. Fine tackle from the Serbian turned defence into attack but Costa fluffed one-on-one. 8

19/22 Willian

Was wasteful and struggled to make his mark before being taken off for Andre Schurrle late on. Schurrle made more of an impact in 15 minutes. 6

20/22 Cesc Fabregas

Chalked up his 12th assist of the season and should have had more but for team-mates' poor finishing. Great tracking back to cut out Bardsley and capped fine showing with Chelsea's second. 8

21/22 Eden Hazard

Tireless running at the Stoke defence down the left. Enjoyed a hard-fought battle with Phil Bardsley and set up Fabregas for the second. 7

22/22 Diego Costa

A frustrated forward waiting for his break. Flashed at a shot before steering wide when one-on-one. Denied by Begovic after receiving Schurrle's pass late on. 6
It leaves Chelsea top at Christmas, three points clear of Manchester City in second place. As for Stoke, they pushed Mourinho's side hard but never really created the chances that might force a breakthrough. You could see the Chelsea manager's satisfaction in his willingness to shake the hand of Mark Hughes at the end of the game after they had quarrelled during the first half. He even extended a handshake to the referee Neil Swarbrick.
Chelsea took the lead within two minutes, before Stoke had reminded themselves that against a team this sophisticated and this tough, they needed to be more like Stoke than ever before.
They were undone at a corner, conceded by a shot deflected wide and clipped in from the right wing by Fabregas to the head of Terry who nodded his third goal of the season downwards past Asmir Begovic. The real business had taken place seconds earlier when Geoff Cameron had tried to get hold of Terry in the box and been expertly palmed away by the Chelsea captain who was more focused on the ball than his opponent.
These are the kind of goals that Stoke like to score but this was Chelsea showing there is more than just silky Fabregas touches to their repertoire. Nonetheless the corner was the Spanish midfielder's 12th assist of the season. The record for an entire Premier League season belongs to Thierry Henry and he totalled 20 in the course of 38 games in 2002-2003.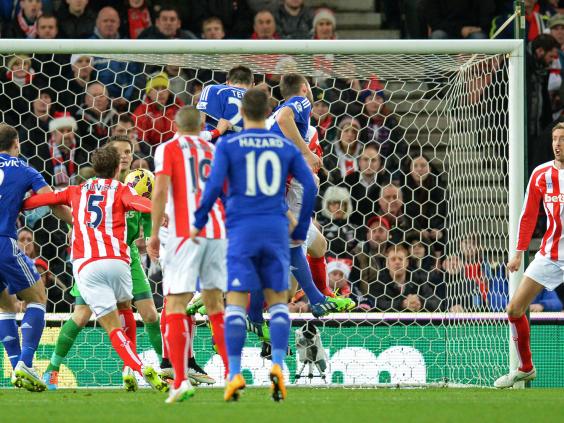 After the goal had been scored, the contest could begin in earnest. It was hard to take your eyes from Shawcross and Costa's mutual animosity, like the heavyweights at the top of the card they shoved and kneed one another and, to Costa's frustration, his opponent failed to stand still when he tried to walk backwards onto his toes.
For the real violence, you needed look no further than Bardsley's atrocious challenge on Hazard on 19 minutes, a straight red card in most referee's book but worthy of just a yellow from Swarbrick. He could have booked Bardsley six minutes earlier for a foul on the same player and in the aftermath of the second challenge the two benches erupted.
There was no love lost between Mourinho and Hughes with the former having some justification for his outrage. He also seemed to be suggesting that the Stoke manager had done too much petitioning of the referee for his liking. At one point even Rui Faria, Mourinho's combustible assistant, threatened to get involved - a sure sign that events really have got out of hand.
Stoke thrived in the ensuing minutes with Chelsea still nursing their injustice over Hazard. Steven Nzonzi shot over and Gary Cahill had to be at his best to block a shot from Jonathan Walters after Bojan Krkic had worked the ball to the left.
Then, on 31 minutes, came a prime chance for Chelsea to move the game out of the reach of their opponents. Nemanja Matic separated the ball from Cameron in midfield with scalpel-like precision and from Hazard it went to Fabregas who opened up the Stoke defence with his pass. Costa sprung the offside trap and running down the right channel he had a good view of Begovic's goal but slipped the ball wide of the goalkeeper's right post.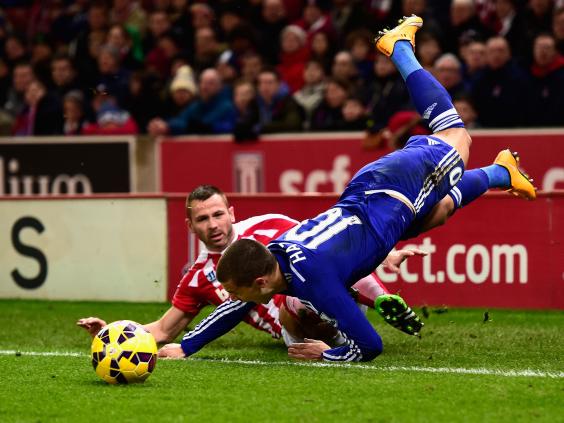 There were grievances being nursed as the players departed at half-time and the promise of a second half in which tempers could be lost but, if anything, the game lost its spark until the last 20 minutes. Save from a foul on Fabregas by Shawcross four minutes after the break, Chelsea looked composed. Even Costa was relatively becalmed, one tussle with Erik Pieters aside.
It was with some surprise that Stoke found themselves still in the game with 20 minutes left. Peter Crouch, who had little change out of Terry and Cahill, departed straight down the tunnel with what Hughes later said was a ricked neck. He was replaced by Mame Diouf and Charlie Adam, on for Cameron, came the closest with a shot struck just wide of Thibaut Courtois' goal.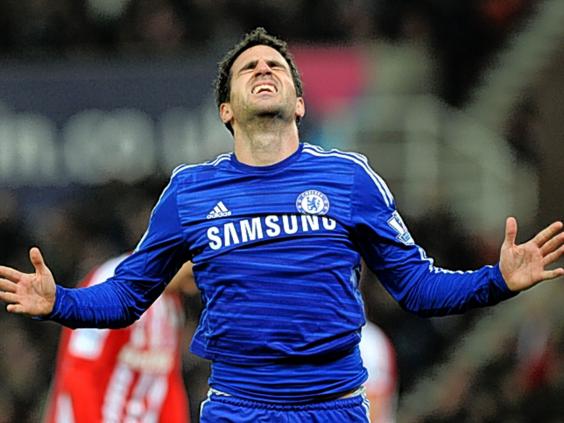 The intensity of the first half had ebbed from Chelsea, but they are the kind of team that can summon a goal in a heartbeat and so it proved. On 78 minutes, Hazard picked out Fabregas in the box and his first touch right looked like it was intended to steer the ball into the path of Costa. Instead the midfielder followed the ball himself and his scuffed shot into the corner deceived Begovic entirely.
Costa should have had one himself on 84 minutes when substitute Andre Schurrle teed him up. The Spain striker left the pitch shortly afterwards to widespread booing from the Stoke fans. That alone would have told him that his job was done.
Stoke (4-2-3-1): Begovic; Bardsley, Shawcross, Muniesa, Pieters; Nzonzi, Cameron; Walters, Bojan, Arnautovic; Crouch.
Subs: Diouf/Crouch 63, Adam/Cameron 68, Assaidi/Arnautovic 82
Chelsea (4-2-3-1): Courtois; Ivanovic, Cahill, Terry, Azpilicueta; Mikel, Matic; Willian, Fabregas, Hazard; Costa.
Subs: Schurrle/Willian 80, Drogba/Costa 85, Zouma/Hazard 90
Booked: Stoke Walters, Bardsley, Pieters
Referee: N Swarbrick
Man of the match: Matic
Rating: 6
Attendance: 27,550
Reuse content