Alan Pardew was once again taunted by Newcastle fans as his side lost to Stoke City. The result means the Magpies remain without a Premier League win this season, so where's it going wrong?
Team Selection
Lost amid the usual chaos that spills down Barrack Road has been the fact that Alan Pardew wanted a centre-half and needed a centre-forward in the summer when Newcastle went and bought nine players (two of whom they sent back to Nottingham Forest on loan). He got neither.
Facundo Ferreyra, bought for £1.6m for one season on the recommendation of Fabricio Coloccini, cannot even get a game for the club's reserve side. Papiss Cisse was deemed not fit enough to start. Hatem Ben Arfa was shipped off to Hull. It means there are precious few options open to the Newcastle manager.
He has his favourites in Moussa Sissoko, Yoan Gouffran and Cheick Tiote. It is clear proof of his favouring of industry. Newcastle had a good transfer market up until the last two weeks, but the failings then have left Pardew with little leeway over whom he could turn to in such a crucial match.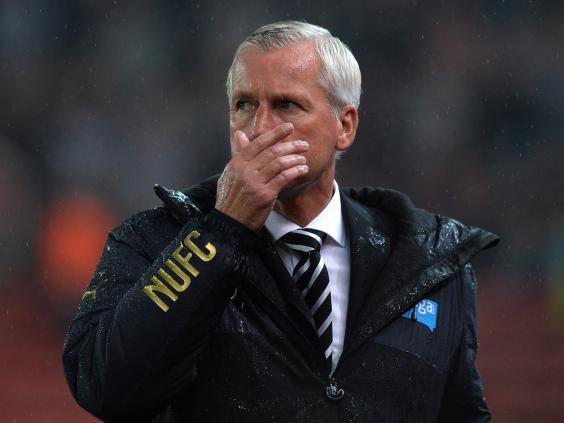 Tactics
Pardew has proven immovable with the structure of his team and it has to be considered a shortcoming, given their appalling form in 2014.
Newcastle play 4-2-3-1 and for all Manu Riviere has not set the world alight since his €6m  from Monaco, he has been playing in a team that does not create chances. Yes, Newcastle have pressure and keep it neat and tidy, but the side lacks guile and vision, and places a far greater emphasis on stopping the opposition than actually seizing the initiative themselves.
That negativity has stifled flair players at Newcastle (notably Sylvain Marveaux and Ben Arfa, who have both left on loan after fallouts with the manager). Last night, this meant that Pardew never instructed his side to go after a team that had drawn with Queens Park Rangers and lost to Leicester in their previous two games. Fans' reaction
The 'SackPardew.com' campaign and website has yet to ignite Newcastle's support during an actual Premier League match. That was the case against Hull (leaflets were also confiscated by club stewards) and again at Stoke, when the A4 signs were sparsely on display, which does not reflect the lack of support the 53-year-old has among the fans.
Stoke was hardly the ground he would have wished to visit at this stage in his Newcastle tenure, having to walk past the away fans to go to the tunnel in the corner of the ground. He was jeered and they sang "Alan Pardew, it's never your fault," more vociferously in the final 10 minutes.
The Newcastle owner Mike Ashley was again there to witness the broken relationship between manager and supporters but he has proven in the past that the wishes of the Newcastle fans are not his concern.
Body language
When Jack Colback struck the post with six minutes of Monday night's game remaining, Pardew, who was walking back towards the visitors' dugout, briefly put his hands to his head. When his face was visible, it looked like he had seen a ghost. It was a huge moment and every fibre of Pardew's being knew it.
For the first half he had stood in his technical area and got an absolute soaking. The only redeeming feature was that he did not stand with an umbrella. Pardew had vowed before the Hull game to front it out, next to his players, and he did so again. That might be more worrying because if his players are listening, then the message is clearly the wrong one.
He applauded the travelling support as he headed down the tunnel in front of them, following yet another defeat. He was taunted for doing so.
Reuse content