The Swansea manager, Garry Monk, risks landing himself with a hefty fine from the Football Association after claiming referee Michael Oliver "cheated us" over the controversial penalty award that set Stoke on track for a win secured when Jonathan Walters came off the bench to score with a second-half header.
In a wide-ranging and scathing attack, Monk also called for Stoke's Victor Moses to be punished for "a dive he should be ashamed of" and accused Mike Riley, the manager of the Professional Game Match Officials Limited, which oversees referees, of not doing his job after promising to listen to managers' views on contentious decisions.
Oliver awarded Stoke their penalty two minutes before half-time, having already given one in Swansea's favour that Stoke saw as contentious, punishing Ryan Shawcross for a grapple inside the penalty area at a corner that saw Wilfried Bony brought down.
The 29-year-old official had been booed by the home crowd after that decision and when Moses went down with seemingly limited contact from Angel Rangel, he surprised everyone in the stadium by pointing to the spot.
Stoke manager Mark Hughes agreed the decision was "soft" but Monk was incandescent.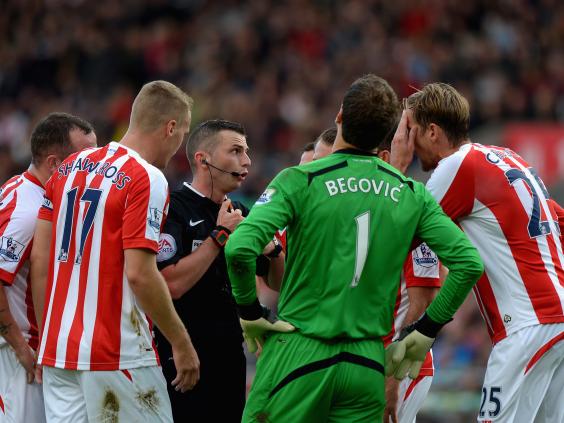 "It was the most blatant dive you will see," he said. "He should be punished for diving. It's a clear dive, which is cheating. He's cheated the referee, and then the referee's cheated us in terms of giving a decision that never was.
"It is a disgusting decision and Moses should be ashamed of himself.
"I wouldn't be able to go home to my family if I had done something like that, but that's just the way I am.  If other people want to be different, it is up to them."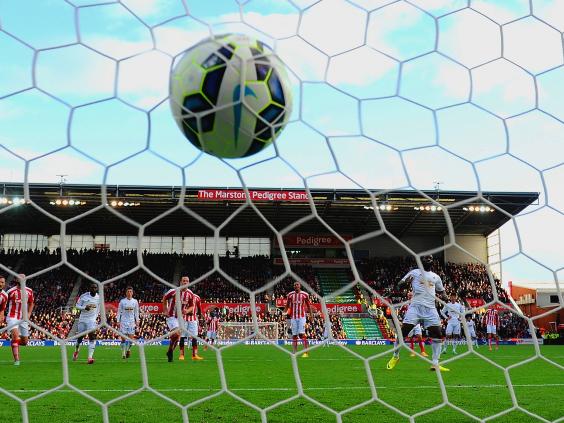 Asked if he felt Oliver might have been evening the score after his decision to punish Shawcross for the kind of man-handling that usually goes unpunished, Monk said: "I would hope not.  The Shawcross decision was correct. Shawcross had his arms all over Bony.
"He is supposed to be a professional referee at highest level and you wouldn't expect [him to be influenced by the crowd].
"Everyone in the stadium was amazed that he gave it  I looked at their bench and they were looking at me as if they couldn't believe it. He seemed to be the only guy in the stadium who thought it was a penalty."
Monk went on to criticise Riley over failing to respond to an earlier complaint following the dismissal of Rangel at Sunderland last month for a second yellow.
"I don't like to be talking about this. I'd rather be talking about the football but these sorts of game changing decisions are happening all too often and we are not getting any kind of leadership from Mike Riley on this.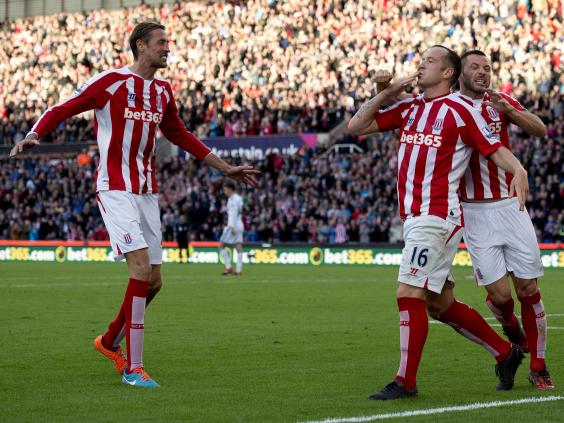 "We sent a DVD to Mike Riley after the Sunderland decision when Rangel was sent off for a second yellow and have not had a reply, which is a disappointment. 
"He is supposed to be being proactive and is clearly not listening to anything I'm saying. I have not phoned him. His job is to ring me and he hasn't done, so he is not doing his job. 
"He is supposed to be overseeing it all and seeing what managers feel. He met with us before the season and said he wanted our feedback."
Monk said the club had now gone above Riley by writing to John Williams, the chairman of the PGMOL. "We just want explanations. We have had no consistency whatever in the performances we have seen this season."
The Monk rant overshadowed a victory for Stoke that owed much to Hughes for his tactical changes in the second half, even though the penalty, converted by man of the match Charlie Adam, was a clear lifeline.
Swansea had wasted two well-worked early chances for Gylfi Sigurdsson and Ki Sung-Yueng before Bony gave them the lead from the spot, but when Hughes brought on Geoff Cameron to play in front of the back four after an hour, the threat posed by Sigurdsson became less.
Then Hughes' two other substitutes combined to score the winning goal when Oussama Assaidi delivered a right-footed cross from the left flank and Walters moved smartly into space to direct a neat header wide of Lukasz Fabianski.
Hughes, no stranger to outspoken outbursts himself when the mood has taken him, felt Monk would have been wiser to calm down and making a more measured assessment of what happened.
"You get a bit emotional after games, especially when you have lost a game when you were leading," he said.  "Sometimes it is better just to bite your lip and watch what you say or you will get yourself into trouble.  I heard what he said about Victor Moses and there is no need for that.
"I don't think Victor dived.  I think he felt contact. He was moving at pace between defenders and the onus is on the defender not to get anywhere hear him. If you put your arm across a player going at pace the likelihood is he will be knocked off balance.
"If you look at it from the referee's angle then Rangel makes a definite move to knock Moses off his stride.  It is a soft one and you can argue however much you like but the referee has given it."
Reuse content