Stoke City assistant manager Mark Bowen has revealed the side have changed their tactics for defending set-pieces over concerns that Ryan Shawcross is being singled out by referees.
The Potters' skipper gave away a penalty in the 2-1 win over Swansea earlier this month for grappling with Wilfried Bony and is now being deployed as a zonal defender.
Assistant boss Bowen said: "The difficult thing for Ryan, in Saturday's game we tried to pull him out of the spotlight.
"Instead of him actually marking from a corner, we put him in an area where he could just go and attack the ball, which is not his game, he's not been brought up on that.
"It comes to something when you've got to try to change your system of marking around because you're worried that the lad is getting targeted."
Stoke feel Shawcross has earned an unfair reputation as a player who holds in the box, and that he was punished for an offence that is rarely penalised.
That feeling was only exacerbated on Sunday when two Manchester United defenders appeared to wrestle the players they were marking to the ground at a corner but no penalty was given.
"You see it time and time again across the country and Europe as well and, when nothing does happen, it does hurt," he said.
"When you look at the two referees, Michael Oliver for our game, his starting position before the corner came in, as opposed to where Phil Dowd was standing.
"You wonder whether Michael was actually looking for something in that area, whereas Phil maybe had a more general picture."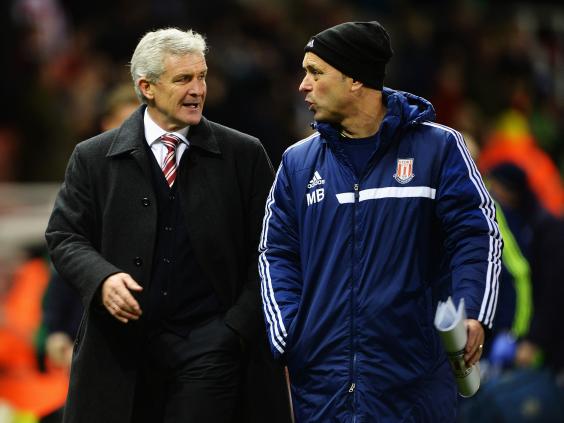 Shawcross is set to lead the side on Wednesday when Stoke face Southampton, the team they lost 1-0 to in the Premier League on Saturday, in the fourth round of the Capital One Cup.
But fellow defender Robert Huth could be set for another lengthy spell on the sidelines after hurting his calf in training on Monday.
Formerly one of the first names on the team sheet, the German has played just two games since last November, largely because of a knee injury that required two operations.
Huth was sent for a scan on Tuesday, and Bowen said: "I think he's got a pretty bad calf problem.
"All the fans at this club know what a warrior he is. I do say tongue in cheek that at times you wonder if that helps him because he wants to play on all the time and train through niggles and injuries.
"Our thoughts are with him because, if it is a significant injury, he'd come through his knee problem and was looking to push for a starting place so this has come at a bad time."
Stoke have the rare chance to take immediate revenge for Saturday's result, and this time the game will be played at the Britannia Stadium, where the Potters will look to make it three victories in a row.
Southampton's win took them up to second in the Premier League table, only four points off leaders Chelsea, and Bowen is looking for his side to put in a better showing.
"We've looked back at it with the players and we probably didn't play the game we wanted to play, certainly in the first half," he said.
"There was a little bit of looking at their last game (an 8-0 win over Sunderland) maybe and too much respect for them.
"In terms of trying to get on the ball and play, I didn't think we approached it right. In the second half I thought we were well in the game, without creating any clear-cut chances.
"It's strange (playing them again) because you're always wondering whether they're going to set up the same. (Saints manager) Ronald (Koeman) has gone quite strong in the cup games the way we have so we don't expect too many changes.
"We've got the added bonus of our fans behind us, and we are a different side at home so that will hopefully play into our favour.
"We don't underestimate the problems they can cause but we've got a few things up our sleeve that we can throw at them as well."
PA
Reuse content