Stoke manager Mark Hughes has laughed off Manchester City counterpart Manuel Pellegrini's "small team" comments.
Pellegrini was left annoyed by Chelsea boss Jose Mourinho's tactics in last Sunday's 1-1 draw between the sides at the Etihad Stadium.
Having been beaten at home by Stoke three weeks previously, the 61-year-old Chilean held up Chelsea and the Potters for comparison, seemingly belittling both clubs.
Describing the match with Chelsea, Pellegrini said: "It was very similar to the Stoke team, with a big team playing against a small team with very good players, trying to defend, trying to keep the score (0-0)."
Asked for his thoughts on Stoke being described as "small", Hughes said: "I think everybody understood what he meant.
"He was possibly disappointed with the way Chelsea approached the game.
"Having seen us play exceptionally well a few weeks previously, why wouldn't Chelsea follow what we did?
"We didn't take any umbrage with it, as criticism of ourselves.
"It was more the Manchester City manager's take on how he thought one of the top teams went up against his side.
"On the day they were gracious in defeat, which sometimes doesn't happen with big clubs.
"But I felt we fully deserved the victory and they said so."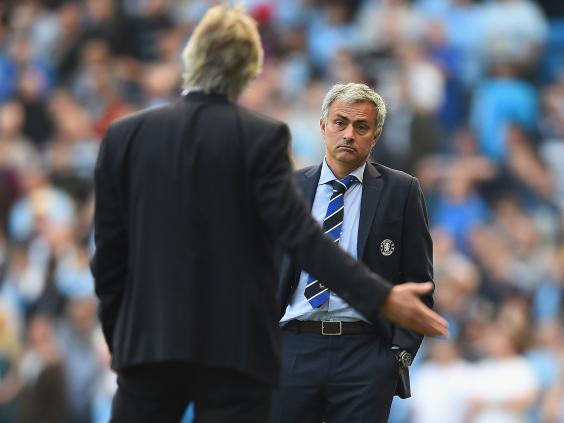 It was at Manchester City where Hughes was given his first taste of big-time management, and the pressure and expectation that comes in running a club of that ilk, lasting just over 18 months before being sacked.
In that respect Hughes appreciates the circumstances currently being faced by Newcastle boss Alan Pardew, whose side face the Potters on Monday.
With his club bottom of the Barclays Premier League with just three points, after failing to win any of their opening five matches, the demands for Pardew's head from the fans has been intense.
From his time at City, Hughes claims the expectation and focus that comes with managing a big club is "unfair".
The Welshman added: "It's circumstantial as a lot of people don't know the reason why certain things have occurred or why there hasn't been a good performance.
"There are always other things people outside the immediate group don't know about and you know yourself you can't go out and say, 'well, these are the reasons'.
"So you have to protect yourself, your position and your club sometimes from situations, and sometimes that's to the detriment of yourself.
"It's not easy because there is more focus on you as a club and you, as the figurehead, in terms of football. It goes with the territory and you have to deal with it.
"The focus on big clubs is always there and the only way you can deal with it, to take that focus off you as a manager, is by winning football matches and if you don't there is a negative focus."
Hughes has no fresh injury concerns, with only midfielder Jonathan Walters a doubt with a calf problem.
PA
Reuse content