Carlos Cuellar was lying on his back, with his foot tucked into the stomach of his captain John O'Shea, when the triumphant music began, telling everyone in the North-east that Sunderland had won.
O'Shea briefly forgot about tending to his cramp-ridden team-mate and raised a fist towards the delirious supporters in the main stand at the Stadium of Light. Gus Poyet, his manager, did not slide on his knees, but then he did not need to. He has a place in history now, just like Paolo Di Canio, no matter how disliked he was by his own players.
Poyet could not, however, just like those in red and white shirts, hide the delirium that was coursing through every single one of his veins. The Sunderland manager of two games was punching the air in a series of short jabs as he marched, shouting, towards the home dugout, where he was embraced by a group of staff who may have recognised the greater significance of the result. They now have an outside chance of being employed by a Premier League club next season.
You cannot underestimate that. If Sunderland had lost this game, the effects would have been felt for  seasons. There would have been nowhere left to go. Before that thundering 85th-minute goal from the substitute Fabio Borini that so lifted the mood of a city, Sunderland had won two home games in the entirety of 2013, and they were both last season. In eight games before the visit of Newcastle, they had scraped a single point. The last time Sunderland were relegated, 70 people were made redundant. The real significance of victory is the club could stay up, but that consequence seemed a million miles from everyone on the field at full-time, where raw emotions sparked on the rain-soaked pitch.
Hatem Ben Arfa had to be ushered from the field by a Sunderland steward as he rowed with Phil Bardsley, a player who was banished by Di Canio for  surrounding himself in £50 notes in a local casino.
Paul Dummett, the young Geordie defender (one of only two who started the game, the other being Sunderland's Jack Colback) who had basked in the glory of a Premier League debut goal against Liverpool, stood with his head in his hands. He was culpable for the first goal and will understand, more than most, the significance of defeat.
Past him, Davide Santon put both hands in the air towards the Newcastle supporters. It looked more like an admission of surrender than the apology it was most likely meant to be.
It threatens to be a bleak winter for those fans, beaten in back-to-back league games by Sunderland, their fierce rivals, for the first time in 47 years. Not for almost half a century has a Newcastle manager had to dig himself out of the hole Alan Pardew finds himself in. In 1967, Joe Harvey was the manager who faced such a predicament. Harvey had the currency of being a two-time FA Cup winner with the club when he suffered that unwanted statistic. Harvey had also led the club to promotion in 1965. Pardew does not have that fall-back.
Instead he manages a club where the owner, Mike Ashley, and the director of football, Joe Kinnear, had something else to do yesterday, other than watch their team play 13 miles away at Sunderland. The shopping? That should tell you everything about the gradual erosion of a football club. In their absence, the most visible presence of seniority at the club yesterday in the Sunderland directors' box fell on the shoulders of Peter Beardsley, officially a reserve team coach at Newcastle.
The local Newcastle newspapers, the Evening Chronicle, The Journal and the Sunday Sun have been told they are banned for their coverage of a peaceful, 500-strong anti-Ashley demonstration that took place before the Newcastle-Liverpool game last weekend. Yesterday, following Newcastle's defeat, Pardew was not allowed to answer questions from those three newspapers.
His on-field problems had started on Thursday when Steven Taylor damaged a hamstring that could keep him out for four weeks. Taylor is a hated figure on Wearside. The song about wishing he was dead rang around the streets of the Stadium of Light before kick-off. In the absence of him, the injured Fabricio Coloccini and the suspended Mapou Yanga-Mbiwa, Dummett, who is a left back by trade, played at centre half.
Sunderland roared out of the traps. Newcastle were unsure of a system with Ben Arfa as their main, central striker. After just five minutes, following a clever short corner, Adam Johnson's cross saw Steven Fletcher demolish Dummett and head his side in front. There is an argument that Newcastle never recovered. It is undeniable that it breathed life into a team who had been smashed for four by Swansea a week earlier. Three times Pardew changed the formation of his front six in the first half. It added to a disjointed display. That suited Poyet, whose team were industrious to the point of muscle fatigue.
Newcastle looked more assured in the second half, with their fourth different formation. In the 58th minute, Ben Arfa struck a low, diagonal ball across the Sunderland penalty area. At the far post, Johnson momentarily switched off and Mathieu Debuchy crashed in the equaliser.
Pardew thought Newcastle should have won from there and Yohan Cabaye, the substitute Shola Ameobi and Davide Santon went close.
"If we'd got the second goal, the game would have been over because they would have been dead," he said. "Unfortunately for us we didn't get the second goal. We're very disappointed, as you'd imagine. The referee has played a part in this defeat because that was definitely not a free kick in my opinion. The linesman has given a throw, the referee gave a foul and one or two of ours switched off."
Pardew was referencing an incident in the 85th minute when Steven Fletcher had run the ball out on the far side of the field, and the assistant linesman had flagged for a throw-in to Newcastle. Cheick Tioté, however, in his haste, had been adjudged to have fouled the Scottish forward. Fletcher took the free-kick quickly, Sunderland broke, and after Jozy Altidore had touched the ball, Borini, who had been on the field for 17 minutes, crashed a shot into the top corner of Tim Krul's goal from 20 yards.
"We are off the bottom, that is something," said Poyet. "We beat our biggest rivals, that is even bigger. Now we need to get going. We needed a lift and there isn't a better lift that this one. I'm happy for the players and I'm delighted for the fans. I saw what it means all week. I imagine how they will be."
He did not need to imagine. It was there for all to see.
Sunderland (4-1-3-2): Westwood 6; Bardsley 7 (Celutska 77), Cuellar 7, O'Shea 7, Dossena 6; Cattermole 7 (Ki 70); Larsson 5, Colback 7, Johnson 5 (Borini 68. 7); Fletcher 7, Altidore 6.
Booked: Fletcher.
Newcastle (4-2-3-1): Krul 6; Debuchy 7, Wlliamson 6, Dummett 5, Santon 6; Tiote 5, Cabaye 7; Gouffran 5 (Sa Ameobi 70, 3), Sissoko 4 (Cisse 46, 6), Remy 6 (Ameobi 70, 5); Ben Arfa 6.
Booked: Cabaye
Star man: Colback
Att: 46,313
Ref: Mr L Probert 7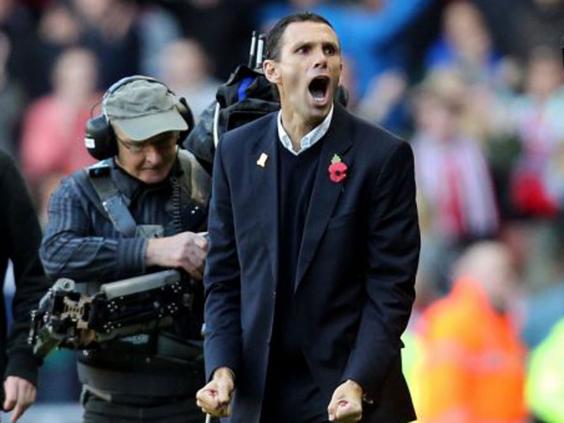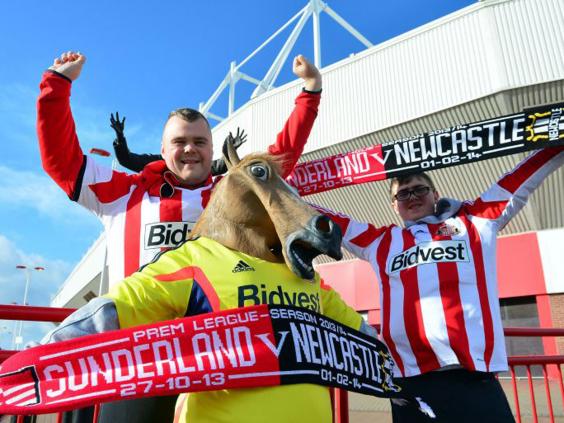 Reuse content