Sometimes it goes for you. Raheem Sterling spent Saturday on a beach in his shorts in Jamaica. His manager Brendan Rodgers was victorious in the bitter cold of the north east.
There will be many who never quite get their heads around the concept of footballers taking mid-season jollies, but yesterday it worked, and it worked far more comfortably than the scoreline suggests.
Rodgers knew it was a dangerous situation. It was not helped by the picture of his most skilful young player in sunglasses and a hat 24 hours before his side travelled north.
Sunderland 0 Liverpool 1 player ratings
Sunderland 0 Liverpool 1 player ratings
1/24 Costel Pantilimon - 6/10

Made a series of fine reaction saves as Liverpool peppered his area and could do little about Liverpool's first-half goal.

2/24 Santiago Vergini - 4

Needlessly gave away a free kick in a dangerous location on the half hour, lacked discipline and gave the ball away.

3/24 Wes Brown - 4

Struggled to deal with the pace of Liverpool's runners getting in behind him; the referee should have given a penalty for his challenge on Markovic.

4/24 John O'Shea - 6

Dominant tackle on 24 minutes and looked a more authoritative presence than his colleague.

5/24 Patrick van Aanholt - 6

Could have done with more support from Johnson as he was overrun by Markovic, he did look more promising going forward.

6/24 Liam Bridcutt - 5

A solid enough presence in front of the defence but should have known better than to bring down Can on the right flank, earning him a red card.

7/24 Emmanuel Giaccherini - 5

A non-entity going forward who provided next to no support in defence, he did too little to ever worry Sakho.

8/24 Sebastian Larsson - 5

Tough in the tackle but his usually excellent set-piece delivery was lacking and in open play he sent the ball back to his defence too often.

9/24 Jordi Gomez - 5

Hustled off the ball too easily, he failed to keep possession or move the ball out wide. A disappointing performance from the man tasked with being his side's creative fulcrum.

10/24 Adam Johnson - 6

After a quiet first half came into the game after the red card, taking on defenders and nearly scoring with a swerving 25-yarder.

11/24 Connor Wickham - 5

Skilful on the ball but offered so little movement off it that Liverpool's defence had few problems from him.

12/24 Simon Mignolet - 5

Exceptionally lucky not to have been humiliated when he completely misread a Johnson shot in what was otherwise a quiet game.

13/24 Emre Can - 7

A brilliant pass set Borini through on goal, looked confident both in defence and midfield.

14/24 Mamadou Sakho - 6

Never looks entirely sure of himself and was prone to the odd careless moment, but moved the ball well.

15/24 Martin Skrtel - 6

He could have dealt with Wickham on his own without the need for another two centre-backs, a comfortable game.

16/24 Lazar Markovic - 8

He was at the heart of everything good about Liverpool, an energetic presence on the right flank, pressing high up the pitch and getting in goal-scoring positions.

17/24 Jordan Henderson - 6

His late runs into dangerous areas made him a constant threat to Sunderland but he might have done better in front of goal.

18/24 Lucas Leiva - 6

The midfield anchorman seemed unnecessary when Sunderland showed so little ambition, he kept the ball well.

Getty Images

19/24 Steven Gerrard - 5

A strange performance by the captain. He got himself in the right positions but always seemed to scuff the ball or make the wrong decision.

20/24 Alberto Moreno - 6

A solid performance shuttling up and down the left flank, though most of Liverpool's success came on the other flank.

21/24 Philippe Coutinho - 7

A superb lofted through ball to Henderson that could have led to a goal was one of many in another good creative performance.

Getty Images

22/24 Fabio Borini - 5

Missing an open goal after an excellent run took him past the keeper perfectly summarises a performance, and Liverpool career, that never really got going.

23/24 Dejan Lovren - 6

Could not have asked for a more comfortable return to the Liverpool side, Sunderland offered little to threaten the Croat.

24/24 Mario Balotelli - 5

The Italian striker may find that first Premier League goal easier to find if he stops forcing it, he was always looking to score when his colleagues were better placed.
"Raheem will be back next week," said Rodgers. "It was something that was already planned from the summer. In my time here in two-and-a-half years he has gone from the youth team through to becoming a full international player. He is one of the best young players in European football. If I was selfish I would maybe have him here with me every single minute. He has been brilliant and I need to think of the kid.
"He has played over 100 games and he has just turned 20. I just felt this was a good period for him to have a rest. He missed the FA Cup tie and he missed the Sunderland game and he will rejoin us next week fresh and fit for the second part of the season."
He will be coming back to a happy camp. For that he might thank Steven Gerrard who, in his farewell to the North-east, was outstanding. He only played for 45 minutes before a hamstring tightened, according to his manager.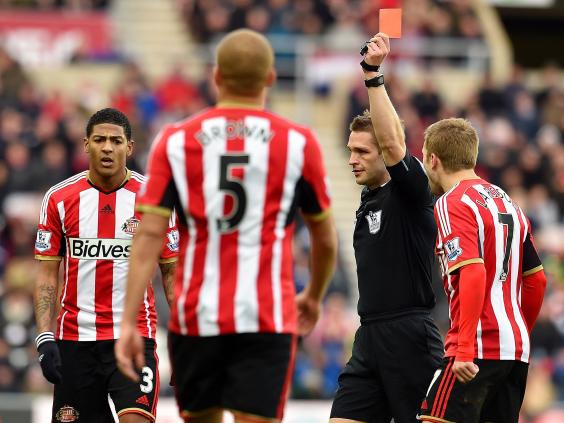 But that was more than enough to give a reminder of why there has been such a reaction to his decision to leave English football at the end of this season and head off to America. If he leaves Liverpool in the Champions League it will be some parting gift, and do not bet against them just yet.
It is one defeat in nine now and a season that was disintegrating a couple of months ago has life. They are just four points behind fourth placed Southampton and within five of their old rivals Manchester United.
Victory came in a dominant first half. Within three minutes the excellent Lazar Markovic was fouled inside the Sunderland penalty area by Wes Brown. For that referee Craig Pawson did nothing.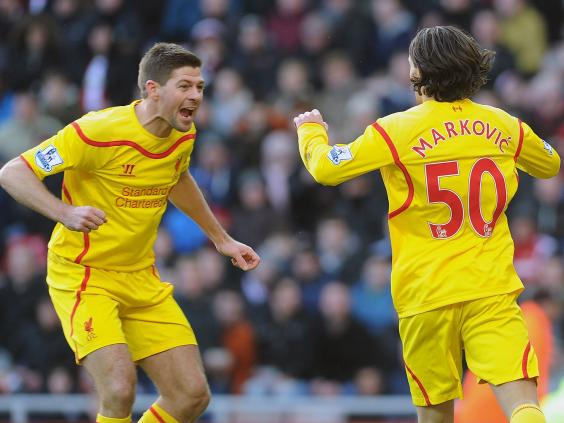 He was instrumental in the game-winning goal that came in the ninth minute. Liverpool swept forward down the right and Gerrard dumped cleverly to Fabio Borini, who fell. Pawson allowed the play to keep moving and Markovic pounced to poke the ball through the legs of Costel Pantimilon.
Markovic, like much of what Liverpool created in the first half, was a problem Sunderland could not solve. He smashed a superb volley off the Sunderland crossbar on the half hour. Pantilimon, for all his size, was nowhere near it.
By the time the half had finished, and the jeers had fallen on those in red and white from the home supporters, Gerrard had smashed a fine strike into the side-netting and Borini, after rounding the keeper, had done the same from a tight angle.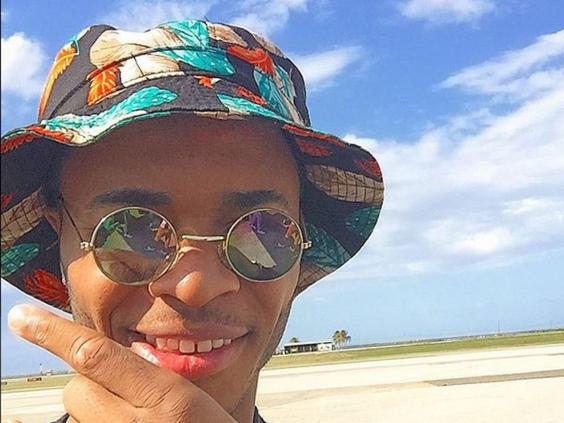 Then Gerrard went off injured and his absence was of more significance to anyone lying on a beach. Liverpool lost control, Liam Bridcutt picked up a second yellow card, for clipping the heels of Emre Can, and from there the game became disjointed.
Mignolet still did not have a save to make, but Adam Johnson crashed a shot off the crossbar. Gus Poyet was jeered for taking Johnson off in the 86th minute.
"The fans need to accept reality," Poyet said. "It's been going on for the last four or five years. They need to be more patient."
Liverpool finished strongly. There were two chances for Philippe Coutinho and even Mario Balotelli, who was dreadful, forced a save from Pantilimon from a narrow angle.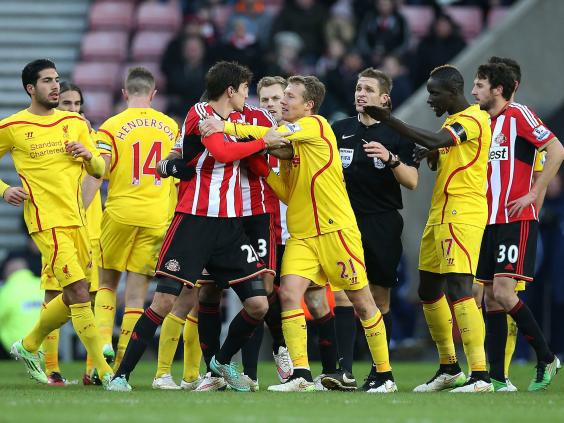 "We were outstanding," Rodgers said. "We had real control in the first half. "Defensively the players were excellent as well. It showed how strong we are. It was a very good result and a very good performance."
Sunderland: (4-1-4-1) Pantilimon; Vergini, O'Shea, Brown, Aanholt; Bridcutt; Johnson (Mandron 86), Larsson, Gomez, Giaccherini (Buckley, 77); Wickham (Graham, 77).
Liverpool: (5-3-2) Mignolet; Markovic, Can, Skrtel, Sakho, Moreno; Henderson, Gerrard (Lovren, 51), Leiva; Borini (Balotelli, 67), Coutinho.
Referee: Craig Pawson
Man of the match: Markovic (Liverpool)
Match rating: 5/10
Reuse content