John Carver has admitted he wanted to hit Paolo Di Canio when Newcastle United were beaten 3-0 at home by Sunderland during the Italian's controversial time in charge.
Di Canio famously slid on his knees on the pitch during the win, Sunderland's biggest at their rivals for more than 30 years. Carver, now Newcastle's temporary head coach, was assistant to Alan Pardew on that chaotic afternoon.
In the build-up to tomorrow's derby at the Stadium of Light, Carver revealed just what this derby means to him. "When Paolo was sliding on his knees, I've never been so agitated in my life," Carver said yesterday. "I wanted to take the law into my own hands because of what I was watching in our stadium. It was very difficult to take.
"This is your own stadium, your home and it was embarrassing. It was an embarrassing performance and I was embarrassed to be part of it. Him doing that pissed me off. From that day, that is something that drives me to try to get the right result. When Paolo slid on his knees, I found that extremely hard to take, and that will stay in there."
Earlier this season Newcastle lost for an unprecedented fourth time in a row to Sunderland, and again Carver was in the home dugout as Adam Johnson scored a late winner. "I just went home, never spoke to anybody, and put the television on. It hurts that much," he said.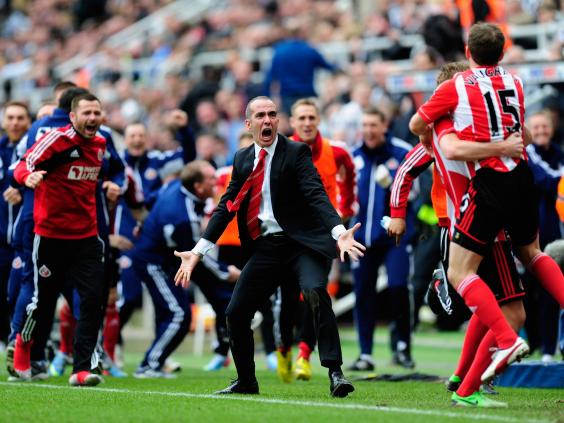 Carver was also there when Ruud Gullit dropped Alan Shearer and lost. "He started talking about what the team was going to be against Sunderland. I said, 'Sorry, Ruud, what did you say there?' He said he was going to leave out Alan and Duncan [Ferguson]. I said, 'Do you know how important this game is?'
"I walked in after we'd lost, and there's Ruud writing on his pad." The next day he handed in his resignation.
This is likely to be Carver's first and last derby in charge. And memories aside, both clubs desperately need a win.
Reuse content