Zlatan Ibrahimovic might fancy his chances, but Swansea City defender Martin Olsson believes not even the sharpest of elbows offer much protection against the power of Fernando Llorente.
Swansea City's Spanish striker is a similar size and build to Ibrahimovic, but the Manchester United man would find Llorente difficult to swat aside – just as Burnley discovered after twice succumbing to the Spaniard's aerial dominance.
The Clarets looked as though they might pinch their first away victory of the season until Olsson's equaliser was followed by a second thumping header from Llorente deep into added time.
Olsson – whose surging runs from left-back have been almost as influential as Llorente's goals in recent games for resurgent Swansea – reckons his teammate is the stuff of midnight sweats for defenders.
"What he is doing is fantastic," said Olsson, who scored his second goal in three games for his new club since his £4m move from Norwich City.
"He is exactly what we need. If we cannot work the ball on the ground, we can look to put the ball in to him and he is there.
"He is the same in training. He wins absolutely everything in the air and is a nightmare when we do attack v defence. All the lads try to avoid him. We try and elbow him a bit to put him off, but he is a strong, strong guy.
2016/17 Premier League kits
2016/17 Premier League kits
1/20 Arsenal (home)

Our rating: 6/10

Arsenal / Puma

2/20 Bournemouth (home)

Our rating: 8/10

AFC Bournemouth / JD Sports

3/20 Burnley (home)

Our rating: 6/10

Bunrley / Puma

4/20 Chelsea (home)

Our rating: 7/10

Chelsea / Adidas

5/20 Crystal Palace (home)

Our rating: 5/10

Crystal Palace / Macron

6/20 Everton (home)

Our rating: 9/10

Everton / Umbro

7/20 Hull City (home)

Our rating: 6/10

Hull City / Umbro

8/20 Leicester City (home)

Our rating: 6/10

Leicester City / Puma

9/20 Liverpool (home)

Our rating: 9/10

Liverpool / New Balance

10/20 Manchester City (home)

Our rating: 3/10

Manchester City / Nike

11/20 Manchester United (home)

Our rating: 7/10

Manchester United / Adidas

12/20 Middlesbrough (home)

Our rating: 5/10

Middlesbrough / Adidas

13/20 Southampton (home, goalkeepers)

Our rating: 5/10

Southampton / Under Armour

14/20 Stoke City (home)

Our rating: 5/10

Stoke City / Macron

15/20 Sunderland (home)

Our rating: 5/10

Sunderland / Adidas

16/20 Swansea (home, away)

Our rating: 7/10

Swansea City / Joma

17/20 Tottenham Hotspur (home, goalkeeper)

Our rating: 7/10

Tottenham Hotspur / Under Armour

18/20 Watford (home, away, goalkeeper)

Our rating: 5/10

Watford / Dryworld

19/20 West Bromwich Albion (home, goalkeeper)

Our rating: 7/10

West Bromwich Albion / Adidas

20/20 West Ham United (home)

Our rating: 7/10

West Ham United / Umbro
"It is good to have him. He has been at big clubs before, but he is a nice guy, a really humble guy and he works so hard. The whole team's style of play suits him and it has been good."
It would be wrong to claim that Swansea – for so long lauded for their neat and compact passing style – have suddenly gone all long ball by launching it towards Llorente.
But the 32-year-old striker Chelsea tried to sign in January has given coach Paul Clement's team an option of hitting crosses to the far post where the discomfort he causes defenders is on a par with West Ham's Andy Carroll.
Clement did not sign Llorente, who was brought to South Wales by Francesco Guidolin, a manager whose face already feels as though it is fading to sepia even though he began this season in charge at the Liberty Stadium.
But Clement knows the value of Llorente to his club, which is why he was so keen to prevent his sale to Chelsea.
"He will get a lot of credit for today and I am not sure another striker is going to get on the end of those," said Clement after Llorente's trademark headers gave him 11 goals for the season and five in his last six games.
"It is the height of those crosses in, and he is also incredibly accurate he is able to steer the ball into the corners."
Burnley fell behind to Llorente's first towering moment, but then survived when the same player headed against the bar, before taking a barely believable 2-1 lead.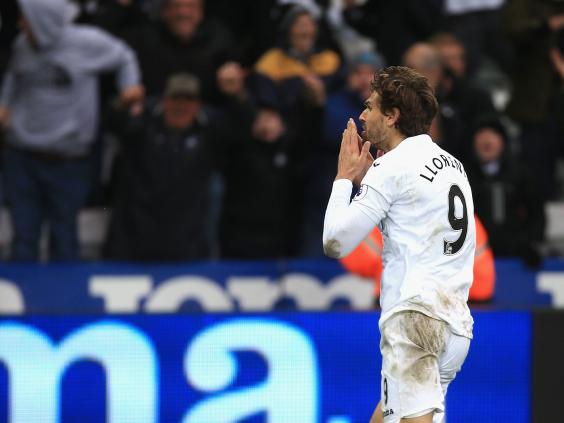 Andre Gray, as sharp on the ground as anyone on the field, coverted a penalty after a highly dubious decision by referee Anthony Taylor. The striker then swivelled and shot his club into a position that provided real hope they might earn their first away victory of the season.
But Olsson's goal and Llorente's winner means Burnley remain on the outer margins of the relegation battle, although their defender Ben Mee retains confidence another survival mission can be successfully accomplished.
Mee said: "The bonus is that it's another game gone and we are still nine points clear of the drop zone.
"We want to win as many games as we can with 11 games to go. But we need to go into every game like we did last year, towards the end of the season. We went on a good unbeaten run last year and we need to have that same frame of mind towards the end of this season."
Reuse content