Soaked to the skin, rocking back and forth on the bench, his features anguished and drawn, Arsène Wenger looked like a man nearing an end. If this goes on it might not be of his own deciding.
Wenger had just sat through another mad final half hour during which Arsenal turned a winning position into a miserable outcome. Two goals in three minutes, the first from former Tottenham associate Gylfi Sigurdsson with 15 minutes to go, the second from Bafetimbi Gomis just 60 seconds after making his entrance, capped a depressingly poor week.
At least the surrender of three goals in the Champions League at home to Anderlecht was not terminal for their chances of progressing to the knockout stages. Their chances of any meaningful challenge in the Premier League appear hopeless on this evidence. With only four wins in 11 games Arsenal are down to sixth, already a hefty 12 points adrift of leaders Chelsea, who Wenger suggested might win the title by a landslide.
It takes some doing turning a feelgood dimension brought by the acquisition of Alexis Sanchez into a footnote to sustained underachievement. Sanchez was on target for the 12th time in 14 games, his eighth league goal of the campaign to put Arsenal ahead. Incredibly Wenger thought the Chilean did not have his best game at the  Liberty Stadium.
Swansea 2 Arsenal 1 player ratings
Swansea 2 Arsenal 1 player ratings
1/22 Lukasz Fabianski

Made some important blocks in difficult conditions against his former club. 6/10

GETTY IMAGES

2/22 Angel Rangel

Was given a difficult afternoon by the Arsenal forward line. 5

GETTY IMAGES

3/22 Kyle Bartley

Former Arsenal man slotted in well to the Swansea defence. 6

GETTY IMAGES

4/22 Ashley Williams

The Swansea captain recovered from an early injury scare to lead his team to victory. 7

GETTY IMAGES

5/22 Neil Taylor

Looked good going forward, but struggled at the back against Arsenal's pace. 6

GETTY IMAGES

6/22 Ki Sung-Yueng

Was less influential after receiving a first half booking. 6

GETTY IMAGES

7/22 Tom Carroll

The young Tottenham loanee struggled to make a real impact. 5

GETTY IMAGES

8/22 Marvin Emnes

A typically erratic performance, he passed up a good first half opportunity to score. 6

GETTY IMAGES

9/22 Gylfi Sigurdsson

Was kept quiet for long periods by Flamini, but produced a sensational free-kick to turn the game on its head. 7

GETTY IMAGES

10/22 Jefferson Montero

Swansea's best player, his pace and power troubled Arsenal all game and he set up Gomis brilliantly for the winner. 9

GETTY IMAGES

11/22 Wilfried Bony

Battled well, but is struggling to recapture his goalscoring threat of last season. 6

GETTY IMAGES

12/22 Wojciech Szczesny

Had no chance with either Swansea goal, but often looked nervous in dealing with a wet ball. 5

GETTY IMAGES

13/22 Calum Chambers

Started very well, but epitomised his side's loss of composure late on. 6

GETTY IMAGES

14/22 Per Mertesacker

Struggled when conditions worsened in the second half. 5

GETTY IMAGES

15/22 Nacho Monreal

Still fails to convince as he's shunted around the Arsenal back-line. 5

GETTY IMAGES

16/22 Kieran Gibbs

Given a very difficult game by Montero, but kept going to the end. 6

GETTY IMAGES

17/22 Aaron Ramsey

The midfielder looked short of match fitness on his return to Wales. 6

GETTY IMAGES

18/22 Mathieu Flamini

Did an excellent job in keeping Sigurdsson quiet for 70 minutes, but then ran out of steam. 7

GETTY IMAGES

19/22 Alex Oxlade-Chamberlain

His pace was a constant handful for the Swansea defence. 8

GETTY IMAGES

20/22 Alexis Sanchez

Scored his side's goal and oozed class when involved, but was often on the periphery of the game. 8

GETTY IMAGES

21/22 Santi Cazorla

His influence on the game diminished after being crocked by Williams early in the second half. 6

GETTY IMAGES

22/22 Danny Welbeck

Combines brilliance with the bizarre inside the box, but never stops working. 7

GETTY IMAGES
Just as well he did not dwell on the contribution of defender Calum Chambers, who started badly and went downhill from there against the lightening raids of Jefferson Montero. Only Alex Oxlade-Chamberlain met the required standard of a team with championship ambitions, and only then in the second half when Arsenal established the first semblance of pattern and rhythm.
It was his break just past the hour that created the opening for Sanchez. Stealing possession in his own half, Oxlade-Chamberlain accelerated across the halfway line, feeding the ball to the quick feet of Santi Cazorla, who in turn sent  Danny Welbeck clear down the right.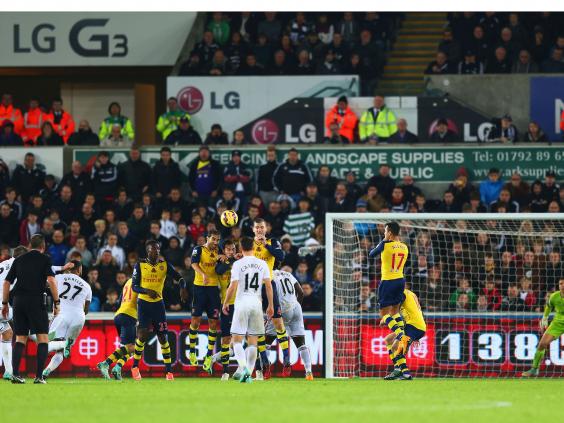 In a rare display of incisiveness, the England striker cut inside Ashley Williams before squaring the ball to the advancing Sanchez, who smashed it into the goal from eight yards. As Wenger pointed out in his post-match commentary, big teams go on from there to close the game down.
One team did respond and it was Swansea, firstly in the shape of manager Garry Monk, who introduced Modou Barrow for the ineffective Marvin Emnes. Monk was rewarded with a sprint down the middle by Barrow that drew an error from Kieran Gibbs, who caught the heels of the striker instead of the ball.
Wenger, of course, saw nothing wrong with the challenge. Referee Phil Dowd reached for the yellow card and Sigurdsson for the ball. He did play for Tottenham, which means heaping misery on the red shirt is a career-long obligation.
He did not disappoint, curling a beauty over the wall into the top right-hand corner of the Arsenal goal. Wojciech Szczesny dived, but only to keep up appearances. Three minutes later he was picking the ball out of the net a second time after Gomis headed home Montero's cross from close range.
He had been on the pitch barely 60 seconds, coming on for Wilfried Bony. One talisman for another as it turned out and another feather in the cap of the increasingly impressive Monk.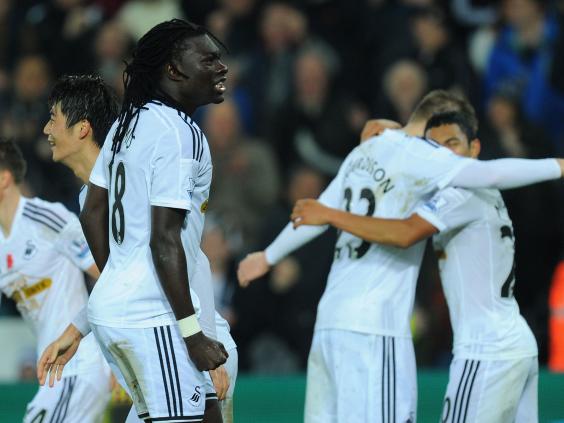 So in the space of 15 second-half minutes a game that had taken its cues from the appalling weather in the opening half suddenly burned with intensity. It seemed an age since Oxlade-Chamberlain tripped Montero on the edge of the Arsenal box with the game 10 minutes old. From Sigurdsson's resulting free-kick Chambers headed the ball away for a corner. Too much excitement.
The game reverted to the holding patterns of before, the ball passing largely sideways and backwards. Ten minutes  later Swansea were again the aggressors and Montero once more the source of the danger, sweeping down the left to deliver a ball into the box for Bony, who was flattened but not illegally according to referee Dowd.
Sensing that vulnerability in the visitors might be lasting, Swansea flooded forward, forcing a sequence of corners. Arsenal survived but Wenger was unhappy, the episode triggering the first appearance of the substitutes sprinting down the touchline.
A slip by Chambers 10 minutes before the break saw Montero sprint clear again. His ball into Bony was transferred to Emnes, whose first-time shot was repelled by Szczesny. With 43 minutes on the clock Welbeck fashioned Arsenal's first shot on target. It would have been an act of larceny had the visitors scored, Lukasz Fabianski ensuring Swansea's goal remained intact with a fine reaction save. Aaron Ramsey followed up with a consecutive strike from distance, sending a shot whistling past the post.
It presaged a shift in gear at the start of the second half. Arsenal began to command territory and possession. Williams needed treatment for a kick on Cazorla just outside the box. He was booked for his trouble and limped to the touchline after treatment.
With Swansea's captain labouring and Arsenal tails up for the first time, it was possible to believe a bad week was coming to an end for Wenger. When Sanchez peeled away to trigger a celebration in the rain, a positive conclusion seemed the most likely outcome. As it turned out the Arsenal players weren't waving, they were drowning.
Perhaps they should have taken their cue from the Second World War veterans paraded beforehand on this, Remembrance Sunday. After a beautifully observed two-minutes silence the band of brothers made their way gingerly back to the side of the pitch.  And then in one marvellous display of chutzpah one of their heroic number raised his walking stick to the skies. That is the quality Wenger needed in his side. There was no defeat in him.
Reuse content