The Liverpool manager, Jurgen Klopp, admitted that he hit the proverbial roof of the visitors' dressing room at the Liberty Stadium to invigorate his team mid-way through their 2-1 win over Swansea City at the Liberty Stadium.
Klopp lost his temper as his team were faced with the prospect of losing for only the second time this season against lowly opponents stalked by relegation fears yet clearly not unsettled by uncertainty over manager Francesco Guidolin's future.
Klopp, who said England midfielder Adam Lallana and Serbia defender Dejan Lovren would be unable to play in upcoming international duties due to groin injury, vented his spleen before James Milner's late penalty secured a win that means Liverpool are just two points behind pacesetters Manchester City.
"I was very angry," Klopp told reporters at his post-match press conference.
"It looked like we were here to be a football game but I wanted them to show we are here because we want to win a football game.
"But we had to cool down as well. We were losing patience. There were too many harsh fouls and small things, moaning about decisions even though the decisions were absolutely correct. You need to stop this.
"Swansea did well but we were really too static. There was no movement. We were never compact enough for counter-pressing situations. 
"After the goal it didn't immediately become better but it did eventually and then when we let the ball roll and movement we had our moments and it give us important information for the second half which was better."
Swansea vs Liverpool player ratings
Swansea vs Liverpool player ratings
1/22 Lukasz Fabianski: 6 out of 10

Wasn't actually tested that much with Liverpool failing to register a shot on target in the first half. Solid enough when called upon.

Getty Images

2/22 Angel Rangel: 5 out of 10

It was all going so well with some excellent tackles made and then he clumsily barged over Firmino to give away a penalty.

AFP/Getty Images

3/22 Mike van der Hoorn: 5 out of 10

Nearly gave a goal away dawdling in defence and then missed a great late chance to equalise.

Getty Images

4/22 Jordi Amat: 6 out of 10

Excellent in first half, overrun at times in the second but overall played quite well.

AFP/Getty Images

5/22 Kyle Naughton: 6 out of 10

Was pressed into action repeatedly in second half but responded reasonably well including making an excellent block or two.

AFP/Getty Images

6/22 Leroy Fer: 7 out of 10

Scored the game's opening goal but was less influential after that, still looks crucial to Swansea's hopes though. Subbed with 20 minutes to go.

Liverpool FC via Getty Images

7/22 Jack Cork: 6 out of 10

Dependable in midfield if not outstanding.

Getty Images

8/22 Leon Britton: 6 out of 10

Subbed in second half as Liverpool threatened to run rampant, enjoyed a good first 45 minutes but less effective after the break.

Getty Images

9/22 Wayne Routledge: 6 out of 10

Subbed with half an hour to go as Swansea tried to resist Liverpool, but had reasonable game, his great cross early on should have given Swansea a lead but Baston blew the chance.

Getty Images

10/22 Borja Baston: 5 out of 10

When he was made Swansea's record signing the transfer screamed horrific flop and this game did nothing to dispel that. Headed wide twice unmarked from six yards - no wonder Swansea are struggling for goals.

Getty Images

11/22 Gylfi Sigurdsson: 6 out of 10

Great from set pieces and played some great crosses into the box but needs to have more influence for Swansea.

Getty Images

12/22 Loris Karius: 6 out of 10

Doesn't look much more secure than Mignolet based on this game.

Getty Images

13/22 Nathaniel Clyne: 7 out of 10

Very dangerous down the right as Liverpool swarmed forward in the second half.

Getty Images

14/22 Dejan Lovren: 7 out of 10

Calm in defence and made some good last ditch tackles to keep Swansea at bay.

Liverpool FC via Getty Images

15/22 Joel Matip: 6 out of 10

A fairly quiet game, but was occasionally put under a bit of pressure by Swansea.

AFP/Getty Images

16/22 James Milner: 7 out of 10

A reliable presence as ever and slotted winning penalty coolly.

Getty Images

17/22 Adam Lallana: 5 out of 10

Limped off with a groin injury early in first half.

AFP/Getty Images

18/22 Jordan Henderson: 6 out of 10

His great ball provided assist for equaliser but otherwise was quiet.

Liverpool FC via Getty Images

19/22 Giorgenio Wijnaldum: 6 out of 10

More dangerous in second half but didn't really assert himself on the game.

Getty Images

20/22 Sadio Mane: 8 out of 10

Always looked a threat with the ball at his feet, perhaps unlucky not to get more out of the game.

AFP/Getty Images

21/22 Roberto Firmino: 8 out of 10

Lucky to score with what was a terrible header, but was a menace to the Swansea defence and won crucial winning penalty.

Getty Images

22/22 Philippe Coutinho: 6 out of 10

Fairly anonymous for most of the game, one to forget for the Brazilian.

Liverpool FC via Getty Images
Klopp was facing a shock defeat when Leroy Fer punished ponderous defending to put struggling Swansea ahead in the eighth minute, stabbing in from close range while Borja Baston wasted two good chances.
Roberto Firmino made Borja rue his wastefulness when he nodded in an equalised in the 54th before winning the penalty which allowed Milner to successfully convert his fourth spot-kick this season.
"I am 49 years old and I have lost a lot of games and unfortunately will lose a lot more but today made no sense," Klopp said.
"It was not a day when we should have lost because we could have done so much better in the first half.
"We were all angry at half-time but at ourselves, so I told them we had to show we are better and show why we were here. 
He added: "It is not allowed that we accept having a bad day. Even on a bad day we have to fight and strike back.
"I can not change a lot in the game but only at half-time when the players have open ears and they have which is good.
"It is always very important that even when it is not a brilliant performance that you are still able to win.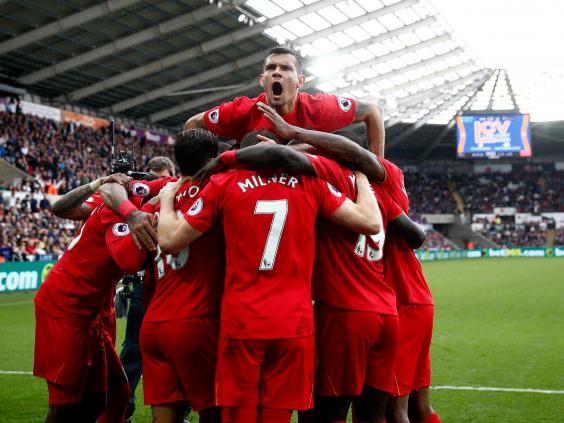 "I have enough fingers to count the brilliant games in the season. That's how it is. Ten is a big number and we've already had a few. That's why the reaction in the second half was so important.
"I didn't think this would be a game where we would be that bad because there was no sign in training that we should be this bad. That shows we are still learning."
Klopp said Lallana and Lovren would miss their countries' forthcoming World Cup qualifiers with groin injuries.
"Dejan went off in the last moments of the game but hopefully it is nothing too serious and Adam felt it and tried again before he came off in the first half," Klopp said. 
"At this moment they have no chance for their nationals teams. Hopefully I have 15 or 16 days to get them back on the pitch again for the next game. It was wet here but there was no sign that things like this might happen during the middle of the week. It is not too nice."
Speculation is rife that Swansea's American owners are ready to replace Guidolin with either Bob Bradley or Ryan Giggs but the Italian played down the uncertainty over his future.
"I am not worried about my future but I am worried about our position in the table," Guidolin said. "That is all the concerns me.
"I am very disappointed for the team. We have played against very strong teams in this period, but I am confident because I saw my team play for 95 minutes with character and also with quality in the first half.
"If we play this way, I think we can turn our situation around soon. My team is a good team. I am sure we have the qualities to have a good future."
Reuse content