There will be days long after Gylfi Sigurdsson has retired when his mind will wander back to an August day a year ago and a meeting with Manchester United. Whether he is in his native Iceland or on one of his favourite golf courses in Florida, 16 August 2014 is a date that will always be with him: the day the boyhood United fan hit the winning goal at Old Trafford on his second Swansea City debut. It was, as he recalled on Thursday afternoon, "something you dream about when you are a little kid. Scoring the winner there was something I will never forget".
Afterwards, in the away dressing- room, his phone buzzed with calls and messages from friends and family. "They don't tend to call me when we lose away to Sunderland or somewhere like that," he said with a smile. "But they text me when I score at Old Trafford!" And for Sigurdsson, who is almost as passionate about golf as he is about football, the day got better as he bumped into Rory McIlroy outside the ground and had his photo taken with the recently crowned Open champion.
There have been few such days in Swansea City's history. It was their first League victory at Old Trafford and ruined Louis van Gaal's debut as United manager. Moreover, it set the tone for an impressive first full season in charge for Garry Monk, the young manager of the upwardly mobile Welsh club.
Premier League Power Rankings - Game Week 4
Premier League Power Rankings - Game Week 4
1/17 17) Petr Cech (Arsenal) - new entry

The Arsenal goalkeeper has atoned from his dreadful first Premier League match for the Gunners and with it returns to our Power Rankings. His first half performance in the 0-0 draw with Liverpool was brilliant and arguably earned his new side a point. With Arsenal's defence looking uncertain so far this term, Arsenal need Cech to maintain that form. Last fixture: D - 0-0 - Liverpool Next fixture: Newcastle (a)

GETTY IMAGES

2/17 16) Callum Wilson (Bournemouth) - new entry

Wilson was an early entry on our Power Rankings but dropped out after failing to score in his first couple of games. We got it wrong. The Bournemouth striker announced himself to the Premier League last weekend with a hat-trick in the 4-3 win over West Ham. Leicester at home presents Eddie Howe's team with a decent opportunity to get a run together. Last fixture: W - 3-4 - West Ham Next fixture: Leicester (h)

Getty Images

3/17 15) Jefferson Montero (Swansea City) - up 2

Branislav Ivanovic then Daryl Janmaat felt the full force of the Ecuadorian's devastating start to the season and he played his role in ensuring Swansea kept up their unbeaten start to the campaign in the 1-1 draw with Sunderland. This weekend he'll be taking on Matteo Darmian of Manchester United - a player picking up many plaudits as well. So who will come out on top? Last fixture: D - 1-1 - Sunderland Next fixture: Manchester United (h)

AFP/Getty

4/17 14) Salomon Rondon (West Brom) - down 1

A club record price-tag will come with hefty expectations but in the defeat to Chelsea Rondon showed enough to suggest he'll cause defences a few problems this season. Tony Pulis will certainly be hoping so considering his side are currently propping up the table. Last fixture: L - 2-3 - Chelsea Next fixture: Stoke (a)

5/17 13) Yohan Cabaye (Crystal Palace) - up 2

Crystal Palace have made an excellent start to the season, winning two and narrowly losing to Arsenal. Cabaye has played a massive role in that and if they are to put Chelsea back into a 'crisis', then the Frenchman will be key. Without the suspended John Terry marshalling the defence this weekend, there could be a few gaps for Cabaye to find. Last fixture: W - 2-1 - Aston Villa Next fixture: Chelsea (a)

Getty Images

6/17 12) Romelu Lukaku (Everton) - down 6

When you pay £28m for a striker you expect something special and that was the exact performance Lukaku delivered against Southampton. But the Everton striker was again drawing blanks in the defeat to Manchester City. A game against Spurs sees two teams with ambitions of being the best of the rest - can Lukaku be the difference at White Hart Lane? Last fixture: L - 0-2 - Manchester City Next fixture: Tottenham (a)

7/17 11) Pedro (Chelsea) - new entry

The former Barcelona man hit the ground running at Chelsea, playing an integral role in Chelsea's first victory of the season, a 3-2 win over West Brom. Having scored the first, the Spaniard set up the second and despite Chelsea having their backs to the wall after John Terry's red card, Jose Mourinho showed enough faith in him to keep him on the pitch until the 84th minute. With his home debut this weekend, expect Pedro to star. Last fixture: W - 2-3 - West Brom Next fixture: Crystal Palace (h)

GETTY IMAGES

8/17 10) Harry Kane (Tottenham Hotspur) - down 1

Saido Berahino won't be going to Tottenham this summer, although the arrival of South Korean Hueng-Min Son in a £22m deal from Bayer Leverkusen has gone some way to alleviating the concerns about a lack of attacking threat at White Hart Lane. That said, Kane remains top dog but must start scoring if he's to justify that position. Last fixture: D - 1-1 - Leicester Next fixture: Everton (h)

Reuters

9/17 9) John Stones (Everton) - up 3

Stones has been told he's going nowhere this summer, despite a massive bid of £38m for his services from Chelsea. The England international is said to be devastated at the Toffees' refusal to do business. But Roberto Martinez is expected to keep picking him so how he performs at the weekend will be fascinating. Last fixture: L - 0-2 - Manchester City Next fixture: Tottenham (a)

GETTY IMAGES

10/17 8) Wayne Rooney (Manchester United) - up 2

After his hat-trick against Club Brugge in midweek after a 10 game goal drought, there is a feeling that Rooney is back. But now he must convert it to the Premier League and with Louis van Gaal's side scoring just two Premier League goals in three games, the pressure is back on the skipper. Last fixture: D - 0-0 - Newcastle Next fixture: Swansea (a)

Getty Images

11/17 7) Eden Hazard (Chelsea) - down 2

Like the rest of the Chelsea team, Eden Hazard has looked out of sorts in the opening couple of weeks of the season. The arrival of Pedro could spark a revival in his form with the pair linking up dangerously in the 3-2 win over West Brom. Last fixture: W - 2-3 - West Brom Next fixture: Crystal Palace (h)

Getty

12/17 6) Sergio Aguero (Manchester City) - down 3

As long as Sergio Aguero stays fit, Manchester City will be among the favourites for the title. There is no other striker like him in world football - so adept with his movement in and around the box that he makes world class defenders look like Sunday league players. At home to Watford, he'll be hoping to add to the goal he scored against Chelsea last time out at the Etihad. Last fixture: W - 0-2 - Everton Next fixture: Watford (h)

13/17 5) Riyad Mahrez (Leicester City) - up 3

What a start for the Algerian, who has scored in every game for Claudio Ranieri's surprise package. The latest came against Tottenham and it would be unwise to back the current Premier League top scorer not to add to his tally at Bournemouth. Last fixture: D - 1-1 - Tottenham Next fixture: Bournemouth (a)

Getty Images

14/17 4) Jermain Defoe (Sunderland) - up 3

By scoring the equaliser in last weekend's 1-1 draw with Swansea, Defoe went some way to calming what has been turning into something of an early crisis at the Stadium of Light. The Black Cats remain among many people's favourites for the drop but if Defoe can keep on scoring - he has two in three PL matches and scored a hat-trick in the Capital One Cup in midweek - there's a glimmer of hope. Last fixture: D - 1-1 - Swansea Next fixture: Aston Villa (a)

PA

15/17 3) Alexis Sanchez (Arsenal) - down 1

The Chilean is just so crucial to any hopes Arsenal have at the title this season. The Gunner failed to score against Liverpool on Monday night and if they are to seriously challenge, they must add to their solitary win this season. Sanchez will be central to that happening. Last fixture: D - 0-0 - Liverpool Next fixture: Newcastle (a)

GETTY IMAGES

16/17 2) David Silva (Manchester City) - down 1

Silva is a singular talent in the Premier League. There are others like him - Juan Mata, Mesut Ozil - but neither of those two players has matched the level that Silva can reach when he is on form. Was again excellent in the most recent Manchester City win as Manuel Pellegrini's side maintained their 100 per cent start to the season with victory over Everton. At home to promoted Watford, expect Silva to excel. Last fixture: W - 0-2 - Everton Next fixture: Watford (h)

Getty

17/17 1) Christian Benteke (Liverpool) - up 3

He might not have scored at the Emirates on Monday night, but Benteke continued to show that he brings a different dimension to Liverpool's strike force. A home game against West Ham's leaky defence presents an excellent opportunity to add to his only goal of the season so far, which came at Anfield against Bournemouth. Last fixture: D - 0-0 - Arsenal Next fixture: West Ham (h)

PA
"We got six points against Arsenal and six points against United, which is massive for us," notes Sigurdsson in English so fluent as to have traces of an Estuary accent.
He is sitting in the smart home dressing-room at the Liberty Stadium, where slogans on the walls reinforce the messages of a manager whose efforts ensured that in May Swansea earned their highest League finish since 1982. Today brings another August encounter with United, this time at home, and the expectation is a little higher.
"The squad is better," says Sigurdsson, though he might tell you the same about Van Gaal's squad too, having watched their Champions League qualifier against Club Brugge in midweek. "I've been following United for the last couple of games in the Champions League," he says. "It is nice to make sure you're just aware of everything and nothing surprises you when you play them."
With Monk overseeing Swansea's fortunes, it is unlikely Sigurdsson and his team-mates will be surprised too often. The 25-year-old is well placed to offer an insight into his impact, given they were team-mates during his initial five-month loan spell in South Wales in 2012, before Monk, as manager, brought him back to the club. "It was strange at first. I knew what he was like before. He was a loud character, he was always telling jokes, and now he is very focused on what he is doing. He is really ambitious and serious about his work."
Monk, he adds, has given Swansea a new defensive discipline, which meant they ended last season with the best goals-against record in their top-flight history. Even Sigurdsson, as Swansea's second striker, has to put in a shift. "With him being an ex-defender he brought a lot to the way the team defended. That helped us gain a lot of points. We were harder to beat than before.
"We do a lot of training, especially in pre-season, on how he wants the team to defend, from the attack down to the defence, and I am pretty sure all the boys know what to do when it comes to a matchday. Sometimes it does get boring doing the defensive work, but when you get three points on a Saturday it is more than worth it."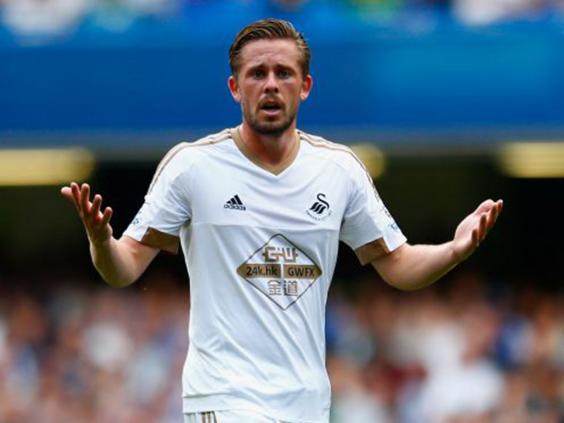 There was nothing boring about Swansea's opening-day display at Chelsea which earned a 2-2 draw with the champions. Their performance suggested that in the Ecuadoran Jefferson Montero they could have one of the most exciting players of the season. "He is so quick over the first few yards," says Sigurdsson of a winger who blew hot and cold last season in his first campaign in this country. "It is hard for any defender to deal with that kind of pace. Even [Branislav] Ivanovic struggled against him, and there are not that many players who do that to Ivanovic."
The Swansea player that Sigurdsson has most to say about is Jonjo Shelvey. He understands from personal experience why the talented midfielder divides opinion, explaining: "Before I came here I didn't like him, just from the way he comes across on TV and in games, but he is one of my best friends. He would do anything for you and is a top guy.
"I said to him that he is so aggressive on the pitch and some of the things he has done on the pitch haven't helped him, but as a player on the ball he is fantastic.
"It is really good playing with him. He always tries to pass the ball forwards. He doesn't take the easy option of going back and sideways. He has a really good right foot and a really good shot on him, so it is nice to have him behind me… on the pitch!"
Sigurdsson's view is that Shelvey has the ability to play regularly for England. He was talking before news came that Shelvey is almost certainly in Roy Hodgson's latest squad. Sigurdsson has made 30 international appearances for Iceland. His next comes on Thursday in the Euro 2016 qualifier in Holland where Iceland, surprise leaders of their group, are looking to take another step towards their first major tournament.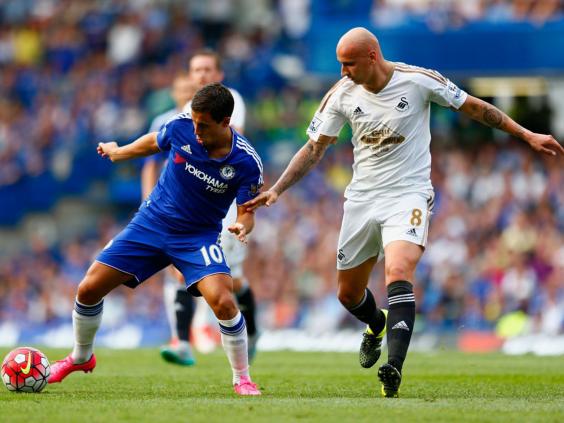 Sigurdsson has a key role – Iceland's coach, Lars Lagerback, plays him in central midfield and describes him to me as "one of the best team players I have worked with" – and Sigurdsson smiles when reminded of the two goals he scored to beat the Dutch 2-0 at home last October. "Just now when you said it I got goose bumps. That is how much it means."
Sigurdsson does not envy the exposure his young English friends like Harry Kane face when they go on international duty. "[The media are] really harsh over here. The media put a lot of pressure on the team and sometimes on young players who've barely played any games and are just coming through the system."
Having arrived here as a 15-year-old at Reading, Sigurdsson has experienced life in all four divisions. Was it hard to leave home so young? Not at all, apparently. "Easy," he replies, given that in Iceland the weather allowed him to play outdoors on grass pitches for only four months a year. "Since I was a little kid I wanted to play football, and I couldn't have gone to a better place than Reading."
At Reading he had loan spells at Shrewsbury and Crewe, and from the comfort of his plush leather dressing-room seat he recalls a visit to Accrington Stanley for only his fourth senior appearance. "It was pissing it down with rain and freezing cold and the changing rooms were so small. It was a good shock. It made you realise how fortunate you are when you sit in a changing room like this and you play in stadiums like Old Trafford. You appreciate it more."
He appreciates too the guiding hand of Brendan Rodgers, his manager at Reading and during his first spell at Swansea, on loan from the German club Hoffenheim. "All of the players that have played for him will tell you he is really good man on man and the way he talks to players. He makes the players feel like there is just one big group that you want to be a part of, and you want to play for him."
But has Rodgers forgiven him for turning down Liverpool when he opted to join Tottenham in 2012? "I hope so, yes. I've spoken to him pretty much after every game when we've played them." At White Hart Lane, Sigurdsson struggled to hold down a starting place – he began only 26 of his 58 League games played – yet he is grateful for some memorable moments.
"Of course it was difficult at times when I wasn't playing, but playing in the London derbies against Arsenal and Chelsea, and in the Europa League against teams like Inter Milan at the San Siro, that is what you want to do. The games against Arsenal were just mental games, there was an unbelievable atmosphere."
Sigurdsson seems too laid-back to dwell on the past. He arrives late for our interview having taken his pet dog, Koby, a King Charles spaniel, to the vet, yet sits chatting for nearly an hour. Usually his days involve a walk on the beach with Koby.
"It is really quiet down here. It is good at times but sometimes if you think back to London where you had all the things you could do, you've got everything there. But when the sun is out it is beautiful here and you have the beaches and the little walks around the cliffs." And days, as Manchester United don't need reminding, when dreams really do come true.
Apart from the football
Golf is my only hobby and back at Spurs I used to play with Harry Kane. Harry has only been playing for about four or five years but he has picked it up really quickly. We still keep in touch and he beat me the last time, but that was an off-day! My brother Olaf was trying to get on the European Tour a few years ago and he came over the week after and gave me a few lessons.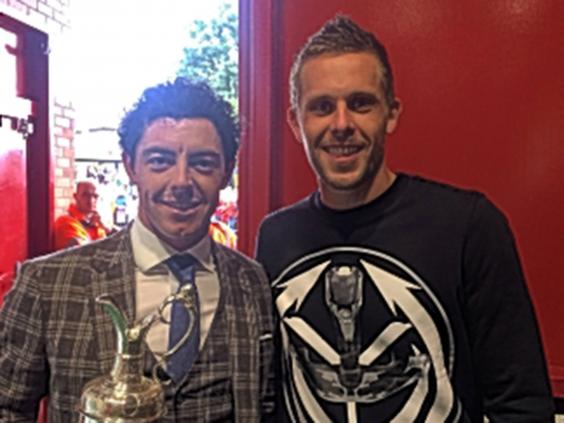 I have to say I'm a better player than Harry – he shot even par that last time but I have a handicap of about four or five so I am not too shabby. Gareth Bale was not a bad player but the best golfer among my football friends is Jonjo Shelvey. We have a good rivalry as we are pretty much the same handicap, so we take it in turns winning.
Reuse content