The Uefa Cup, in its Thursday night slot on Channel 5, used to be a worst-case scenario that Manchester United fans would taunt Arsenal with as they clung on to the trophy more ignominiously known as fourth place. 
Now it is United's only chance of Champions League football. Of avoiding two years away from Europe's top table and the financial and reputational blows that would encompass. Of staying relevant despite spending nearly half a billion on players in the past few years. 
For Arsenal, the team whose softness and penchant for half-success has become a standing joke, even that fourth-placed trophy still looks out of reach. 
This was a game with no winner. Indeed, for much of the afternoon it was a game with no real rhythm and no spice. The feisty days of Roy Keane and Patrick Vieira grizzling in the tunnel are long gone but this fixture, once England's biggest game, now doesn't even have Martin Keown maniacally taunting nor Cesc Fabregas tossing pizza. 
Arsenal vs Manchester United player ratings
Arsenal vs Manchester United player ratings
1/23 Player ratings

We run the rule over the two teams.

Man Utd via Getty Images

2/23 Petr Cech - 7 out of 10

Made a number of good saves. An impressive display.

AFP/Getty Images

3/23 Rob Holding - 7 out of 10

A composed performance from the 21-year-old who looks at home in a 3-4-2-1.

AFP/Getty Images

4/23 Laurent Koscileny - 7 out of 10

A typically commanding performance. No Arsenal made more tackles than the skipper.

Man Utd via Getty Images

5/23 Nacho Monreal - 6 out of 10

A good performance although he was exposed on a couple of occasions by the raw pace of Martial.

Man Utd via Getty Images

6/23 Alex Oxlade-Chamberlain - 9 out of 10

Superb. It's hard to believe this isn't his natural position. Has as many assists this season (seven) as in the previous five seasons combined.

Getty Images

7/23 Aaron Ramsey - 7 out of 10

A bright performance from the Welshman.

Getty Images

8/23 Granit Xhaka - 9 out of 10

Was very lucky with his goal. But made more passes and touched the ball more times than any other player on the pitch.

Getty Images

9/23 Kieran Gibbs - 7 out of 10

Solid at the back and also enjoyed some lung-bursting runs further forward.

AFP/Getty Images

10/23 Mesut Ozil - 6 out of 10

Still not at his best, although made a couple of smart slide-passes.

Arsenal FC via Getty Images

11/23 Alexis Sanchez - 7 ouf of 10

A characteristically busy performance and harassed Axel Tuanzebe all afternoon.

Getty Images

12/23 Danny Welbeck - 8 out of 10

Took his goal with confidence. Incredibly, he didn't misplace a pass all afternoon.

Getty Images

13/23 David de Gea - 6 out of 10

Had no chance with either goal.

AFP/Getty Images

14/23 Axel Tuanzebe - 6 out of 10

Naturally, struggled in some departments and was guilty of straying out of position on a few occasions. But impressed in other areas. Made more tackles than any of his team-mates, for example.

Getty Images

15/23 Chris Smalling - 5 out of 10

Looked a little short of match-fitness. Terrible marking led to Arsenal's second.

Getty Images

16/23 Phil Jones - 5 out of 10

His poor marking was exposed by Arsenal on more than one occasion.

AFP/Getty Images

17/23 Matteo Darmian - 5 out of 10

Partially at fault for Arsenal's second goal. Barely strayed into Arsenal's half.

AFP/Getty Images

18/23 Ander Herrera - 5 out of 10

Made two important tackles but turned his back on Xhaka which handed Arsenal their first goal.

Arsenal FC via Getty Images

19/23 Michael Carrick - 5 out of 10

Frequently overran in the middle although did make a number of interceptions.

AFP/Getty Images

20/23 Wayne Rooney - 6 out of 10

Had six shots: more than all of his team-mates combined. Only two forced Cech into making a save.

Man Utd via Getty Images

21/23 Juan Mata - 6 out of 10

Worked hard and his passing was good but received little support.

AFP/Getty Images

22/23 Anthony Martial - 6 out of 10

Didn't look particularly at home playing down the middle.

Man Utd via Getty Images

23/23 Henrikh Mkhitaryan - 5 out of 10

A subdued performance and was withdrawn when United were chasing the game.

AFP/Getty Images
Jose Mourinho and Arsene Wenger were once bitter adversaries, with the Portuguese making comments about his rival that were beyond the pale. Now they are men past their prime, left behind by the Premier League's bright young things as the old-timers continue to wail into the wind. 
As Danny Welbeck wheeled away after converting the second goal, a powerful close-range header, he dared to celebrate. That perceived betrayal of his roots is about as much controversy as you will get out of this fixture, one where Italian buffets used to fly and titles would be decided. Now fans of either side will spend their Monday discussing with friends why a boy from Wythenshawe, discarded by his boyhood club, should or shouldn't have expressed joy at winning a game of football. 
For United, depleted by injury and with a Europa League semi-final second leg to think about, this game saw a rotated side and the likes of Axel Tuanzebe handed a start. They still matched their hosts for much of the game and, when presented with a gilt-edged chance by a mistake in defence, Wayne Rooney should have put them ahead before the break. Instead it was Petr Cech who saved Arsenal, a theme of that first half and something he reprised in the dying stages, with United pushing on in desperation. 
But Welbeck's goal - and Granit Xhaka's deflected strike just minutes before it - had handed Arsenal a lead that, in a game so lacking in quality, immediately looked insurmountable.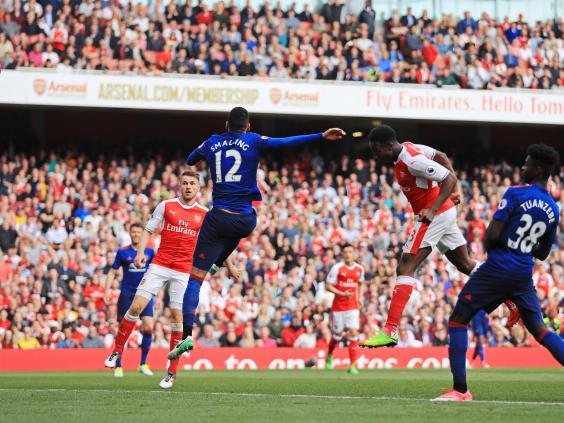 That £35million man Xhaka would finally produce in a big game will no doubt be of scant consolation to Wenger, a man who bought players last summer that he felt could make the Gunners into title contenders again and only succeeded in reversing them out of the top four. 
It feels like there is no purchase in the world that could save Arsenal right now. Even the most improbable run of results stealing them a top-four position and another Champions League campaign doesn't feel that positive, like Wenger is the right man to improve them again with either chequebook or coaching. 
But Mourinho still has a chance of lifting United again. Late on he threw Rashford into the mix, his only real dice to roll these days, but with little result. Jose knows that success for him now hinges on a win over Celta Vigo at Old Trafford and then beating (most likely) Ajax in Stockholm at the end of the month. 
That sequence of results, and only that, would prevent his first season in Manchester from being a failure, from continuing the feeling that his powers are on the wane. 
Even the man in the opposite dugout, the team that beat him and even this fixture itself could sympathise with that. 
It was a familiar feeling around a game it felt like nobody had won. 
Reuse content