The Chelsea goalkeeper Thibaut Courtois will join up with the Belgium squad for international duty having been given the all-clear following his collision with Alexis Sanchez, during Sunday's 2-0 win over Arsenal at Stamford Bridge.
Having originally played on for 14 minutes after taking a thigh to the right side of his face, Courtois subsequently came off the pitch. He went to hospital for precautionary tests but was released on Sunday night and Marc Wilmots, the Belgium coach, has said that the player will join up with the Belgium squad tomorrow for the Euro 2016 qualifiers against Andorra on Friday and Bosnia three days' later.
The club said in a statement that there were no outstanding issues with the goalkeeper, amid criticism from one head injury charity that they had ignored Premier League  protocols on diagnosing  concussion.
In the meantime, captain John Terry said that the club's midfielder Cesc Fabregas had a point to prove against his former club Arsenal, who had decided against re-signing him from Barcelona when he was made available in the summer. Terry said: "He was pumped up before the game, not more so because he has been pumped up since he arrived here. But you could see he was up for it and that it meant a lot to him."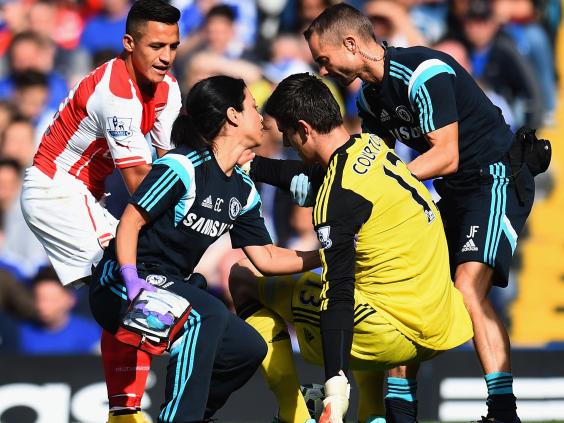 After seven games, Chelsea have a five-point lead from Manchester City but Terry warned against complacency. "Clearly it's not over," he said. "Other teams have been in that position. It's nice to have the lead, but when you're at the top everyone wants to shoot you down from top to bottom. That's the good thing about the Premier League and why everyone loves it.
"Teams are out to get us because we are at the top and playing well at the moment. The international break has come and we need to come back and maintain our form after that as well. It's very important we do that.
"It's obviously better to be leading than being behind. But when you're behind – we've been there – it's nice to chase as well, when you have something to fight for. You're just hoping when you're at the top and have a five point cushion and six, seven, eight on certain teams, a couple of them slip up again and that increases to eight or nine.
"If that happens, it's a lot of points to give up early on. All we can do is keep winning and wait for those teams to slip up."
Diego Costa joined up with the Spain squad yesterday ahead of their Euro 2016 qualifiers against Slovakia and Luxembourg. Terry said there was no evidence in training that the striker was conserving himself in a bid to protect his hamstring injury.
He said: "It's so important that the new guys have come in and hit the ground running. Cesc has known the league, for Diego to come in and score the goals he has and be the handful that he is, he's been a nightmare for defenders. He popped up with another great and clinical finish.
"I'm not sure where that [the hamstring problems] is coming from. He certainly isn't showing that against me in training. He is training every day, he looks sharp, he looks angry, he looks aggressive. He's fit at the moment and that's the main thing."
Reuse content