Drop Petr Cech (not really)
Petr Cech's opening day meltdown was the source of much confusion among Arsenal fans and much delight among fans of every other club in the country. All of the pre-season hope and expectation - Cech would gain the club at least 10 points and so on - seemed to vanish after Cech was to blame for both of the goals Arsenal conceded.
But what Arsenal musn't do is lose faith in the big goalkeeper. He is not considered one of the best in the world for no reason, in 10 years at Chelsea he made only a handful of errors.
Arsenal 0 West Ham 2 player ratings
Arsenal 0 West Ham 2 player ratings
1/24 Petr Cech

A disastrous debut for the summer signing, and likely aberration rather than omen. But either way, he should not have conceded either effort. 2/10

GETTY IMAGES

2/24 Mathieu Debuchy

Looks much fitter than he has in recent months, bombing past Oxlade-Chamberlain with purpose and pace. 6

GETTY IMAGES

3/24 Laurent Koscielny

Covered well behind his colleagues, never putting a foot wrong throughout as he dealt with Sakho's pace. 6

GETTY IMAGES

4/24 Per Mertesacker

Did little wrong in defence but seemed rattled after Cech conceded the opener, often distributing poorly when under no pressure. 5

GETTY IMAGES

5/24 Nacho Monreal

Struggled more than most with the dangerous Payet and failed to offer much going forward, too often choosing the sideways option. 5

GETTY IMAGES

6/24 Francis Coquelin

Several poor passes spoilt Coquelin's afternoon. His touch-tackling physicality was not required against a West Ham side happy to cede possession. 5

GETTY IMAGES

7/24 Aaron Ramsey

Perhaps the least impressive of Arsenal's midfield options, consistently making the wrong decision. He passed when he should have shot and took wild efforts when his colleagues were in space. 4

GETTY IMAGES

8/24 Oxlade Chamberlain

The only starting attacker to end in credit, his pacey running seemed the home side's best chance to find the net as everyone else tried to pass the ball past West Ham's massed ranks. 6

GETTY IMAGES

9/24 Mesut Ozil

His aversion to shooting is far from helpful when his opponent's crowd the penalty area. Couldn't quite slip in the through ball he was so desperate to find. 5

GETTY IMAGES

10/24 Santi Cazorla

Another whose passing radar was malfunctioning, he kept popping up around the pitch looking to influence but could not get his game going. 5

GETTY IMAGES

11/24 Olivier Giroud

His touch deserted him for much of the first half as he lost all confidence in front of goal. With that gone he looked nowhere near a line-leader for a relegation candidate, let alone a title-winner. 3

GETTY IMAGES

12/24 Theo Walcott

Off the bench: Convinced himself he would be the hero after his introduction, trying ambitious efforts and impossible passes. He failed. 5

GETTY IMAGES

13/24 Alexis Sanchez

Off the bench: His introduction provided a brief spark for his colleagues but it was far from enough and a rusty Sanchez lacked the final devastating touch, as he showed by slipping with his one effort late on. 6

GETTY IMAGES

14/24 Adrian

In spite of Arsenal's attacking barrage the goalkeeper did not have much to do, but saved well when called upon. 7

GETTY IMAGES

15/24 James Tomkins

A couple of loose fouls blotted his copy book but this was a committed performance from the makeshift right-back, who got in the way of Ozil time and again. 7

GETTY IMAGES

16/24 Winston Reid

An immovable object in West Ham's defence, he smartly allowed Arsenal to play in front of him, keeping his body between the ball and goal. 8

GETTY IMAGES

17/24 Angelo Ogbonna

Did not let an early yellow card spook him and carried on well with his task, getting a head on anything near him and showing smat vision on the ball. 8

GETTY IMAGES

18/24 Aaron Cresswell

Largely neutered as an attacking thought by the pacey Oxlade-Chamberlain but another to put in an exemplary defensive shift, particularly covering Walcott smartly by allowing him to try ambitious shots. 7

GETTY IMAGES

19/24 Cheikhou Kouyate

The star of the show and the player who made West Ham's football work, his awareness of where his opponents were and where the threat might come from was exemplary. Thoroughly deserved his goal. 8

GETTY IMAGES

20/24 Reece Oxford

Did excellent work as a deep-lying midfielder, shuffling back smartly so that when Arsenal beat one defender he was soon in their way. 7

GETTY IMAGES

21/24 Mark Noble

Distributed well from deep, enabling Payet and Sakho to lead counters from dangerous positions. 7

GETTY IMAGES

22/24 Dimitri Payet

Showed plenty of the skill and confidence that convinced West Ham to shell out eight figures on him, showing fantastic delivery and dazzling skill to impress the visiting supporters. 8

GETTY IMAGES

23/24 Mauro Zarate

Bar a bobbled second goal he was notable by his absence in a hard-working away side, struggling to impose himself on the game. 6

GETTY IMAGES

24/24 Diafra Sakho

Did noble work ploughing a lonely furrow against two defenders with far more size. Looked to exploit Mertesacker's lack of pace smartly. 8

GETTY IMAGES
Cech will have been desperate to impress on his first meaningful outing in red. The first mistake was down to a lack of understanding and communication with a new set of defenders, the second was worse but probably a product of the earlier error playing on his mind. He'll be back to his best sooner rather than later.
Play with more width
This will be remedied as soon as Alexis Sanchez is back to full fitness but Arsenal made it easy for West Ham by failing to exploit the wide areas. The Hammers played a diamond leaving space out wide - but Arsene Wenger played into their hands by picking a team packed with players that like to operate in the middle.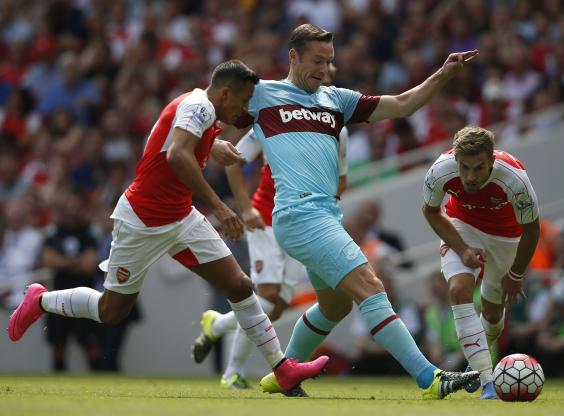 Mesut Ozil, Santi Cazorla, Aaron Ramsey and Alex Oxlade-Chamberlain were the four men behind striker Olivier Giroud and they all had their turns operating in wide and central areas. Oxlade-Chamberlain is the most comfortable on the wing, but even he is not an out-and-out wide man like Theo Walcott can be.
Wenger eventually brought Walcott on but by then West Ham were two goals up and happy to sit behind the ball, taking away any space that had been there.
Bring in a striker
The Gunners continue to be linked with a bid for Karim Benzema and it seems like the right move to make with Olivier Giroud showing off both his strengths and weaknesses in the game against West Ham.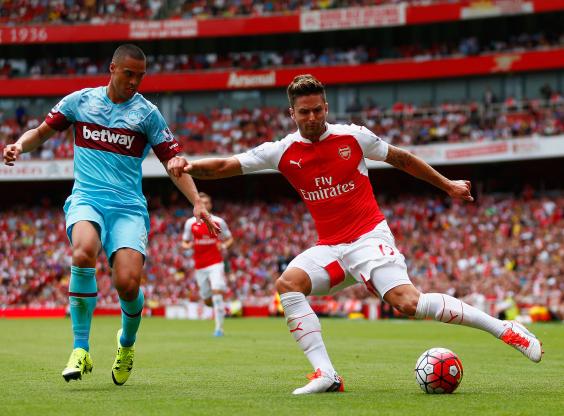 Giroud is a brilliant target man who makes the players around him better with his unselfish link-up play, but the striker (as has been noted time and again) lacks the speed and movement to scare defenders. Opponents can sit high if they want to pressure the midfield knowing Giroud won't hurt them in a foot race or sit deeper knowing he's an easy target to mark.
Benzema has his own flaws - despite his goal record his finishing is sometimes erratic - but he is lightning fast and has world class movement. It'll take a lot of money but Benzema has the tools to flourish in this Arsenal attack; now is the time for Wenger to be truly bold.
Reuse content