The Queen's Park Rangers caretaker manager, Chris Ramsey, yesterday admitted he had spoken to Tim Sherwood about him taking the job and revealed the former Tottenham Hotspur coach is keen to get back to work.
Ramsey was on the staff under Sherwood at Tottenham Hotspur last season and remains close friends with the former Blackburn midfielder, who is now favourite to fill the vacancy at Loftus Road.
"I would be a liar to say I haven't spoken to him about the QPR job," Ramsey said. "Tim's a football man and he watches it all the time.
"We talk about games and players and he's made it clear to me he is eager to get back into work – you can only play so much golf and watch so much daytime TV.
"He did a fantastic job at Tottenham, I think they're reaping the benefits of some of the stuff that was put in place four or five years ago to help the academy. I think it was probably underrated the job that he did."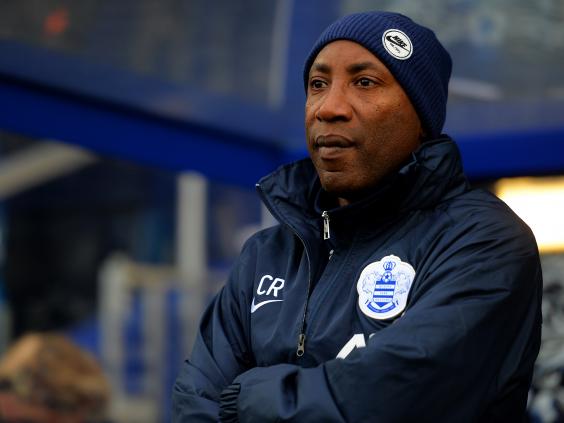 Ramsey will remain in temporary charge, together with assistant manager Kevin Bond, for QPR's game at Sunderland tonight. Rangers then have 11 days before their next game at Hull, when it is likely Harry Redknapp's permanent successor will be in place.
 Ramsey admitted he would "jump at the chance" to manage a Premier League team, but insisted that QPR's survival would come down to the players.
"It depends how much magic one person can do in a short space of time," Ramsey said. It's really down to the quality of the players and their efforts for the fans and the owners that will make the difference.
"Someone coming in now can help galvanise things but we have to rely on the players' ability to come through."
Rangers will be without top scorer Charlie Austin against Sunderland after the striker sustained a foot injury against Southampton on Saturday.
The defenders Richard Dunne and Nedum Onuoha also suffered injuries against Southampton. Dunne will be out for three months with a knee problem, while Onuoha will miss two to three weeks with a hamstring strain. Dunne's absence will mean a recall for Rio Ferdinand, who has struggled for form this season and has not played in the league since Boxing Day.
Gus Poyet has urged his resurgent Sunderland team not to become the first to surrender a Premier League point to QPR on their own pitch.
Rangers head for the Stadium of Light having lost all their 11 league games away from home this season. However, Poyet knows that record will end sooner rather than later, and he does not want it to happen at the 12th attempt.
He said: "If you asked me if I would expect any team to lose every single game away from home in one season, I would say to you: 'No'.
"Now that they can go one extra in the wrong way, it's up to us. Of course, they have got a part to play, but sooner or later it should change, I suppose.
"I would be very surprised if they don't get any points in the whole season away from home, very, very surprised."
Striker Connor Wickham is available tonight after a calf problem, but midfielders Jack Rodwell and Emanuele Giaccherini are likely to miss out once again.
Reuse content