Originally published 28 March 2014
Shortly before Tim Sherwood left Norwich City to became one of Kenny Dalglish's first signings at Blackburn Rovers in 1992, he met with Arthur Cox and shook on a deal to join his club, Derby County. Later that day, he took a call from Dalglish who wanted him to join what was then English football's big money revolution.
At 22, he found himself conflicted. He had made a promise to Cox but this was, after all, Dalglish. A day later the Derby manager called. "He said to me: 'You've had the big man on the phone haven't you?'" Sherwood recalls. "I told him the truth. He said: 'If you were my son I would tell you to sign for Blackburn.' Incredible, eh? Or he had another option!"
It is moments like these that shape a footballer and in the three months he has been manager of Tottenham Hotspur, Sherwood has come to reflect on more than ever. He recalls a conversation during his time at Norwich, "a penny's dropped moment". "The coach Dave Williams said to me: 'What we going to see today? What Tim Sherwood can do for Tim Sherwood? Or what he can do for the team?' He was right! I was playing for myself in certain games."
Over 21 games in charge of Spurs, 10 of them victories, Sherwood has had to draw on all that experience as he has ridden the rookie manager's roller-coaster. He has brought back Emmanuel Adebayor with great success, won at Old Trafford and lost 4-0 to Chelsea, prompting him to monster his own players in public. Last Sunday, Spurs came from 2-0 down against Southampton to win the game 3-2. on Sunday they face Liverpool at Anfield, a crucial game for both teams.
Who could replace Tim Sherwood as Tottenham manager?
Who could replace Tim Sherwood as Tottenham manager?
1/11 Frank de Boer

Hugely respected former Ajax and Barcelona player Frank de Boer looks to have taken well to management having won the Eredivisie the last four years running. As respected as it is, Ajax has a tendency to be a stepping stone on to bigger things. So is Spurs big enough? The Dutchman has been strongly linked and in return he has suggested he would be keen.

2/11 Mauricio Pochettino

When Southampton appointed Pochettino it came as a shock. Few knew much more about him than he once tripped Michael Owen in the box when England met Argentina at the 2002 World Cup. Since then, he's shown himself to be a more than adept manager in the Premier League, making the most of the youthful team he found at St Mary's and instilling an ambition in the club few realised they were capable of. Since the departure of executive chairman Nicolas Cortese, the man who brought Pochettino to the club, there have been question marks over his future.

Chris Ison/PA

3/11 Glenn Hoddle

Glenn Hoddle was a fans favourite at White Hart Lane and has previously managed the North London club. The former England manager has been out of work since leaving his role as Wolverhampton Wanderers boss in 2006 and has openly expressed his desire to manage Tottenham Hotspur once again. He wasn't shy of criticising Sherwood either.

GETTY IMAGES

4/11 Jurgen Klinsmann

A Tottenham legend, Jurgen Klinsmann lit up the Premier League during his spell at White Hart Lane. Many Spurs fans will have fond memories of the German genius during his time in North London and would love to see the current United States national team boss make a return to the Lane.

GETTY IMAGES

5/11 Justin Edinburgh

Former Tottenham Hotspur defender Justin Edinburgh has worked wonders with League Two Newport County during his two-and-a-bit-years with the South Wales club. He joined the Exiles in 2011 and went on to win the Conference Premier play-offs the season after. Could he be a surprise candidate for the White Hart Lane hot seat?

GETTY IMAGES

6/11 Jupp Heynckes

The veteran German manager, who was named Fifa coach of the year in January, has been out of work since leaving Bayern Munich in May. In his last season at the German giants he won the Bundesliga, German Cup and the Champions League. He is currently retired but could the opportunity to manage Tottenham Hotspur draw him out of his armchair?

GETTY IMAGES

7/11 Sean Dyche

After being unceremoniously sacked by Watford, Sean Dyche has reinvented himself at Championship side Burnley. Dubbed the 'Ginger Mourinho' by the Turf Moor crowd, Dyche is a manager whose stock is rising, with his Clarets side having been promoted to the Premier League for next season.

GETTY IMAGES

8/11 Diego Simeone

Diego Simeone has taken to management like a duck to water, although the British public may not be his biggest fans, after the Argentinian was responsible for getting David Beckham sent-off at the 1998 World Cup in France. His record in Spain since taking over Atletico Madrid has been incredibly impressive with his side in contention for the La Liga title as well as reaching the lChampions League final. Might be difficult for Spurs to convince him to switch.

GETTY IMAGES

9/11 Michael Laudrup

The Dane has been out of work since being sacked by Swansea City over e-mail in February. During his time in Wales he led the Swans to their first trophy in their 102-year history as well as getting them to play some of leagues most attractive football.

AP

10/11 Eddie Howe

Eddie Howe's name being thrown into the mix for the Tottenham manager's job could come as a surprise to the fans, but he is a manager that has impressed this season in the Championship. After a successful period at Bournemouth, he left for Burnley, his time at Turf Moor wasn't the best, but since returning to the Cherries he has got them playing an attractive style of football and up to 12th in the Championship.

pa

11/11 David Moyes

Before he was 'chosen' to manage Manchester United, Moyes was linked with Spurs. Having been sacked after less than 10 months in charge of Manchester United, White Hart Lane could provide a quick return to management. His record prior to his latest job is excellent - after all - United thought he was good enough to replace Sir Alex.

Reuters
He has been criticised in some quarters for a lack of experience, but his has been a lifetime in English football preparing for this point. He began as an apprentice at Watford under Tom Walley, the club's prodigious talent developer and in 1995 captained the Blackburn team that won the Premier League. Managing Spurs is a serious business but away from the touchline he has a sharp sense of humour. He has to. At home with wife Mia and their four daughters he is well and truly out-numbered.
There are no airs and graces about Sherwood. He comes, as the Arsenal fans like to remind him, from Borehamwood. He lives in the same house in Hertfordshire that he bought when he was at Blackburn and has done up over the years. When we meet this week, it is on a rare day off from the training ground, and he is not joking when he says that the job is always in his thoughts.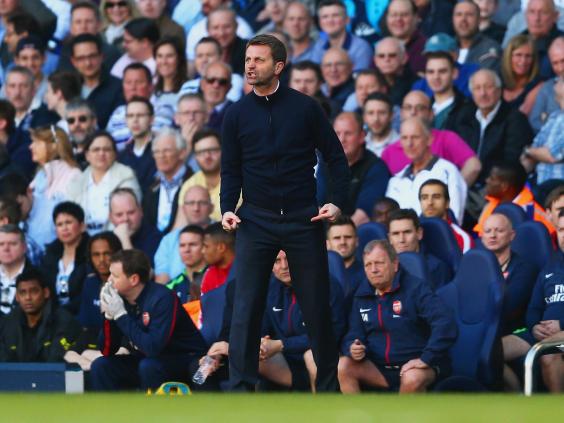 He has spoken his mind since he took the job and will continue to do so whether he stays past the summer into the last part of his 18-month contract. Frank De Boer, Mauricio Pochettino and Louis Van Gaal have been mentioned as possible targets for Spurs chairman, Daniel Levy, with whom Sherwood says his relationship is good.
"He [Levy] wants the club to do well," Sherwood says. "He really, really does. He cares for the club. And I believe he wants me to do well. I would like it [the contract] to be 10 years but I am realistic enough to know this is a dress rehearsal. I am untried. What I would say is there is no guarantee [about the alternatives]. Someone could win 19 trophies elsewhere and they might not fit at Tottenham. The club has to fit the manager and you don't know until you bring them in. But they have a better idea with me than with anyone else.
"Frank De Boer is an interesting one because he is an Ajax man, and everyone employed by Ajax is an Ajax person. Try to emulate what he does there, bringing the kids through at Tottenham? Fantastic, wish we could do it. You have to educate the fans to do that first and foremost. The fans at Tottenham want signings, they always have since Ossie Ardiles' time.
"You have to educate the fans to take a step back. I have always believed that your best players are your homegrown. You might get a [Cristiano] Ronaldo but you have to pay for them. Over time your best players are homegrown. Look at Steven Gerrard, Paul Scholes, Gary Neville. Even at Tottenham it's Glenn Hoddle. They really care about the club. At Ajax, homegrown players are given more time. Here it is the other way round."
Sherwood wants his Spurs team to have "an identity" and that is the task he would embrace over the summer and next season. Thus far, he has been obliged to work with the squad built last summer by Franco Baldini, the technical director, and Andre Villas-Boas with £107m  from the sale of Gareth Bale spent on seven signings. "They are all internationals," Sherwood says of his squad, "but it is like fixing a washing machine with someone else's tool bag. Sometimes you might not have the right bit in there."
As one who was previously in charge of the club's young professionals, and the Under-21s side, Sherwood is convinced that there are players from the academy good enough to have a career at Spurs. They have to be given a chance, but they also need the support network of senior players around them.
"The young boys can only be as good as your experienced players. In the summer, I would be looking to bring in some very, very good players with experience of the Premier League to help. Not only do they help the team immediately but they will help the growth of the young players. You wouldn't send your kids to get babysat with someone you didn't trust to treat them the right way.
"They need nurturing and they can only get that from the right kind of person. Not someone who is in it for themselves. Someone who knows they have a duty of care. I always thought I was good at that in the latter stages of my playing career. Not going home, wash-bag under the arm at 12 o'clock, but talking to a kid about his game."
He played under some of the biggest names of the era as a player – Dalglish, George Graham and Hoddle – and by his own admission did not get on with all of them. He left Spurs in 2003 having failed to see eye-to-eye with Hoddle.
"I didn't fall out with him. I couldn't understand why he couldn't handle my personality. He [Hoddle] said to me once he didn't think I was fit enough. It was his opinion and he was entitled to it. So every day after training I would run in full view of him. I would bust a gut.
"I was wrong because I thought he had a hidden agenda against me. I thought it was a personality thing and it wasn't in the best interests of the club, that players were in front of me who, with respect, weren't as good. I used to tell him regularly. I would knock on his door Monday morning. I have had my players doing that and as long as you get the honest answer... I am not sure I always got the honest answer."
As for the outspoken criticism of his players after the defeat to Chelsea, Sherwood says that the proof has been in the response. He recalls at Blackburn, Dalglish would be constantly on his case and yet the most unnerving occasions for Sherwood were when he would make a mistake and would look across to the bench to see his manager simply shaking his head.
"What people have to worry about is if I stop shouting at them. Because I have given up on them," Sherwood says. "I think you get more impact when you praise them from the contrast. I would never criticise anyone for playing badly. I don't think that's right. That reason for doing it at Chelsea was it had happened under Andre too. You cannot capitulate like that. Something is not right. The response has been good."
He recalls the anguished response of one of his players to the Europa League elimination to Benfica this month, when Spurs came close to overturning a two-goal deficit. "Some of the other players were looking at him like he was an alien but I want them all to be like that. He has that inner burning desire. It chokes me up thinking about it. You don't want people who are just easy-osy.
"The best players – Gerrard, Scholes – they hurt when they lose. Kenny used to say to me all the time, 'You show me a good loser and I'll show you a loser.' People say Arsène [Wenger] is a poor loser. I am a poor loser. There are different ways that people take it."
It was under Terry Venables' England regime that Sherwood had another one of those enduring life lessons that have stayed with him. He had a strange international career, called up for around 20 squads but winning only three caps, all in 1999. That was four years after Venables had told him he was to make his debut as a substitute in the Lansdowne Road friendly against the Republic of Ireland that was subsequently called off after rioting.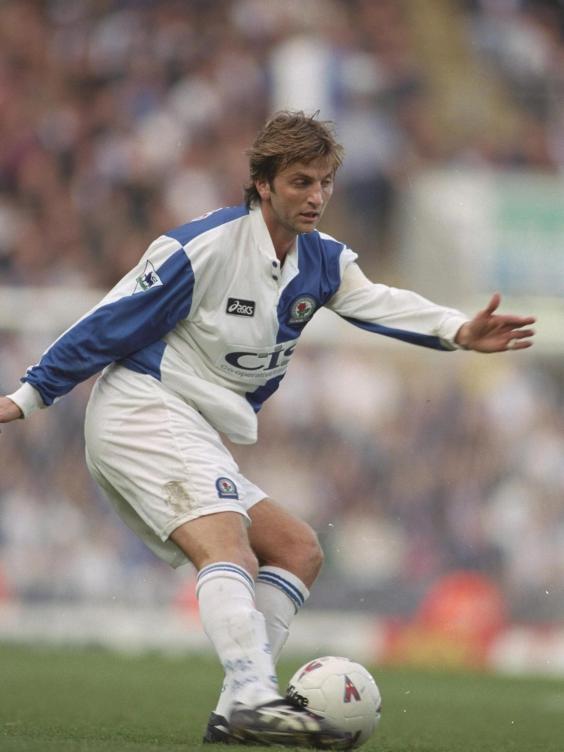 "The year we won the league with Blackburn there was an Umbro Cup at the end of the season. I spoke to [coach] Ray Harford and I said: 'I'm knackered mentally. I am in the squad but can you have a word with Terry and see if I can pull out? I probably won't play anyway.' He said he had spoken to Terry and it was all right. I was never picked by Terry again! I wasn't being big-time. But looking back: big mistake."
There is another well-told story about  Sherwood that, when offered the chance to buy Zinedine Zidane, the late Blackburn owner Jack Walker said the club did not need the Frenchman "because we have Tim Sherwood".  Sherwood says that Zidane and his then  Bordeaux team-mate Christophe Dugarry did indeed visit Blackburn's training ground but as for the story itself, "Jack did like a drink." It has not stopped him telling it to his French players on a regular basis.
These days life has to be more serious. Sherwood has stopped listening to the football phone-ins on his drive to the training ground at Enfield although as a former pundit on the Setanta network he has no problem with people expressing an opinion.
"A lot of them are ex-players and they can comment on players," he said. "What a lot of them have never been is a manager. I used to comment on managers all the time: 'He has done this wrong, etc.' Until you have been there, it is impossible to know what it is like to carry the expectancy of the whole club.
"The spotlight is on you and you have to deliver. I love it. It is a challenge. I always say my life would be a lot easier if I weren't a manager. That's why it is good, I don't have to do it. I want to put myself through it and that is why I respect a lot of managers. Harry [Redknapp] is still cracking on doing it. Why? It's something in us all, to want the next challenge."
My other life
I train a lot. I run. It's good thinking time. I speak to managers and we talk about where we live in relation to the training ground. They say, 'You're 45 minutes away? Too close! When do you get your time to think?' I do it when I'm running.
Sherwood soundbites
You can either play for a big club or you can't.
After last month's come-from-behind victory over Dnipro
You need to show a bit more guts and not want to be someone's mate all the time.
Following thrashing at Chelsea
They are men. I'm a manager, not a babysitter. I'm not an actor. I work on impulse.
Explaining his comments after the Chelsea game
Reuse content