I was days away from becoming an Arsenal player in the summer of 1996. When Bruce Rioch called me at home on an August night, I expected him to tell me what time to get to London Colney for my medical. Instead he told me he'd been sacked and the deal was off. They ended up signing some lad called Patrick Vieira.
Three years later I joined Tottenham Hotspur and went back to my north London roots. To my mind, there was nothing like the north London derby. They were the most intense games I played in. When I scored the second goal from a free-kick at White Hart Lane in a 2-1 win over Arsenal in November of my first full season, the place shook. It was electrifying.
Vieira understood the rivalry in those games. He knew that the two sets of supporters hated each other and, to a large extent, they judged their respective players on how they did in the derby.
I had some major battles with Patrick. If we could leave something on the other we would. If you weren't switched on from the start you knew you could get kicked. And if you did get caught you'd be back on your feet immediately, pretending it didn't hurt as much as it did.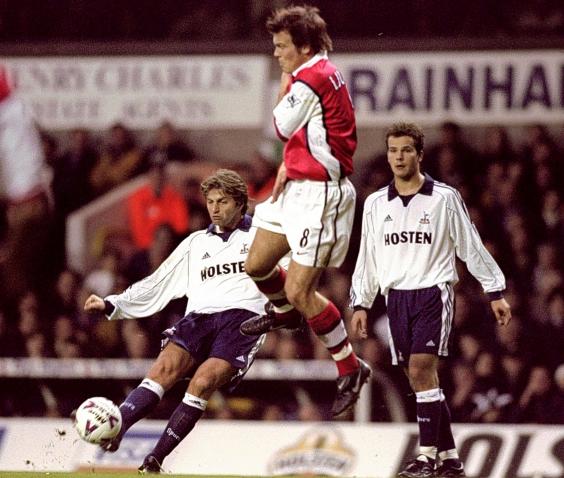 This afternoon Spurs face Arsenal in the north London derby. It still means just as much to the fans. I'm not sure it does to the players.
In my playing days, we could hear Tony Adams shouting in the Arsenal dressing room even when we had our door shut. There would be a few of us in the Spurs dressing room doing the same. I would remind my team-mates they could not afford to lose this one.
In the week leading up to the game we would have had the supporters telling us how much it mattered. If we were to win, or perform well and draw, it would give us some leeway with our fans. It was the game they cared about most.
As manager of Spurs last season I faced Arsenal twice, in the FA Cup and the league, and lost them both.
Does it mean as much to the players now? I think the culture has changed. You see players from opposing sides chatting or embracing in the tunnel before the game. It would never have happened when I was a player. On that day, we loathed the Arsenal players as much as our fans loathed theirs.
As for swapping shirts at half-time or the end of the game, we just didn't do that. There isn't an Arsenal shirt in my house from my playing career. I just don't think it would have been right. If I'd asked the likes of Lee Dixon or Martin Keown for theirs, I'm sure they'd have told me where to go.
I don't think it will ever be the same again. I'm not trying to say the old ways were right. I'm just saying it's different. There isn't the shared history between players and fans. The players are not as accessible as we were in my day.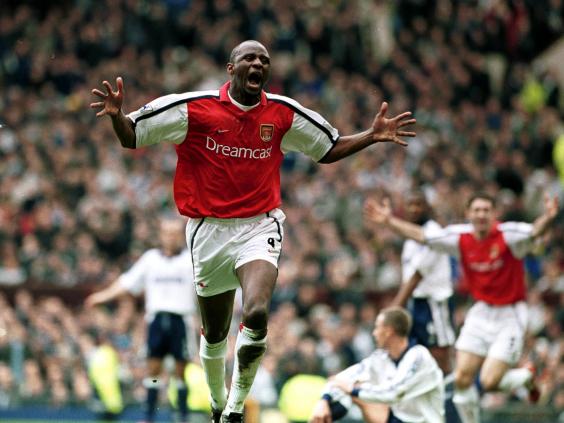 When my Spurs team lost at Anfield last season, I heard a pundit describe the body language of the Spurs players in the tunnel as if they were "waiting for a bus". That's the way many modern players are. They're quite casual. There isn't the aggression and tension there was in my day, or when the likes of Vieira and Roy Keane were going at each other in the tunnel before games.
I would do my best to get under the skin of the Arsenal players for 90 minutes. I had to – they were a better team than us.
As for Patrick, he could really dish it out on the pitch. We had respect for each other. We get on well now. I'm doing my Uefa Pro Licence on the same course as him.
When you're brought up in north London you realise the intensity of the rivalry.
Once I signed for Tottenham I always looked for the derby game first when the fixtures came out. It would have been the same if I had signed for Arsenal. Everyone supports a club as a kid, but as a professional the only team you're interested in is the team you play for or manage.
I know that I never gave less than 100 per cent in every game I played.
I've been on many trips to the Emirates to scout teams and players and the fans are fine with me. My dad, Peter, still goes regularly to the Emirates.
I can remember his face when I asked him what he thought of my free-kick in 1999. He had mixed emotions: Arsenal had lost but he was pleased I'd scored what turned out to be the winner. That's the north London rivalry for you.
During our league defeat to Arsenal in March last season I lived that game pass-by-pass, tackle-by-tackle. The hopes of the Spurs supporters are on your shoulders. But unlike when you're a player, it's difficult to affect the game once the match has kicked off.
On that occasion it didn't help that we went behind so early to a Tomas Rosicky goal. After that we played well, and Arsène Wenger said we were unlucky to lose. I suppose it's easier to say that when you've just taken all three points.
The game is just as important for Tottenham. Their league form has been patchy of late and a win in the derby will give them that breathing space that you need at times in the season.
They've been fortunate in recent weeks that the pressure has been taken off by the bad results that Liverpool and Manchester United have had. There is no need for Spurs to panic, though – they have good players.
The derby is not like any other game for Spurs or Arsenal. I've lived it as a supporter, a player and a manager.
If there are players on either side who don't recognise the importance, they will by the time they walk out at the Emirates this afternoon. Whatever difference there may be in the players' approach towards the game, the fans' attitude has never changed.
Reuse content