Czech midfielder Tomas Rosicky is set to stay at Arsenal next season, manager Arsene Wenger has confirmed.
The 34-year-old has been on the fringes of the squad this season, making only five starts in the Barclays Premier League.
However, Wenger insisted the former Borussia Dortmund playmaker remained integral to his plans for 2015-16.
Asked if he expected Rosicky to stay, Wenger replied: "Yes."
The Arsenal manager added: "We have taken up the option (of a one-year contract extension)."
Arsenal are likely to strengthen the squad in the summer, with Chelsea goalkeeper Petr Cech a reported target.
However, it remains to be seen whether the Blues will allow the veteran stopper to join one of their title rivals.
The close relationship between Cech and Rosicky is also said to be a factor in any potential £10million deal.
Wenger, however, insisted such issues should play no part in any transfer.
"Tomas Rosicky is not involved in the transfer market at all, he will be with us next season and we do not use the players for that," the Arsenal boss said.
"Most of the time it is the players who want to join you who come in. Sometimes they might call each other, but we do not get the players to interfere with that."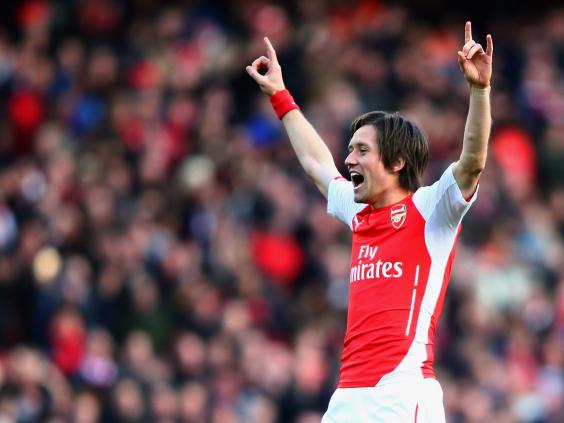 Arsenal will be out to sign off from their Premier League season with a return to winning ways against West Brom on Sunday, and so take some momentum into the FA Cup final.
Wenger's men laboured through a goalless draw at home to Sunderland on Wednesday night, which was enough to keep the Mackems up and all but secured third place for the Gunners.
"We have fought very hard to directly qualify for the Champions League and we want to get over the line and finish the job, which we couldn't do on Wednesday night. We want to do it in a convincing way on Sunday," said Wenger, whose side have not scored at home for three games.
Arsenal forward Danny Welbeck has been troubled a painful knee injury which could put him in a race against time to be fit for both the FA Cup final against Aston Villa on May 30 and also international duty with England in June.
"Danny will go out today for the first time, we have to wait for the response to that to know if he responds in a positive way. He could be fit very quickly," said Wenger.
"There is a good chance that he will be available for England, however it is difficult to know.
"But certainly if he is not available for the FA Cup final, I can't see him being competitive enough for England."
The 12 worst haircuts of the 2014/15 Premier League season
The 12 worst haircuts of the 2014/15 Premier League season
1/13 Raheem Sterling

The local barbers of Liverpool will be devastated to see Sterling depart, with the youngster's hair seemingly updated on a weekly basis.

GETTY IMAGES

2/13 Mamadou Sakho

However Sterling was trumped in the game of daft haircuts by his Liverpool team-mate Sakho. The defender apparently took some inspiration from roadside parking controls.

GETTY IMAGES

3/13 Danny Rose

The Spurs player caused a small uproar with his choice of hair dye due it matching the colour of arch rivals Arsenal.

Getty Images

4/13 Arsene Wenger

Most people like it when a trim gets noticed, but the Arsenal manager must have been overwhelmed when he showcased his 'new' haircut at his side's match with Swansea. Despite keeping to his usual short back and sides, the internet nearly melted.

GETTY IMAGES

5/13 Jack Grealish

The slick-back look was best perfected by Aston Villa's hot prospect. With England looking to tempt him to switch allegiance from the Republic of Ireland, the promise of some brylcreem in the Wembley dressing room probably wouldn't do any harm.

GETTY IMAGES

6/13 Juan Cuadrado

Chelsea bought some silky skills when they signed Cuadrado in January, and as an added bonus evoked memories of former player and manager Ruud Gullit.

GETTY IMAGES

7/13 Willian

The Brazilian's hair threatened to get out of control at points this season.

GETTY IMAGES

8/13 Marouane Fellaini

However, when it comes to the afro look, the winner remains undisputed.

GETTY IMAGES

9/13 Radamel Falcao

The Colombian sported long hair all season, so when he stepped out at Manchester United's awards dinner with a new look, it caused a ripple in the football community. Some even used it to find clues as to where his future may lie.

GETTY IMAGES

10/13 Marcos Rojo

Another Manchester United player not afraid to take risks in the scissors department has been summer signing Rojo. This front-heavy haircut in particular looked like it could have been inspired by Ronaldo's 2002 World Cup final effort.

GETTY IMAGES

11/13 Bacary Sagna

The Manchester City defender has had the same haircut for years yet it still manages to surprise.

GETTY IMAGES

12/13 Yannick Bolasie

The Crystal Palace player wanted to go blonde. But just on 20 per cent of his head.

GETTY IMAGES

13/13 Steven Gerrard

And finally, an honourable mention to Steven Gerrard who over 17 years in the Premier League didn't change his haircut once.

GETTY IMAGES
Midfielder Alex Oxlade-Chamberlain was not included in the England squad named on Thursday as he continues to recover from first an inflamed groin and then hamstring problem which sidelined him since early March.
"It is not impossible (to make the FA Cup final) because he starts full training today. We will see how he responds to that," said Wenger.
"The difference (in not being selected for England) is that Alex Oxlade-Chamberlain has not played in any competition for a long time. That lack of competition takes some time to come back to a good competitive level.
"I didn't tell him (England manager Roy Hodgson) not to pick Oxlade-Chamberlain. He has looked when he played his last game and has then decided."
Wenger added: "Danny Welbeck is not out for a long time and he has nothing at all on any scan, just bone bruising on his knee, that is just the pain that will decide if he is fit or not."
PA