After all the questions put to him about Sadio Mane on Friday morning, Jurgen Klopp arguably posed a much more relevant question himself, at least in relation to Liverpool's latest slip-up against Bournemouth.
"Can you train experience?" the German wondered after his side had so naively thrown away a late lead to draw 2-2. "I'm not sure."
What is sure is that Arsenal have a lot more experience of this general situation than Liverpool and the two Manchester clubs, and it touches on something that could be the most significant dynamic of all in the chase for the Champions League spots. Because, as that race reaches its final furlongs, recent developments like Mane's injury make it feel like there's almost another game that's relevant for reference here rather than other sports like the Grand National. It is almost like a grand game of rock-paper-scissors, where everyone has their own qualities that beats someone else, but also their own weaknesses.
Liverpool vs Bournemouth player ratings
Liverpool vs Bournemouth player ratings
1/22 Simon Mignolet - 6 out of 10

Didn't have much to do and couldn't do much about either goal all in all.

Liverpool FC via Getty Images

2/22 Nathaniel Clyne – 6 out of 10

As ever, better going forward than back and came close to scoring a stunner in the second half, rattling the crossbar.

Liverpool FC via Getty Images

3/22 Dejan Lovren – 6 out of 10

Couldn't prevent a late equaliser on another disappointing day for Liverpool's defence.

Getty Images

4/22 Ragnar Klavan – 6 out of 10

No major mistakes, but still ended up allowing two goals in as Liverpool failed to close out the game.

Liverpool FC via Getty Images

5/22 James Milner – 6 out of 10

A reliable presence for Liverpool, but had a fairly quiet game.

Liverpool FC via Getty Images

6/22 Lucas – 7 out of 10

Got stuck in, picked up a yellow card and a black eye for his troubles and was perhaps unlucky not to be on the winning side.

Liverpool FC via Getty Images

7/22 Georginio Wijnaldum – 7 out of 10

A mixed game. Guilty of a shocking backpass to nobody that played in Afobe for opening goal but made amends in the second half to set up Origi with fantastic work down the right hand side and a great cross.

AFP/Getty Images

8/22 Emre Can – 6 out of 10

Enjoyed a fairly undisturbed game in midfield, with Bournemouth not putting Liverpool under much pressure, but wasn't any better than average.

Getty Images

9/22 Philippe Coutinho – 7 out of 10

Seemed a curious decision to remove him with so long left in the game and it backfired on Klopp, had probably been his side's best player before he was subbed, scoring their equaliser with a cool finish.

Getty Images

10/22 Roberto Firmino – 6 out of 10

Not at his sparkling best, set up Coutinho well for Liverpool's equaliser, but didn't have enough of an influence on proceedings.

Getty Images

11/22 Divock Origi – 7 out of 10

Leapt brilliantly at the far post to head in Liverpool's second goal and had a lively game up front, unlucky not to win.

Getty Images

12/22 Artur Boruc - 7 out of 10

Couldn't have done much about either goal, but produced a cracking save to deny Clyne.

Getty Images

13/22 Adam Smith – 7 out of 10

A committed performance at the back, although wasn't overly tested by Liverpool.

AFP/Getty Images

14/22 Simon Francis – 6 out of 10

Not given the hardest ride by a curiously quiet Liverpool attack.

AFP/Getty Images

15/22 Steve Cook – 6 out of 10

Undone by Liverpool's Brazilian duo for equalising goal but otherwise didn't have too much to do.

Getty Images

16/22 Charlie Daniels – 6 out of 10

Will have been grateful that Liverpool were not at their attacking best.

Getty Images

17/22 Jordan Ibe – 6 out of 10

Subbed with half an hour to go, the former Liverpool man didn't enjoy the best return to Anfield. Made a couple of forays down his wing, but otherwise was fairly quiet. 6

Getty Images

18/22 Harry Arter – 6 out of 10

Solid enough in midfield, but Bournemouth never really had much of a grip on the game after their good start.

Getty Images

19/22 Jack Wilshere – 5 out of 10

Perhaps the standards expected from him are higher, but was fairly anonymous.

Getty Images

20/22 Marc Pugh - 6 out of 10

Subbed late on for Max Gradel and overall didn't have the biggest influence on the game out wide.

Getty Images

21/22 Josh King – 7 out of 10

Popped up to grab a late equaliser for Bournemouth and ruin Liverpool's evening.

AFP/Getty Images

22/22 Benik Afobe – 7 out of 10

Gifted his goal as he gratefully pounced on Wijnaldum's mistake to give Bournemouth an early lead and was generally a menace to the Liverpool defence.

Getty Images
Consider the characteristics of the chasing teams as we approach the last fixtures.
Liverpool have the points, and presumably the conviction that should come from the exciting manner they generally accrued those points, but that confidence may have been eroded by how so many of their remaining fixtures are exactly the types of games they've slipped up in. They don't have their key goalscorer in Mane, either, not to mention a number of other potential absences for Saturday's very tricky match away to Stoke City.
Arsenal meanwhile have that experience and most of their most important players back in the team - Arsene Wenger said on Friday that Laurent Koscielny's injury "should be short-term" - as well as the slight sense of release from coming out of a real slump... but still don't look back to an especially reliable rhythm ahead of a similarly awkward trip to Crystal Palace.
Manchester United are meanwhile behind both in the table right now but feel in between them in terms of all those factors. They have less experience of this race than Arsenal but more than Liverpool. They have as many injuries as Liverpool, but a deeper squad. They have a slightly kinder fixture list than Arsenal, but more games due to the Europa League and maybe what feels a touch more resilience about them even if they had endured so much frustration. If United have had a tendency to flatline with so many draws, they just don't fluctuate as wildly as Arsenal… or Manchester City.
City do feel a little different because they have the points, have most of their quality players fit and available, and also have a more forgiving fixture list than all those sides. Their only remaining big game is the Manchester derby at home.
The only problem is that it is precisely all those variables that make looking at the fixture list and trying to judge from it so potentially misleading - and irrelevant. As was so brutally impressed on Liverpool last week, one sudden injury to a key player and the perception of everything changes. The same applies if you frustratingly slip in a match you wouldn't have anticipated, as with United and West Brom.
It is also, however, why this weekend's fixtures could be so telling and so influential. They are proper acid-test fixtures for each of the clubs, in terms of potentially exposing their main weaknesses and strengths.
City, for example, have not won in four league matches, but that is generally not too much of a concern because the last three have been against fellow teams in the top six - Liverpool, Arsenal and Chelsea. It will be a concern, however, if they don't respond by beating relegation-threatened Hull City at home. Pep Guardiola talking about how it was only small details and individual moments that denied big collective performances will not be enough, as they are running out of games and it will make them feel so much more vulnerable to dropping points. It could also remove the advantage of their lead… if the sides below them actually win.
That is no guarantee with United right now no matter who they play, but no side in the Premier League offers as close to a guarantee than a dismal Sunderland. United should easily defeat them and regain that settling confidence to score that has been missing from so many of their last few matches, to then go and beat other bottom-half teams in their run-in. If they don't defeat Sunderland, though, it really will raise even more questions about who they can beat given their problems in front of goal.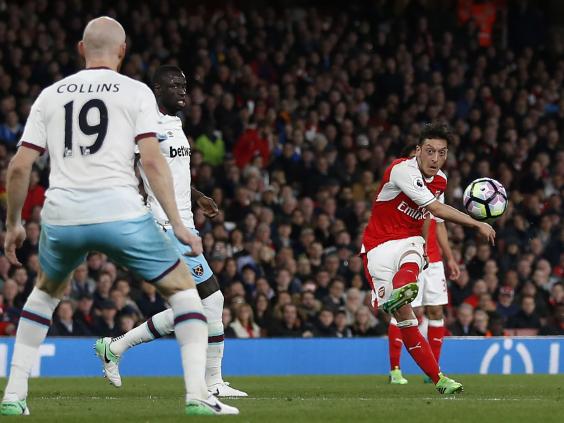 Arsenal got the breaks that have recently eluded United in their midweek win over West Ham United, especially with Mesut Ozil's dam-busting bouncing shot for the opening goal, but they still weren't that impressive. It remains to be seen whether that win only came from those breaks and whether there are still problems with how this team generally functions, or whether that win will actually offer the break they need to bring back their late 2016 form. Wenger was naturally preaching the latter. "Overall I think we had of course a hiccup in recent weeks and what is important now is for us to move on, focus again, keep the way we want to play football in mind and give absolutely everything in every game."
The question remains over whether Liverpool gave everything too early in the season, given how they were caught late on against Bournemouth, and are now suffering more and more injuries. The team that had so impressively beaten Arsenal and so many others in the top six was not seen, either in verve of in personnel. In that regard, it is why this match against Stoke City could state more about than anything else. For one, they are playing away to exactly the type of mid-to-bottom-of-the-table side that have taken more points per game off them than any of the top six. Secondly, they are likely going to have to do so without many of their key players, with Philippe Coutinho potentially joining Mane on the sidelines.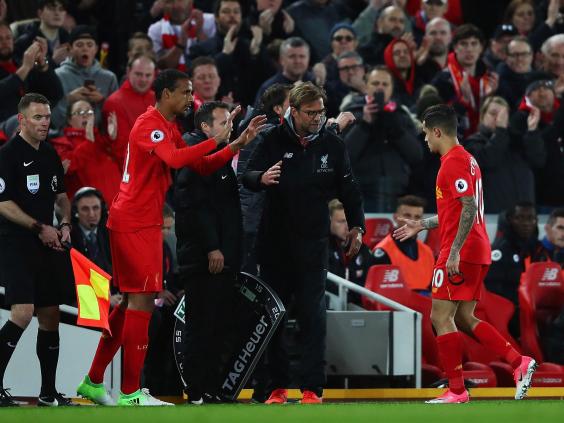 If they drop points here, it is impossible not to think it will lead to widespread drop of conviction across the team, to eventually drop out of the top four.
If they win it after Wednesday's slip, though, there will be no better boost; no better encouragement. It will feel like they can deal with the main challenge this run-in will have to offer, those awkward games, especially with main players to come back.
It has been the nature of this race for the Champions League places, however, to very suddenly change the ground everyone is running on.
Reuse content