Tim Sherwood did not waste time arguing over the red card harshly shown to Danny Rose in the second half tonight, or complain about a team built by a club that announced another raft of losses, £50m this time, earlier in the day. Rather the Tottenham Hotspur manager simply acknowledged that City were too good for Spurs and, for that matter, too good for anyone else in the Premier League.
"The best team in the division by a country mile," he said. They will be the champions and unfortunately for us they don't just score one and shut up shop. "Manuel Pellegrini's team, Sherwood said, with that customary bluntness of his, had "put us to the sword - and that is how football should be played in my opinion."
An old-fashioned exponent of trying to out-score an opponent it was hard to argue with the Spurs manager's view that White Hart Lane had just witnessed the champions-elect of 2014. On the night when City moved to a point clear at the top of the table with 15 games left to play, only the injury to Sergio Aguero gave them cause for regret and although he only lasted 44 minutes, the Argentinian was arguably the most influential player of the lot.
The sweet symphony of attacking football that City conjure up would have beaten Spurs sooner or later, Sherwood said, but the scoreline became embarrassing chiefly because of that red card for Rose. The Spurs manager was convinced that referee Andre Marriner had decided not to give the foul but was persuaded over his earpiece by his assistant Scott Ledger to do so.
Tottenham will appeal but there can be no changing the fact that City have put 11 goals past them this season, over two Premier League fixtures. The first six, in that defeat at the Etihad, precipitated the beginning of the end for Andre Villas-Boas. The second five, answered only by substitute Etienne Capoue's second half strike, told Spurs just how far behind the best they are, even having spent the best part of pnds110m in the summer.
City should carry a health warning for Spurs managers, not least in the first half when Aguero had been unplayable. It all revolved around him in those early stages when it seemed like he might win the game on his own. He did not even finish the first half in the end, limping off clutching his right hamstring. But for the 44 minutes he spent on the pitch he looked like scoring every time the ball was at his feet.
Aguero accelerated away from Michael Dawson and Vlad Chiriches in the seventh minute, switching up the gears before hitting a shot that clattered Hugo Lloris's right post. On the right side of Spurs' defence, Kyle Walker found himself turned inside out by Dzeko who snatched at his shot and hit it over. It looked overwhelming for the home side for a while.
No surprises when the goal came for City on 14 minutes, although of all the chances they had created it was the one Spurs should have been able to prevent. The ball came through the centre from Vincent Kompany on to Silva who slipped Aguero in beautifully as he dashed between Chiriches and Dawson. Aguero took one glance up and clipped the ball past Lloris.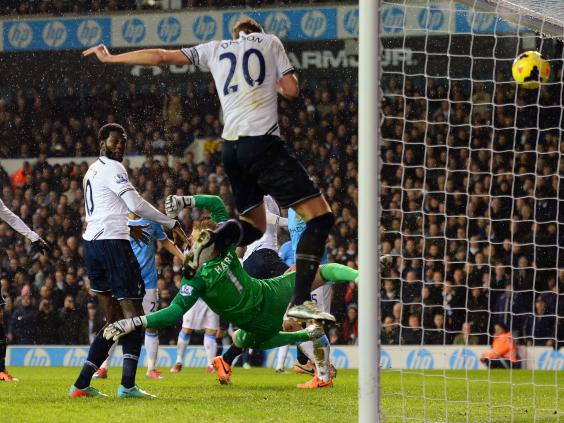 It was a sobering moment for the Spurs players and on the touchline, Sherwood was struggling to contain his frustration. Lloris made his best save of the first half, one-handed from an Aguero header after Walker had again been beaten, this time by Gael Clichy. On that occasion, the Argentine had out-jumped Rose. It was more embarrassing for Spurs when he won a second header in the area moments later that Rose was obliged to clear off the line.
Spurs' only chance in that period had been a good interchange involving Moussa Dembele and Emmanuel Adebayor, but they managed to get a foothold in the game with 15 minutes of the half remaining. Having been at a point where it looked like they could go in for half-time with the game out of sight, they almost equalised.
Christian Eriksen's free-kick from the right was a beauty, with enough pace and curve to get around Joe Hart and looked set for the far corner before Dawson guided it in on the line. It was not clear whether it was Dawson or Adebayor whom Andre Marriner's assistant Ledger flagged offside. Sherwood said later that he believed that Adebayor had touched the ball and, certainly, there was no complaint on his part.
With Yaya Toure on a booking for a trip on Dembele, City had to tread carefully. Martin Demichelis was unfortunate that referee Marriner did not get a proper sight of his challenge on Adebayor late in the first half. At first glance it looked like a foul by the City defender but it became clear from the replays that Adebayor had seen him coming and stamped down on his opponent.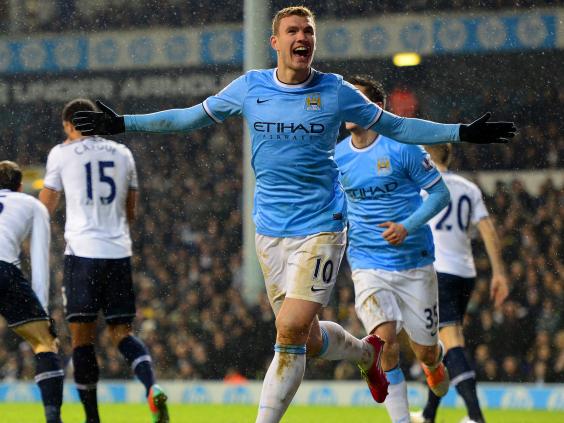 Aguero was replaced by Jovetic, his first appearance in the league for City in more than three months and at half-time Sherwood also made a change. Dembele had been one of his better performers in a difficult first half and one can only presume that injury forced his substitution, replaced by Capoue.
It went downhill rapidly for Spurs with Rose's red card four minutes into the new half. The tackle he attempted was risky, bringing his foot down on top of the ball as Dzeko went into the area in the right channel. However, it was undeniable that he made contact with the ball and that Marriner's decision to send him off was influenced by Ledger.
A terrible blow for Spurs who conceded immediately from Toure's penalty and then again five minutes later as they tried to reorganise. On that occasion it was rank bad defending. Silva had far too much time and space to move the ball left and shoot. Lloris looked like he pushed it on to the post. Then Chiriches gave the ball back to Dzeko and he scored.
At 3-0 down and with only ten men at his disposal, Sherwood tried to encourage his team to keep going forward. They got a big roar of approval before the hour when Capoue was allowed to sweep the ball in from a corner with far too little pressure on him from the City defence.
There was no way back though and another half-hearted block by Chiriches in the 77th minute meant that a shot by Jovetic skimmed off the Romanian and deceived Lloris for the fourth goal. Kompany tidied up for the fifth, after a Dzeko shot that Bentaleb blocked with his backside fell for the City captain. City will take some shifting from the top of the league.
In Pictures: Wednesday night's Premier League action
In Pictures: Wednesday night's Premier League action
1/14 Tottenham 1 Man City 5

Edin Dzeko earns a penalty despite Tottenham defender Danny Rose winning the ball

Getty Images

2/14 Tottenham 1 Man City 5

Yaya Toure scores Manchester City's second from the penalty spot

GETTY IMAGES

3/14 Tottenham 1 Man City 5

Michael Dawson of Tottenham Hotspur scores a goal only to be disallowed for offside

4/14 Tottenham 1 Man City 5

Edin Dzeko of Manchester City celebrates scoring their third goal

5/14 Tottenham 1 Man City 5

Manchester City captain Vincent Kompany completed the rout from close range

Getty Images

6/14 Aston Villa 4 West Brom 3

Fabian Delph of Aston Villa scores an own goal past Brad Guzan

GETTY IMAGES

7/14 Aston Villa 4 West Brom 3

Veteran defender Diego Lugano fouls Christian Benteke to give Aston Villa a penalty

Getty Images

8/14 Aston Villa 4 West Brom 3

Christian Benteke scores Aston Villa's fourth goal from the penalty spot

GETTY IMAGES

9/14 Aston Villa 4 West Brom 3

Frustrated West Brom manager Pepe Mel gestures to his players

Getty Images

10/14 Chelsea 0 West Ham 0

West Ham striker Andy Carroll looks on at Stamford Bridge

GETTY IMAGES

11/14 Chelsea 0 West Ham 0

Chelsea's John Obi Mikel holds off West Ham captain Kevin Nolan

GETTY IMAGES

12/14 Chelsea 0 West Ham 0

Chelsea striker Samuel Eto rues a missed opportunity

Getty Images

13/14 Sunderland 1 Stoke City 0

Steven N'Zoni of Stoke City is sent off by referee Robert Madley

GETTY IMAGES

14/14 Sunderland 1 Stoke City 0

Sunderland's Adam Johnson is congratulated on his goal by team-mate Fabio Borini

GETTY IMAGES
Reuse content