The headlines throughout the summer so far have all been asking the same question; does Gareth Bale's future lie at Tottenham? Or will he be leaving Spurs in the quest for Champions League football?
The Welsh wizard spoke to Esquire magazine about matters on and off the field, and can be seen gracing the front cover of the August issue.
Having become one of Europe's most sought-after players, Bale is starting to be mentioned in the same sentences as Lionel Messi and Cristiano Ronaldo. Perhaps he's not quite at that level, but there's no doubting that he's on the right path.
Here, we give a brief preview of what you can find in the interview.
The attacking midfielder spoke on how he enjoys the freedom of the Champions League:
"When you play in the Premier League, say you're playing against a lower-end team, they set up to defend all the time, they set up to block you off. But when you play in the Champions League, all the other teams are used to winning every week, so it's more of an open game, it's more attacking, end-to-end. No one's used to defending, everyone's used to attacking and trying to win games, so it's just all against all."
The Welsh international recounts his early experiences in Europe's elite competition: "The music is a massive thing." Zadok the Priest – Handel's anthem that announces the arrival of the teams. "When we first got into the Champions League, it's one of the things that most of the lads were looking forward to, hearing it in the stadium. It's little things like that which make it special."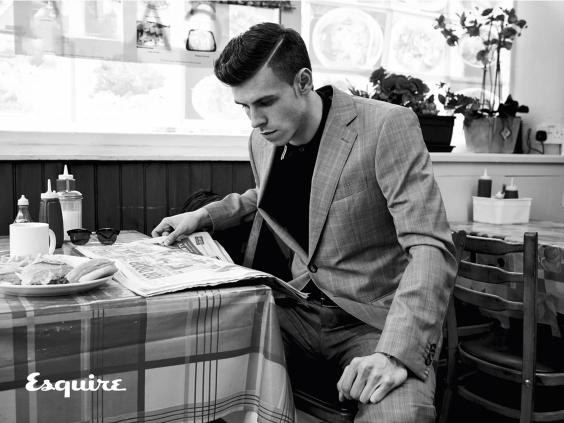 Bale reflects on the end of the Spanish dominance of European football: "I probably wouldn't agree with that, no. They are all good enough players to sort out one bad performance. Every team is allowed a bad spell and I'm sure they will come out of it."
He also mentioned how he keeps pushing himself to silence his harshest critic – his father Frank: "He always told me off if I did something wrong. Even now he still does it. But he makes me get better and I kind of want to keep proving him wrong to keep him quiet. He's always got something to say."
Bale on how he maintains his performances while always being in control: "I don't feel any pressure. If I'm the one scoring all the goals and winning us the games, then I just carry on as normal. I don't feel any different."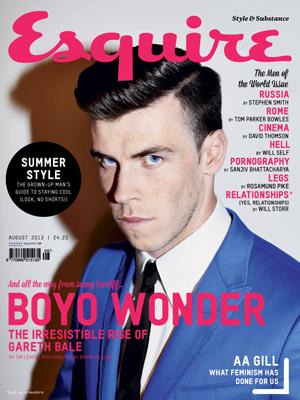 Read the full Gareth Bale interview in the Esquire August issue - on sale Wednesday 3 July.
For an exclusive behind-the-scenes video from the photo shoot go to www.esquire.co.uk/culture/article/4213/gareth-bale-video-exclusive/
Also available as a digital edition.