Tottenham were blessed with a wealth of riches following the £86m sale of Gareth Bale in the summer, but they are continuing to pay the price this season for not deciding to shop for a striker closer to their north London home.
One of their targets Loïc Rémy, was available just a few miles across town for a paltry £2m season-long loan fee from QPR, yet they decided that going abroad was the best option and invested a mammoth £26m in Roberto Soldado from Valencia instead.
Hindsight is a wonderful thing, especially given the latter's impressive record in Spain, however Tottenham fans were given the ultimate chance to compare the duo at White Hart Lane and were given another stark reminder of just what they have missed out on.
While Rémy settled the game with a finish of high class to take his tally to an incredible seven goals in nine League appearances, Soldado was on the periphery of the action and looked short of confidence.
He is not solely to blame for Spurs' attacking woes this season, which thanks to a miraculous performance from Newcastle keeper Tim Krul, now stands at nine goals from 11 League matches.
But as Rémy's pace and movement off the ball constantly worried Spurs' defenders, Newcastle, barring one first-half header, were able to keep the 28-year-old Soldado at bay with ease.
A prolific forward can make the difference between being title contenders, finishing in the top four or remaining among Europe's also-rans in the Europa League. How Spurs could do with the pace of Rémy, who latched on to Yoan Gouffran's smart through ball in the 13th minute before rounding Brad Friedel and stroking the ball in the net.
"Loïc really is in great form," the Newcastle manager Alan Pardew said. "He gave us the platform to win. He has a silkiness to the way he moves, a nice gait the way he runs. He really is a classy looking performer which is great if you back it up with goals, which he is. It makes him stand out."
Whether the France international would have had such an easy task ghosting past Hugo Lloris rather than Friedel is open to debate.
After being besieged with criticism following their decision to keep a concussed Lloris on the pitch last week against Everton, following a painful blow to the head from Romelu Lukaku's knee, he was left out for the second game in a row.
The 26-year-old was expected to return for this match and, given his ability to patrol the edge of his area with such speed and aplomb, one suspects that he would have made a better job of stopping Rémy than the ageing Friedel, who only found out he was starting a few hours before kick-off.
Not surprisingly, Villas-Boas couldn't hide his tension over the subject when it was raised in the post match press conference.
"I think the medical department should be allowed to explain to you," he said. "The only thing I can tell you is the medical department advised us not to play the player. I just follow orders. We did everything by the book to save the life of the player, the medical department deserve respect."
An impact test, which is a common practice used to measure whether a patient has fully recovered from concussion or not, was conducted on Lloris and it was deemed that the game had come too early for him to play.
He will be allowed to play for France in the World Cup play-off against Ukraine, with the first leg on Friday night.
Buoyed from their superb 2-0 victory over Chelsea the week before, Newcastle certainly deserved their first half lead, especially with Pardew playing an adventurous 4-4-2 system that saw Shola Ameobi playing alongside Rémy up front. Spurs looked as dazed and confused as Lloris did in the aftermath of his encounter with Lukaku at Goodison Park and the home fans let their frustration show, particularly when Soldado was slow to react to a fine cross from Christian Eriksen.
Even though the home side laboured for long periods, they still should have earned at least a point, but Krul was inspired in the Newcastle goal. A remarkable 14 saves in all, the highest since Opta started recording statistics in 2006, rightfully earned the plaudits.
The stop from Soldado's header in the first half and a remarkable double block after the break to stop Eriksen's deflected free-kick and Younes Kaboul's follow-up, took the breath away.
"Wow," Pardew enthused afterwards. "I think he is the best keeper in Holland. He answered almost everything, it was an unbelievable performance."
Boos rang out again at White Hart Lane as the match came to an end and the fans' frustrations with the lack of goals was palpable.
Villas-Boas added: "We have scored 29 goals [it's actually 32] this season, which is the second highest tally."
The majority of those were in lesser competitions. Perhaps they'll want to give QPR a call when Rémy's season-long loan runs out.
Tottenham (4-2-3-1) Friedel; Walker, Dawson, Chiriches (sub 46, Kaboul), Vertonghen; Paulinho, Dembele (sub 46, Sandro); Townsend, Eriksen, Sigurdsson (sub 69, Defoe); Soldado.
Newcastle (4-4-2) Krul; Debuchy, Williamson, Yanga-Mbiwa, Santon; Sissoko, Tiote, Cabaye, Gouffran (sub 85, Obertan); Ameobi (sub 60, Anita), Remy (sub 75, Cisse).
Man of the match: Krul (Newcastle)
Match rating: 8/10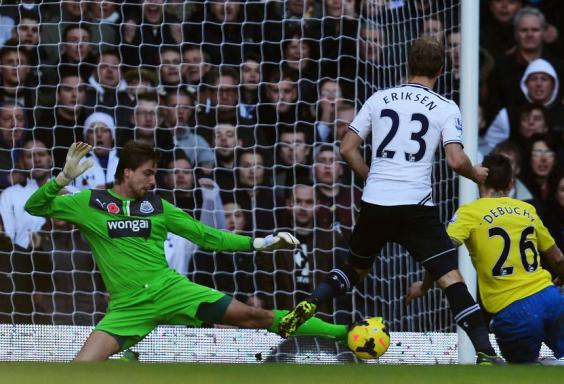 For Premier League Sunday - as it happened, CLICK HERE