Tottenham Hotspur will finally finish above Arsenal for the first time in 22 years but it says so much about how far ahead of them Mauricio Pochettino's side are - how much greater their ambitions are - that hugely relevant and long-desired fact only seemed a minor detail in a major 2-0 victory.
While Arsenal still just continue to concern themselves with the same old debate over whether the manager is going, Spurs are simply going places. Most obviously, to a brand new stadium so symbolically rising up in view of the pitch, lending a deeper resonance to this resounding win.
The last north London derby at the old White Hart Lane really couldn't have gone much better for Tottenham in terms of what happened on that pitch. It might mean it isn't yet the last hope for the title race, either after a resilient Dele Alli strike and debatable penalty from Harry Kane.
Tottenham vs Arsenal player ratings
Tottenham vs Arsenal player ratings
1/23 Player ratings

We run the rule over the two teams after Tottenham's derby victory.

Getty

2/23 Hugo Lloris - 7

Rarely called into action but on those occasions when he was tested he held his nerve to keep Arsenal out.

Getty Images

3/23 Kieran Trippier - 6

Not his best of performances. Made a hash of a number of crosses and was quiet at times. Some of his tackling was impressive, though.

Tottenham Hotspur FC via Getty I

4/23 Toby Alderweireld - 7

Defensively solid both in the air and on the deck. Rarely gifted Arsenal's front men the space or time to trouble the Tottenham goal.

AFP/Getty Images

5/23 Jan Vertonghen - 8

Tested Cech on a number of occasions with some sharp shooting. A real threat at corners. Fierce at the back. Excellent defensive display.

Tottenham Hotspur FC via Getty I

6/23 Ben Davies - 7

Hit the ground running and provided Spurs with a real sense of danger down the left flank.

Tottenham Hotspur FC via Getty I

7/23 Eric Dier - 7

An assured and rounded performance. Kept the Tottenham midfield ticking over all game long.

AFP/Getty Images

8/23 Victor Wanyama - 8

A true warrior at times. Seemed to emerge victorious from all of his challenges and was brilliant at dictating the tempo of Tottenham's game.

Getty Images

9/23 Christian Eriksen - 7

Provided the magic to open up Arsenal for Tottenham's first. Particularly dangerous in the visitors' final third. Passing was on point.

Tottenham Hotspur FC via Getty I

10/23 Dele Alli - 8

Showed real desire and fight for the first goal. An absolute menace across the entire front line for Tottenham. Very rounded performance.

AFP/Getty Images

11/23 Son Heung-min - 7

Was moved back into his preferred position and looked all the better for it. Enjoyed some piercing runs early on.

Tottenham Hotspur FC via Getty I

12/23 Harry Kane - 7

Excellent penalty to double Arsenal's lead. Hard working and tireless in his movement.

Getty Images

13/23 Petr Cech - 7 out of 10

Was tested by a number of challenging shots in the first half and put in some fantastic saves late on to limit the damage. One of the best shot-stoppers in the league. Would have been more were it not for him.

Tottenham Hotspur FC via Getty I

14/23 Gabriel - 5

A disappointing and uninspiring performance from him. His reckless challenge handed Spurs their second goal after Kane converted from the spot.

Getty Images

15/23 Laurent Koscielny - 6

Was off the pace for Tottenham's first. Should have moved quicker to close down Alli. Up until then he'd battled relatively well with the home side's front line.

Tottenham Hotspur FC via Getty I

16/23 Nacho Monreal - 4

Outclassed for much of the game. A considerable chink in Arsenal's weak armour.

Getty Images

17/23 Alex Oxlade-Chamberlain - 5

Out of his depth. Defensively poor and offered little going forward.

Tottenham Hotspur FC via Getty I

18/23 Aaron Ramsey - 6

Got a grasp of the game as it wore on and was one of the few Arsenal players to really test Lloris. Drifted out of the game though.

Getty Images

19/23 Granit Xhaka - 5

Made some solid challenges here and there but largely directionless in his play.

Getty Images

20/23 Kieran Gibbs - 4

Made little impact on the game. Another player who looked out of their depth.

Getty Images

21/23 Mesut Özil - 4

Another game in which he went missing. Dreadful display.

Getty Images

22/23 Alexis Sánchez - 6

Like Ramsey, the Chilean took a while to get going but by the end of the first half he was starting to have an influence on the run of play. Went off the boil in the second half though.

Getty Images

23/23 Olivier Giroud - 6

Willing to get back and help out his team mates defensively but failed to provide any real danger and creativity up front.

Getty Images
Chelsea slipping up at Everton would have obviously made it a much better day for Spurs and, although their 3-0 win at Goodison Park initially seemed to subdue both the performance and the crowd, it only ended up reflecting better on Pochettino's side that they so convincingly responded to it; that they kept going.
They look like they are going to push Chelsea all the way and at least make them work for this league title. Even if it ends with disappointment for Spurs in that regard, they can so rightfully look more optimistically at so many title challenges to come under this manager.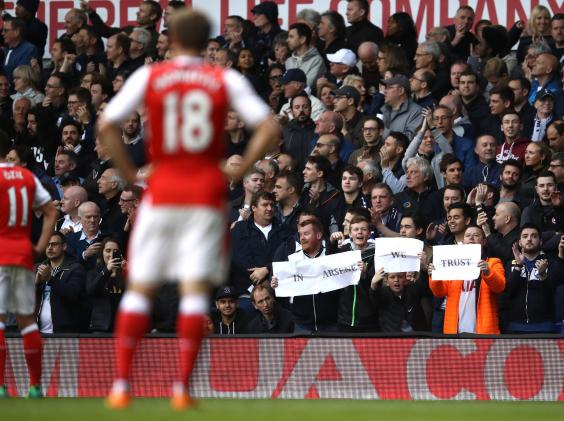 It's hard to know what the future looks like for Arsenal, meanwhile, as all the debate and doubt about Arsene Wenger goes on. This really was a pitiful display, especially given the stakes, the occasion and of course how they performed last week against Manchester City in the FA Cup.
It did take quite a while for the action on the pitch - and, to an extent, the atmosphere in the stands - to properly match the sense of occasion but, even then, the sense from the game was clear that Spurs are by now just a far superior team to Arsenal.
You didn't even need the obviousness of two first-half missed chances from Alli or Christian Eriksen to realise that. Even then, Spurs just looked a much better structured team, a much more sophisticated team, a much more focused side.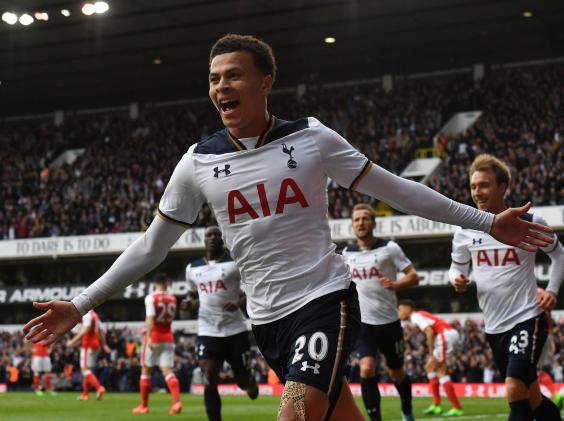 It could best be seen in the breaks in play. On the infrequent occasions when Arsenal did put Hugo Lloris's goal under some kind of pressure, it was usually the consequence of a bit of improvisation, and all so off-the-cuff. 
Alexis Sanchez naturally personified this, and it was no coincidence that his side's best spell came from his best efforts in trying to get them going.
Arsenal couldn't really get past that brilliant bedrock of a backline, though, and it is to Tottenham's further credit that it was when they won the ball back that it was really shown how good they can be going forward.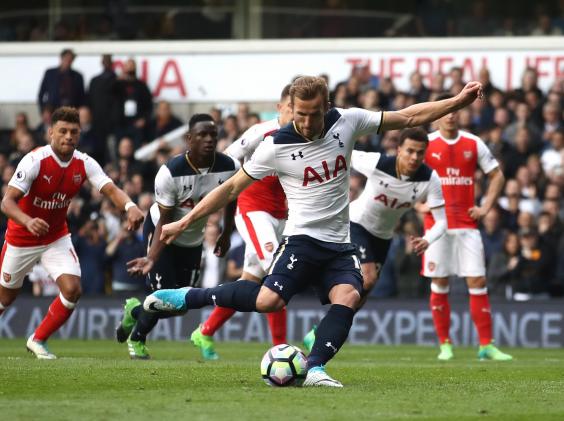 Victor Wanyama would - as ever - be there to block the way for Arsenal and begin something for his own team, before the electrifying Heung-Min Son would change the very momentum of the game in an instant with a charge up the pitch for a another highly co-ordinated attack.
That core had already brought a fair few openings in a relatively frustrating first half for Tottenham, so it was all the more predictable that a similar move was to preface the game-breaking goal. It also showed another of Spurs' more important qualities: their sheer bloody-mindedness, as epitomised by the goal.
This team don't cave, like so many of their notorious predecessors, but only keep going.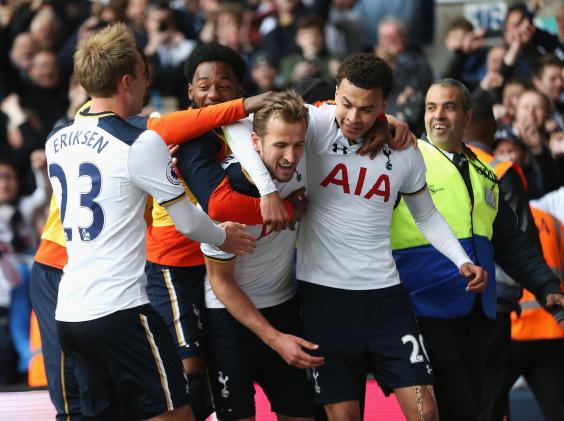 Eriksen had forced his way into the box through sheer will and, although his initial effort was blocked, Alli wasn't going to take no for an answer and sent the ball back towards the net with base tenacity.
That was the lead, that was the moment, and this was the swift Arsenal collapse. Kane had the ball in the box within seconds, skipping past Gabriel. The Brazilian defender stuck his leg out and, although Kane clearly made the most of anticipated contact, there could be few complaints when he went down.
It was silly from Gabriel. Michael Oliver pointed to the spot, and Kane continued to point the way forward for this club. He powered the penalty home to become the Spurs player to have scored more goals against Arsenal than anyone else in the Premier League era, with the promise of so much more to come.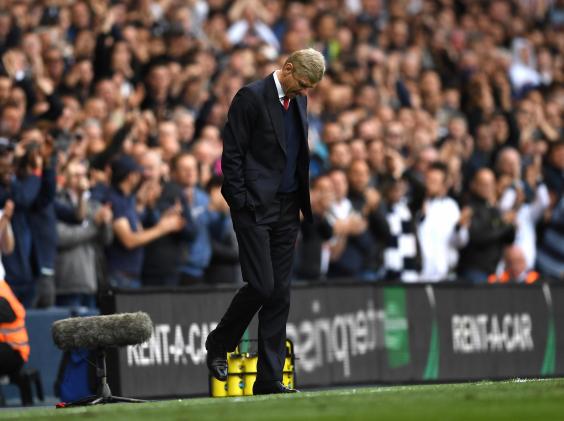 It was just another little significant piece of symbolism from the day.
In truth, though, this could have been so much more than a win that reflects the directions of these teams. It could very easily have been a thumping that made it painfully clear for Arsenal. There was already the barely explicable misses from Alli and Eriksen, but next came a series of barely believable saves from Petr Cech. The goalkeeper prevented this from being a humiliation, most notably from a Jan Vertonghen curled effort and then a Wanyama header.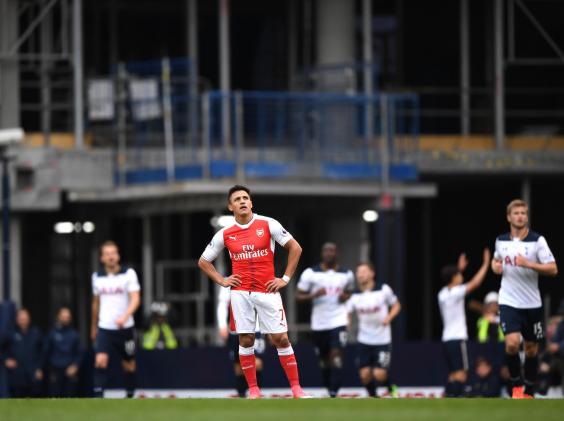 In what is just another indictment of this side, Arsenal had almost nothing in response. Their best chance of the game had been an Aaron Ramsey effort from outside the box in the first half, something long forgotten by the time Spurs were rampaging all over them.
It feels like a lot of the old accepted truths about this rivalry can be forgotten.
The ground has shifted. Spurs are moving on, in so many ways.
Reuse content