Tottenham Hotspur have unveiled the home and away shirts that they will be wearing next season.
The Under Armour kits were launched today with the designs inspired by former player and manager Bill Nicholson. 2014 marks the 10th anniversary of his passing. As manager Nicholson guided Spurs to the league title in 1961, the last time that they won the division.
The kits reference one of Nicholson's most famous quotes: "It is better to fail aiming high than to succeed aiming low. And we of Spurs have set our sights very high, so high in fact that even failure will have in it an echo of glory."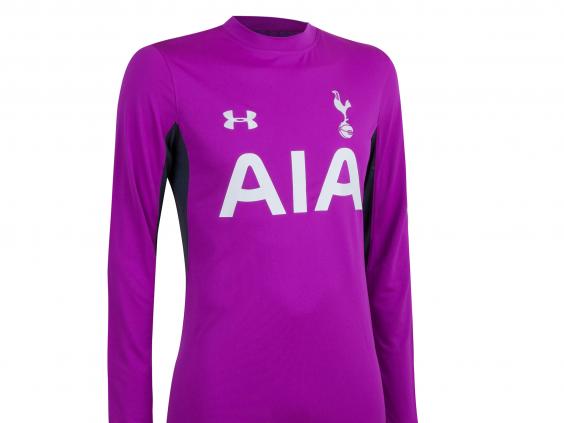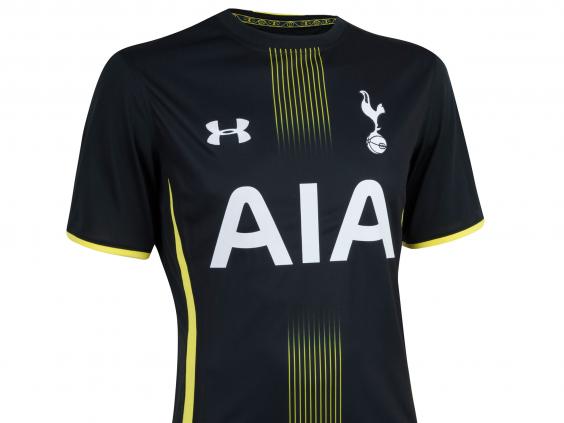 Premier League 2014/15 kits: In pictures
Premier League 2014/15 kits: In pictures
1/20 Aston Villa

Santi Cazorla, Mikel Arteta and Mathieu Flamini of Arsenal launch the new Puma Arsenal kits at the Puma Store on Carnaby Street. The yellow shirt will be for away matches and the blue shirt for away cup matches

Getty Images

2/20 Aston Villa (Home)

A number of clubs have opted for the thin stripe design on this season's shirt, and Aston Villa appear to have followed suit.

avfc.co.uk

3/20 Burnley (Home)

Burnley's claret and blue shirt, sponsored by Puma, is a decent viewing on their return to the Premier League.

Burnleyfootballclub.com

4/20 Chelsea (Home)

After Chelsea's famous paint campaign last season, Oscar models the simple, horizontal stripe design for the royal blue home kit. A solid effort from Adidas, but a pricey one at £55 for a short-sleeved shirt.

Chelseafc.com

5/20 Chelsea (Away)

Reminiscent of their famous 1998 shirt - and the infamous 2008 one which they played in under Luiz Felipe Scolari - Chelsea have chosen the Brazilian style design for their away shirt.

Chelseafc.com

6/20 Crystal Palace (Home & Away)

Is it Barcelona or more Steaua Bucharest? Either way, Crystal Palace's new home shirt is a simple and smart piece of innovation from manufacturers Macron. Their away kit, however, looks suspiciously like Napoli's - whose kit is also made by Macron - away shirt from 2013/14.

cpfc.co.uk

7/20 Everton (Home)

Everton players James McCarthy, Tim Howard and Leighton Baines model the 2014/15 shirt, which marks the comeback of Umbro into the Premier League.

Evertonfc.com

8/20 Leicester City (Home)

Leicester City's return to the Premier League has been marked with this rather smart effort by Puma. Carrying a similar template to Italy's shirts can never go wrong.

Leicester City Football Club

9/20 Liverpool (Home)

Warrior's latest crack at the Liverpool home shirt is an impressive one indeed, marking a return to the red and white colourway as opposed to red and gold in 2013/14.

Liverpoolfc.com

10/20 Liverpool (Away)

Their attempt at designing a decent away shirt, however, continues to falter with this ultra-bright yellow and red mix.

Liverpoolfc.com

11/20 Liverpool (Third Kit)

Liverpool's questionable choice for a sache and hoop combo has come under-fire from fans.

Twitter (@LFC)

12/20 Manchester City (home)

The Premier League champions have unveiled their updated Nike shirt, with a black v-neck collar replacing the previous blue and white trim on the crew neck.

Manchester City FC

13/20 Manchester United (Home)

Featuring new sponsors Chevrolet, the large logo has attracted a mixed response from Red Devils fans.

TWITTER/MANUTD

14/20 Manchester United (Away)

Wayne Rooney in the new Manchester United away kit

MANCHESTER UNITED

15/20 Newcastle United (Away)

A silky silver shirt replaces the plain black version from 2013/14, and seems to suit the rather bright Wonga sponsor a lot better.

nufc.co.uk

16/20 QPR (Home, Away & Third Kit)

Perhaps one of the best looking shirts so far, QPR's horizontal hoop home shirt is a joy to behold. The decision to have an all-white away shirt is quite baffling, however, given that white is also included in the home, and the third kit is somewhat Sunday League-ish.

Twitter (@QPRFC)

17/20 Southampton (Home)

Southampton's home kit for 2014/15

saintsfc.co.uk

18/20 Stoke City (Home & Away)

Stoke kits for 2014/15

Twitter (@Stokecity)

19/20 Swansea City (Home & Away)

Swansea City 2014/15 kits

Twitter (@SwansOfficial)

20/20 West Ham (Home & Away)

West Ham kits for 2014/15

Twitter (@whufc_official)
The away shirt features 11 yellow strips, signifying the number of trophies won during Nicholson's reign.
Reuse content