When he first came to Liverpool, Philippe Coutinho said he was different from most English footballers in that he didn't drink or have a tattoo. Eleven months on, he still touches nothing stronger than coffee but he now has the tattoo.
His left bicep has a picture of two hands brought together in prayer along with the words: "Never Stop Dreaming." The coming year is one when every Brazilian footballer – and there will be four at White Hart Lane when Tottenham face Liverpool – has the same dream.
"I see it as a stairway really," Coutinho said. "You play good football, then you play for a good team and then you achieve the level where you are invited to play for the Selecao – and then you have a good World Cup."
What he did not add was that the only good World Cup any Brazilian can imagine involves them winning it at the Maracana, where the pressure will be at its most intense.
The only other time Brazil staged the World Cup was in 1950. Uniquely, it had no final; the tournament was decided by a group phase. Brazil won their first two games, against Sweden and Spain 7-1 and 6-1.
They needed only a draw in the final match against Uruguay to win the tournament. They lost on a day that became almost like a Kennedy moment. It is known simply as "The Defeat". Barbosa, the keeper who conceded the winning goal, was blamed for the defeat and ostracised to the extent that the squad that contested the 1994 final refused to meet him, lest they be infected by his ill luck.
"There will be so much pressure on Brazil's players," said Coutinho. "For me, it is important that they try to smile and enjoy being part of the World Cup.
"We are all worried about problems with the economy and the infrastructure and that some violence may occur but the Brazilian people must show that they love football. The preparations have not been smooth but I am sure it will be a fantastic World Cup."
Ronaldinho, part of the last Brazil squad to win the trophy, always played with a smile that caught the eye of the young Coutinho when he was growing up in Rio de Janeiro.
"I am sure he meant to score that free-kick against England in 2002," he laughed. "I met Ronaldinho once in Rio at an event for his charity. Once a year he stages a game and invites different players and personalities to play. I was really nervous. It was difficult even to think straight when I got to meet the man who had been my idol."
Sandro, who will be part of the Tottenham midfield trying to control Coutinho, believes the attacking midfielder's game bears more than a passing resemblance to Ronaldinho's. "He doesn't move a lot but just when you think he is going to pass here, he passes there," said Sandro. "When you think he will do one thing, he does something completely different. Ronaldinho was like that."
Of the four Brazilians likely to be on show at White Hart Lane, Coutinho has the least chance of making the World Cup squad. He has played just once for Brazil, in a friendly three years ago, and there has been no contact with Phil Scolari.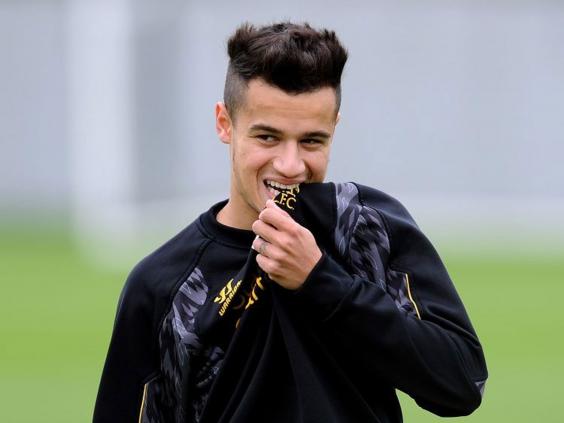 It is only since coming to Anfield that his career has stopped stalling. It says something that when he was being pursued by clubs at Vasco da Gama as a 16-year-old the choice of who he signed for was between Inter Milan and Real Madrid. Robinho, then on the point of ending his tortured relationship with Madrid, urged the club to act. "You are talking about a champion," he said. "He does things that are from another world."
He chose Inter, mainly because they would allow him to remain another two years with Vasco. His debut for Rafa Benitez was suitably glamorous – the Super Cup in Monaco against Atletico Madrid. However, there were too many managerial changes at San Siro. Coutinho lost his place and was loaned out to Espanyol. The choice last January was Liverpool or Southampton.
"Rafa helped me quite a lot, especially in relation to the European aspect of football. In Brazil, if you play where I do, you are not expected to track back or defend in any way. You are an attacker and that is that. Only technically are you part of a team. In Europe, you move faster, you think quicker and you become involved in more of the game."
Brendan Rodgers has talked of Coutinho's "arrogance" on the ball. When he was at Inter, he astonished everyone in training by nutmegging Marco Materazzi, a man of such standing that even Zlatan Ibrahimovic deferred to him.
The club masseur told Coutinho that if he did it again, he'd buy him a week's worth of snacks. Materazzi informed him that, if there was any repetition, he'd be eating them in hospital.
"Luis Suarez nutmegs people a lot in training," Coutinho said. "I try not to let it happen to me because he can't stop talking about it afterwards." With Steven Gerrard and Daniel Sturridge injured, it will be up to Suarez and Coutinho to force the results at Tottenham, Chelsea and Manchester City that will decide just how much of a force Liverpool will be in the second half of the season.
At least on Merseyside he feels more comfortable than he did in Milan. He wears the No 10 shirt which carries an iconic status in Brazil and he is smiling: "Like Ronaldinho, I want to show people I am enjoying myself.
"The team have treated me like one of the family," he said. "The people of Liverpool are as friendly as any Brazilians. They have a Brazilian way of dealing with relationships. It's a calm place and my wife and I enjoy it. Liverpool is very different to Milan or Rio because they are big cities. They have the things big cities have: violence, confusion, too much traffic. This is a much easier place to be." 
Tottenham Hotspur v Liverpool is on Sky Sports 1, 4pm
Reuse content