And so it ends, my spiritual home, not with a bang, not with a whimper, but with the crunch of bulldozers and thud of demolition balls.
White Hart Lane, known to generations of stadium announcers as "the world famous home of the Spurs", is to be demolished next week. In its place will be a nearby arena with almost double the capacity and (on the Arsenal precedent at the Emirates) less than a quarter of the atmosphere  
All change is for the worse, of course, even when it's plainly for the better.  Even in England, you won't find a more determined nostalgist than the generic football fan, let alone than those shackled to Tottenham Hotspur for over a half century without a league title.
Nothing concentrates the mind like your home ground's imminent execution, and the memories flood back in crystal clarity. Not that anyone forgets their first match - the noise, the colour, the visceral excitement, first exposure to sustained profanity. Mine, at seven, was a 2-0 win over Ipswich Town (Martin Chivers and an own goal) on 10 April 1971.
Under Bill Nicholson who managed Spurs to the League and Cup double a decade earlier, Spurs were still a force. We finished third in the table and won the League Cup, and  would win the Uefa Cup a year later after a 1-1 draw with Wolves on one of those nights when the noise thundering over the pitch from this tight, compressed ground made the difference.
White Hart Lane through the years
White Hart Lane through the years
1/12

Part of the crowd at White Hart Lane, London, watching Tottenham Hotspur play the visiting team, Bristol Rovers, January 1921

Getty Images

2/12

Fans waiting at the gates outside Tottenham Hotspur's White Hart Lane ground, London, before Spurs' FA Cup replay against Cardiff City, 9 March 1922

Getty Images

3/12

This terrace of houses is being demolished in Paxton Road Tottenham to make way for a new stand at the football ground in White Hart Lane. A two tier terrace will be erected in its place that will provide accommodation for 5,000 seated fans with 14,000 below it. 2 May 1934

Getty Images

4/12

Girder men working on the roof of the new East Stand development at Tottenham Hotspur's White Hart Lane ground, London, 17 July 1934

Getty Images

5/12

Tottenham Hotspur players training on the pitch at White Hart Lane in front of where the new East Stand is being built, 26 July 1934

Getty Images

6/12

An international football match between England and Germany at White Hart Lane, London, the ground of Tottenham Hotspur 4 December 1935

Getty Images

7/12

Crowds outside the Tottenham Hotspur Football Club at White Hart Lane, London, for the Spurs v Arsenal North London derby match, 3 May 1971

Getty Images

8/12

The old West Stand at Tottenham Hotspur's White Hart Lane ground being demolished, London, December 1980

Getty Images

9/12

A vew of the refurbished East Stand at Tottenham Hotspur's White Hart Lane ground, London, during a division one match between Spurs and Aston Villa, 29 September 1990

Getty Images

10/12

An aerial view of White Hart Lane, home of Tottenham Hotspur Football Club on 26 July 2011

Getty Images

11/12

Aerial Views of the New Tottenham Hotspur Stadium development at White Hart Lane on 6 May 2016

Getty Images

12/12

Aerial Views of Tottenham Hotspur's White Hart Lane redevelopment as work continues at White Hart Lane on 20 April 2017

Getty Images
But Billy Nick's powers were fading. He retired in 1974, and we found ourselves marooned in what the Motty edition of The Football Cliche Compendium calls a "relegation quagmire."
In April, 1975, we hosted Chelsea with the loser certain to go down. My cousin Nick, a Chelsea fan, and I arrived at the Lane at 9.15am. The ticket office opened at 1.30. By 3pm, a pitch invasion delayed kick-off. Whatever the official figure, there must have 65,000 there to see Spurs win 2-0.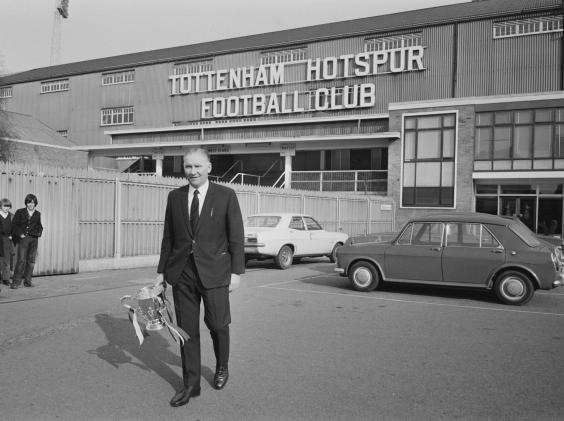 Ten days later, we had to avoid defeat in the final match against mighty Leeds United to stay up. At 6pm, apologising for making me miss the Radio 2 commentary, my father announced an impromptu sponsored walk. It didn't occur to my sullen little self that this was a screamingly hilarious prank even as we parked near Tottenham Hale station.
Not being that bright, I asked why so many men wearing blue and white scarves were on the same walk. He grinned and handed me a ticket. Somehow, we beat Leeds 4-2 with a brace from beloved full back Cyril Knowles.
In the 1970s, the Jewishness which has come largely to define the Lane was less overt. The smoked salmon bagel vendor had yet to compete with the burger vans, and the chant of "yiddoes"  - inoffensive to this Jew, though I appreciate the unease it causes others - was barely heard.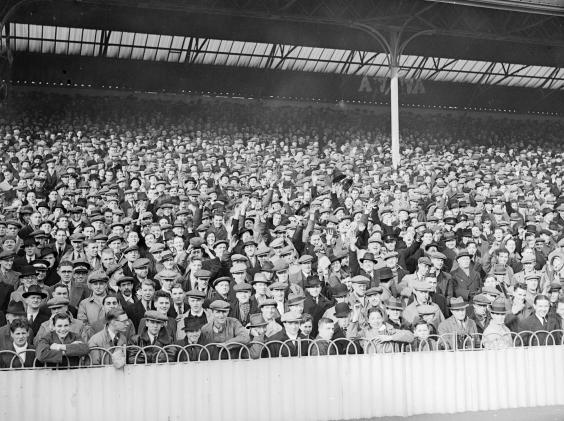 Yet there was a flavour of Jewish neurosis in the East Stand. Whenever Spurs scored in the opening minutes, as Howard Jacobson has noted, 5,000 voices murmured,  "It's too early, it's much too early".
We had plenty to neurose about, mind, and Spurs were relegated in 1977. But after promotion the following season, Keith Burkinshaw signed the Argentines Ossie Ardiles and Ricardo Villa. With Glenn Hoddle's sublime genius beside them in midfield, the Lane enjoyed its best days and nights since the early 1960s.
In 1984, a floodlit, deafening Lane saw Tony Parkes palm away an Anderlecht penalty to win a second Uefa Cup.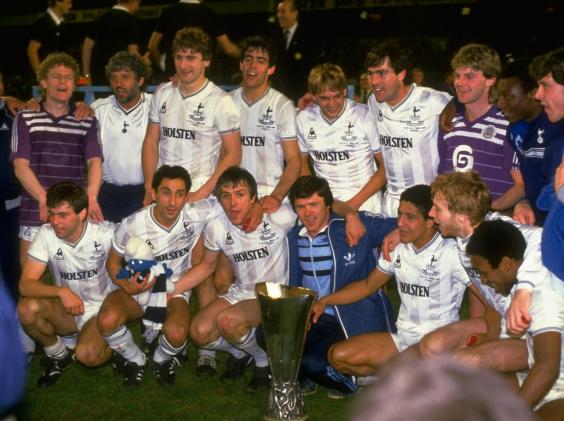 Spurs being Spurs, failure provides as many memories as success. We should have won the title in 1985, but blew it by losing 1-2 at the Lane to rivals Everton, whose keeper Neville Southville's reflex save from a Mark Falco header made Gordon Banks' "salmon save" from Pele look like collecting a cushioned headed back pass. I can see it in the mind's eye now from my  vantage point behind the goal in the North Stand. A fortnight later, we contrived to lose 1-5 at home to mid table Watford.
It would get even Spursier than that. A brief early 1990s renaissance under Terry Venables gave way, after his firing by Alan Sugar, to a long stint of unbroken mediocrity. The Lane had a fine new West Stand but not the team to match.
In 2001, when Spurs led Manchester United 3-0 at half time, even the Jews splashed the urinals with hubristic smugness. Fate took the bait. Invisibly but unmistakably, Nemesis came on for United. It finished Tottenham 3: Man U 5.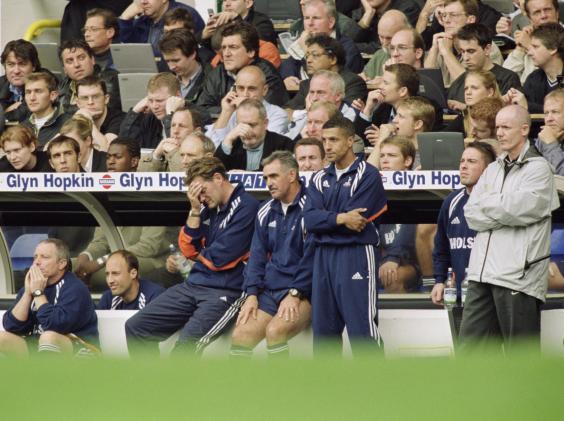 That was comic relief next to the disaster of 2004, when Man City visited for a Cup replay, and again we led 3-0 at the break. When Joey Barton was sent off for City moments after the restart, we anticipated at least seven goals. And so there were. Unfortunately, at the final whistle, four had been scored by City.
"These things happen in football," reflected ex manager David Pleat, though they don't. At no other ground, so far I can discover, has a professional team lost from that position. Anywhere in the world. Ever.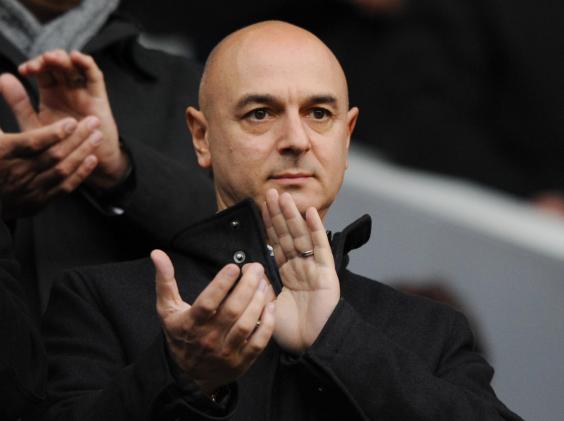 Along with the memories of being present is one of being absent. In 2007, the chairman Daniel Levy banned me (and the newspaper) from the Lane after taking deep umbrage with some thoughts expressed in the Evening Standard. 
A decade later, possibly vindicated by the impressive (if trophy-less) form of the last two seasons, Levy is leading us a few metres to the promised land of a state of the art stadium seating 61,000. After an interim season at Wembley, where our recent form suggests Spurs would struggle to draw with Arthritic Pygmies FC under-11s, we move to the new gaffe next autumn.
Obviously, it won't be the same. All football grounds are unique, as Orwell nearly wrote, but some are more unique than others. With its curious mix of romantic idealism (the display of Danny Blanchflower's quote that the game is about glory rather than winning, which is a bit of luck for us), the thunderous acoustic and that gentler undertone of Jewish resignation, the Lane was uniquer than most.
I won't be there for the finale against Man Utd on Sunday. Some events are too poignant to be faced without a bottle of whisky and a funnel. But I hope we do the old place proud, and show respect for Blanchflower, by foresaking an easy win with a gloriously shambolic denouement. That would be the Spursy way, the Laneish way, to say farewell.
Reuse content