Manchester United are now confirmed to finish the Premier League season outside the top four but Jose Mourinho insisted after their 2-1 defeat at Tottenham Hotspur that the teams ahead of them in the table would rather be in United's position.
United have already won the Community Shield and EFL Cup this season and will face Ajax in the Europa League final later this month. If they win they will finish with three trophies, two major ones, as well as a spot in next season's Champions League, making what has been a difficult season look significantly better.
While Tottenham and Manchester City look set to finish second and third, with Liverpool likeliest in fourth, Mourinho pointed out that none of those teams have won each anything. And he suggested that Spurs, City and Liverpool, despite their league positions, would rather be competing in finals like United were. Missing out on the top four, Mourinho argued, was a matter of priorities, not of capability.
Tottenham vs Manchester United player ratings
Tottenham vs Manchester United player ratings
1/22 Hugo Lloris – 6 out of 10

The keeper made a handful of crucial saves today to keep his side in the lead. He commanded his box well and was quick off the line.

2/22 Kieran Trippier – 4 out of 10

The defender struggled to keep up with the pace and ability of Martial. Was on the backfoot for much of the game.

3/22 Toby Alderweireld – 6 out of 10

He held the line well at the back and made a number of crucial interceptions and blocks.

4/22 Jan Vertonghen – 6 out of 10

It was a disciplined display at the back, but at times he was dragged out of position in the hunt for possession.

5/22 Ben Davies – 7 out of 10

Davies assisted Wanyama's goal in sublime style and his deliveries into the area throughout were problematic for United.

6/22 Eric Dier – 6 out of 10

Dier used possession well and continued to provide service for the forwards throughout.

7/22 Victor Wanyama – 7 out of 10

He scored the opener, worked relentlessly and his passing was faultless.

8/22 Christian Eriksen – 8 out of 10

As always with Eriksen, his deliveries were remarkable. His ability to pick a player out within a group is simply sublime.

9/22 Dele Alli – 8 out of 10

His movement off the ball upset United and caused chaos within their defence. He tested De Gea on several occasions – top display.

10/22 Son Heung-min – 6 out of 10

An energetic display, but it would have been encouraging to see him shoot more.

11/22 Harry Kane – 7 out of 10

He scored Tottenham's second which capped off a terrific display from Spurs' main man.

12/22 David De Gea – 7 out of 10

De Gea made several saves to prevent Tottenham extending their lead. Very dominant goalkeeping from the 26-year-old.

13/22 Eric Bailly – 7 out of 10

Held his position well at the back and was excellent in the air. A disciplined display from the 23-year-old.

14/22 Chris Smalling – 5 out of 10

He struggled to keep up with the movement of the Spurs forwards and, as a result, he was repeatedly dragged out of position.

15/22 Phil Jones – 6 out of 10

Jones held the line at the back reasonably well and controlled the United defence. A textbook display.

16/22 Daley Blind – 5 out of 10

Blind lunged into challenges, which left the United defence vulnerable at times.

17/22 Michael Carrick – 6 out of 10

As always, his vision when in possession was impressive. He was pumping balls up to the forwards relentlessly.

18/22 Axel Tuanzebe – 7 out of 10

The youngster held his own out there against a quality strike force. Made a number of vital tackles and interceptions.

19/22 Jesse Lingard – 5 out of 10

Lingard looked lost at times and was drifting into the background of the game. Needs to do more when he is in possession.

20/22 Juan Mata – 6 out of 10

He was impressive in possession, but it would have been encouraging to see him with more of the ball.

21/22 Wayne Rooney – 5 out of 10

He scored United's only goal, which went some way to redeeming his poor defensive play.

22/22 Anthony Martial – 7 out of 10

His energy and pace provided a positive prospect for United. He troubled the Spurs defence with his trickery and footwork.
"I don't know the way the other clubs think, I don't know what is important for them," Mourinho barbed. "At Manchester United, for us it's more important to win titles than to finish top four. So if we can win a third title, or as you like to say, a second title, if we can do that it would be magnificent for us."
Mourinho then suggested that his position, stuck in sixth, but competing in finals, was more enviable than it looked. "We know it's a big objective, we know that if we lose the final we don't play Champions League, we know that," he said. "But we fight for titles and probably other clubs finishing in the top four, probably they would like to be in our position, to try to fight for a title."
Mourinho rested key players again today, just as he did when United lost 2-0 at Arsenal last Sunday. With the Europa League final coming up he knows that is his priority, even ahead of Premier League games. Mourinho said that his situation was "impossible" and "not a choice", that he had no option but to de-prioritise the league.
"I'm not upset, because we had to make that decision. When people say 'we gambled', we didn't gamble," he said. "We had to do it."
United's fixtures have piled up and they travel to Southampton on Wednesday night too. After difficult away trips to City, Arsenal and Spurs in the last few weeks, Mourinho suggested that the Premier League fixtures were not random, but were in fact chosen.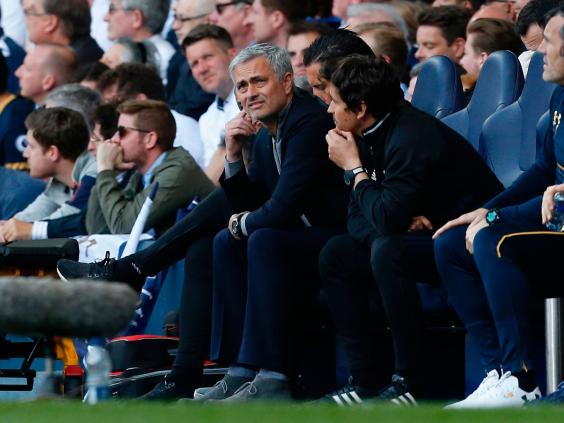 "Even the draw [for the fixtures], if it is a draw, I never understood well if it is a draw," Mourinho said. "Or if they put the dates into the computer. I never understood that very well. But to finish the season with four matches away from home, Arsenal, Tottenham, Man City."
Mourinho reiterated his belief that these external conditions made it impossible for United to compete, and that he was doing well by saving United from disaster. "If you were fighting for the title, what a way to fight for the title," Mourinho said. "If you want to try to get some results and protect players, which matches to protect players?  I cannot go to Man City or to Arsenal and put five kids at the same time all together. I cannot lose 5-0 or 6-0. So it's difficult, difficult, but we know what we are doing."

Reuse content