Mauricio Pochettino defended Danny Rose last night over the tackle that injured Hector Bellerin in the north London derby earlier this month.
Bellerin is out for one month after a tackle from Danny Rose that Wenger described as "very strong" in his press conference on Thursday morning. Wenger said that he did not think it was malicious on Rose's part, but was still a bad tackle. 
"It was in the last 10 seconds," Wenger said of Rose's tackle on Bellerin. "It was a bad one. It's annoying to lose Bellerin, that's for sure. Did Rose want to injure Bellerin? I don't think so. He just went in for the tackle."
But Pochettino leaped to Rose's defence when asked about Wenger's comments at his own press conference on Thursday lunch-time. The Spurs manager said that aggression and tackling was part of football, and that while he was full of respect for Wenger, that he thought it was "strange" to criticise Rose's tackle.
"I respect Arsene Wenger a lot," Wenger said. "After 20 years as a manager in one place, at Arsenal, I respect that. But for me what happens on the pitch is never about bad intentions, it is about football."
"I totally understand when players are playing with passion like Danny or anyone in our team - we are always aggressive in our play and sometimes things happen because football is very aggressive - it is a contact sport, always. You cannot avoid the contact."
Pochettino pointed to the fact that Rose got a knock from Dani Carvajal during England's friendly on Tuesday, or a bad tackle by Jamie Vardy on Cesar Azpilicueta, to point to the fact that bad tackles and knocks are part and parcel of football.
"Two days ago there was a bad tackle on Danny from Carvajal but that is football," Pochettino said. "If Danny says he cannot play on Saturday, I cannot criticize Carvajal, because it is a game. Or Vardy for the tackle on Azpilicueta, that is football. We want all players to be like a man, be aggressive, make a tackle, always. Sometimes you cannot stop, you arrive late and you cannot criticise every single tackle."
Pochettino said that he was confident that Harry Kane and Hugo Lloris would eventually commit their futures to Tottenham and sign new contracts because they were happy at the club. Both players are currently locked in negotiations with Spurs, but after most of the rest of the team signed new deals over recent months, Pochettino was confident two more deals would be done.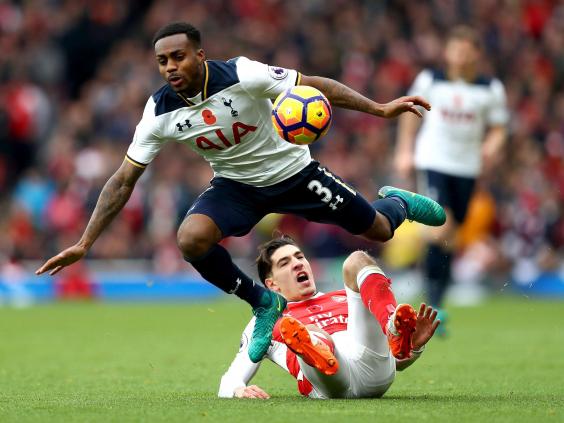 "The fans need to be calm and have no worries about this," Pochettino said, "because the players show their commitment to the club. They want to be here for the long term. The club and the players are talking about improving their contracts, it is not a problem to do."
"We cannot be worried about things like this because the players are very happy," Pochettino continued. "They want to be at Tottenham, they feel it's a project and it's a club that has the potential to be one of the best in the future."
Pochettino said that the constant pressure to improve his players' contracts showed that they were succeeding, which was a good thing. "I take it in a positive way," he said. "We are talking about a good thing: a contract, more time, showing commitment. It is fantastic. Why not talk about that? It shows we are doing a good job and the club is doing a fantastic job too."
Reuse content