Tottenham today revealed that White Hart Lane will be developed  into the biggest club stadium in London and will host the NFL when it is completed in 2018.
Spurs' plans show that the ground will hold 61,000 fans, which will be more than Arsenal, whose Emirates Stadium has a capacity of 60,432, while Chelsea's proposal to redevelop Stamford Bridge will take it up to 60,000.
As the Evening Standard exclusively revealed in April, Spurs have also agreed a partnership with the NFL, with the club today announcing a  10-year deal to host a minimum of two gridiron matches a season.
Where will Tottenham move to whilst White Hart Lane is re-developed?
Where will Tottenham move to whilst White Hart Lane is re-developed?
1/4 Wembley

Brent Council have always stipulated it will only allow 37 events per year to take place at Wembley Stadium. Last year, including pop concerts, England matches and NFL fixtures, there were 33, which would seem to make it impossible for Spurs, but they could hold a few large matches there.

GETTY IMAGES

2/4 Milton Keynes

Stadium mk, home to MK Dons, is around 55 miles away. It will not please the fans but it is feasible.

GETTY IMAGES

3/4 Upton Park

West Ham vacate their home in 2016 to move to the Olympic Stadium and the possibility of delaying the ground's redevelopment into houses by a year so it could be a temporary home for Spurs has been explored. But the delay caused by the land dispute case with Archway Sheet Metal Works would require developers to hold off for two years instead of one, which is less feasible.

Getty Images

4/4 Olympic Stadium

West Ham are extremely reluctant to share their new home with Tottenham almost as soon as they move in. Ultimately the decision is not up to them, but as anchor tenants of the publicly owned stadium they hold significant negotiating power.

GETTY IMAGES
The ground is being built with extra facilities for the NFL in mind, with bigger dressing rooms and a retractable grass pitch which will reveal a synthetic surface. It will also include a single-tier stand holding 17,000 people, making it the largest of its kind in the country.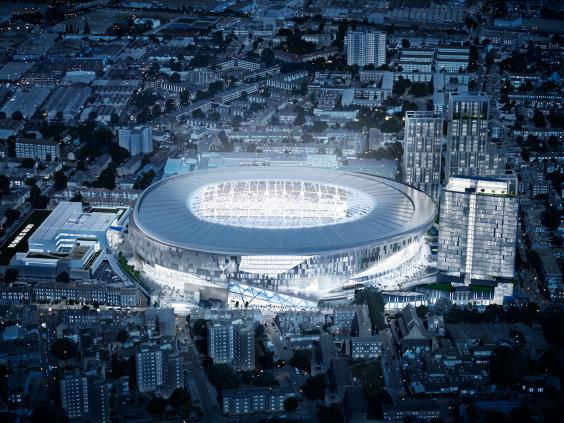 Spurs confirmed they will have to play the 2017-2018 season away from their home but expect to move in for the start of the following campaign.
Once completed, the club believe they will have the finest stadium in the world.
Chairman Daniel Levy said today: "I am delighted to present a stunning new stadium design and wider scheme that will deliver an unrivalled fan experience and significant community benefits — creating a world-class sports, leisure and entertainment destination for all — and in our birthplace of Tottenham.
"It will be our new home for generations to come and we want it to be exceptional.
"We are all excited to be taking the project to the next stage. Our commitment is to find the best solution for the club, our supporters and our community. It will be our new home for many years to come and we want it to be exceptional in every aspect.
"Schemes of this scale and magnitude must undergo continuous and rigorous review in order to ensure it is future-proofed and the design is optimised.
"We are determined that this scheme delivers something that becomes an iconic landmark, instantly recognisable around the world and capable of acting as the catalyst needed to kick-start the regeneration of this area. Just as we take our responsibility seriously in using football to engage with our communities, through the work of our Foundation, so too do we take seriously our responsibility to make the stadium and associated development deliver benefits for and be a vibrant part of Tottenham and London.
"These plans will be transformational for the area and the access and opportunities they afford our communities will be extensive."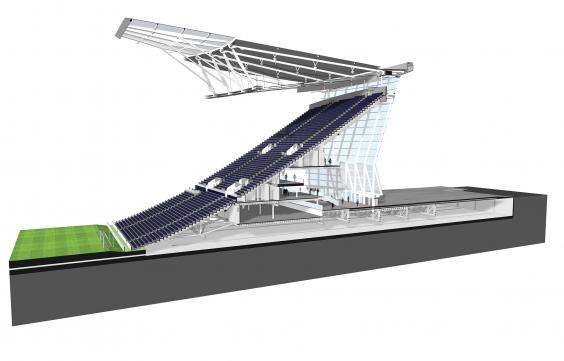 Watching football and the NFL will not be the only thing on offer, as Tottenham have included more attractions to encourage people to attend all-year round.
Included will be a 'Sky-Walk' that will allow visitors access to the top of the stadium roof, the largest indoor climbing wall in the world as part of an Extreme Sports centre and 'The Tottenham Experience' as a permanent visitors' centre with an interactive museum for the club and local heritage.
As part of the redevelopment of the area, there will also be a new 180-bedroom hotel, plus 579 new homes will be built. The scheme will also boost employment and the local economy. Once complete, Spurs estimate they will go from supporting 1,800 jobs to 3,500 and from generating £120m of annual spend into the local economy to more than £293m.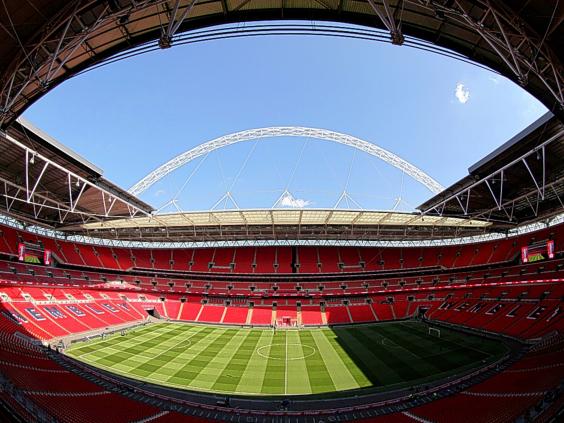 The cost of the rebuild is thought to be around £400m and it is believed Milton Keynes is Spurs' most likely destination for when they have to move away in 2017-18 for work to be completed.
Hosting the NFL will provide a good money-earner, with the FA collecting £3m per game in the deal to stage matches at Wembley between 2013-16.
Reuse content