Tottenham need to score when they have their tails up
It is a peculiar trait in English football but some clubs just seem have a way about them. There's the 'West Ham way' which provided the backbone of England's 1966 World Cup triumph.
The 'Arsenal way' did much the same for France's fortunes in '98. Meanwhile, two tube stops down, the 'Tottenham way' has invariably been a hard-luck fable, often on the periphery of the elite in England's top tier.
Of late, Spurs have occasionally struggled to make their on-field dominance pay. It was there for all to see again on Sunday when Christian Eriksen's opener was cancelled out – grossly against the run of play – by Marcin Wasilewski's forehead.
As the two sides trudged down the tunnel at the interval, Mauricio Pochettino would been forgiven for fearing history was repeating itself. 
This time it was Robert Huth's brow to do the damage but the story was much the same. So close and yet so far from a title challenge, the North Londoners can't shake off their old habits.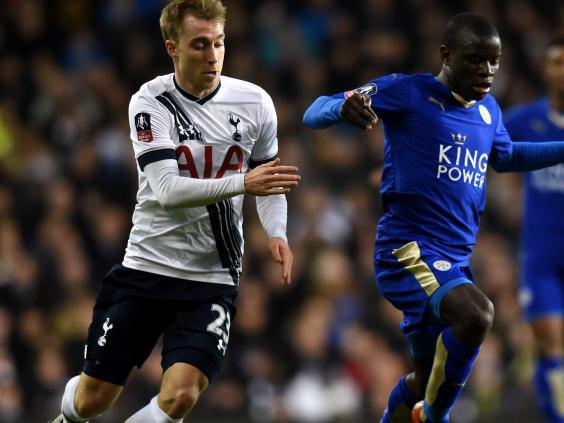 Kante and Drinkwater just as important to Leicester as Vardy and Mahrez
It's understandable that the media's glare has been reserved for Jamie Vardy, the 15-goal former non-league sensation, and Riyad Mahrez, potentially the greatest January bargain of recent times.
But much of Leicester's success this season – forgetting Claudio Ranieri's astute management and the collapse of the established order – is down to two other men in blue.
Danny Drinkwater, rejected and sold cheap by Manchester United, and former Caen man N'Golo Kante are chartering territory their team-mates would rather steer well clear of in the middle.
The Foxes' odd couple are as close to a footballing throw-back as you're likely to get, bamboozling their way through any opposition midfield who dare give them enough space.
Fortunately for them, Spurs were happy to oblige. If the wheels are indeed to fall off on Leicester's season, you'll have to stop Drinkwater and Kante first.
Goalkeepers prove their worth
First Hugo Lloris dived in at Vardy's feet, one-on-one in his six-yard box, to deny the England man from point blank range.
Then Kasper Schmeichel, his arms aloft like a scorpion's pincers, galloped off his line to knock Harry Kane's 62nd minute shot onto the crossbar. In two quick-fire instances, separated by mere moments, the story of this match was epitomised fittingly. 
As 0-1 away scrapes go, this wasn't as dour as it might seem. It'll undoubtedly be forgotten, mind you, underneath the back page coverage of Arsenal's 3-3 draw at Liverpool.
But rather than attacking impotency, it was two goalkeepers hell bent on preserving their clean sheets who kept the scoreline down.
Lloris and Schmeichel are equally comfortable at their respective clubs with little-to-no competition to keep them up at night. In circumstances like these, shot-stoppers need an ingrained selfless pride to keep them at the top of their game.
Luckily for Spurs and Leicester, these two have that rarest of commodities in abundance. Unluckily for Lloris, mind you, his Danish counterpart has a more resolute defence to call upon.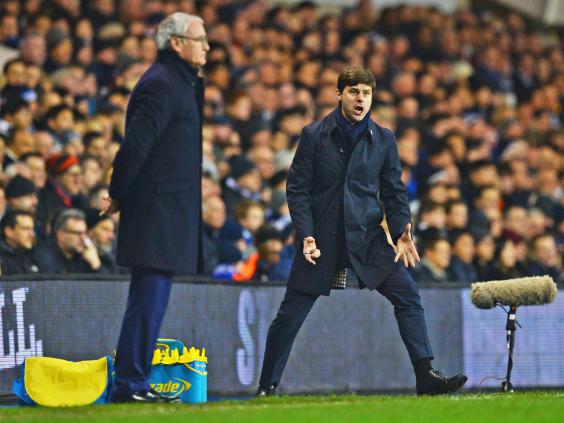 Pochettino rants and raves - to little effect
The Pochettino of 2016 is not the 2014 vintage who arrived from Southampton in May of that year and bumbled his way through press conferences. 
Few would argue that the 43-year-old Spurs boss is a sharp, bright and articulate manager destined for great things. Even linked with Manchester United in recent weeks, tentatively so, the ex-Espanyol boss brags a 49% win rate at the Lane.
Pochettino fits the new 21st century brand of manager, giving him a head-start in the battle for hearts and minds. You wouldn't find Don Revie adorning a knee-length Italian-style jacket and dark brown brogues.
Since leaving St Mary's, the Spurs boss has continued his one-man mission to build England's next generation, studied the language and developed an exciting, settled side. 
Despite all this, cracks persist – not just at set pieces. Not even his touchline protestations, seldom witnessed before this defeat, could stop Leicester's march.
The elephant in Tottenham's changing room
They had been warned. Wes Morgan scored here with a bullet header last season, in a 4-3 thriller which seemingly plunged Leicester deep into the relegation mire.
Wasilewski did it on Sunday, too, ghosting through the Spurs penalty area to arrow it past Michel Vorm in the FA Cup. The script was written, it just needed the hosts' defence to sign off the final draft.
German centre-back Huth, another lamppost of a man, was handed with the sort of space usually given to sneezing commuters on the tube.
If Tottenham have genuine Premier League title aspirations - yet to be confirmed on this showing – instances like that, with so little time to spare, simply can't happen.
Leicester were without a League goal since before Christmas. Not only have Pochettino's boys gifted them three points, they've given the Foxes their mojo back too.
Reuse content