After a game of so much chaos, there was clarity later – not least regarding Nigel Pearson's uncomplimentary opinion of the referee, Mike Dean.
Otherwise, this relentless Tottenham win emphasised exactly why Harry Kane has been called up for England; exactly why his club are unlikely to get close to a top-four finish, having initially squandered a two-goal lead; and exactly why Leicester City are doomed to relegation.
All that was only confirmed after a contentious penalty decision on 64 minutes, with the score 2-2, after Danny Rose was bundled to the ground by David Nugent, and which Pearson described as "bizarre".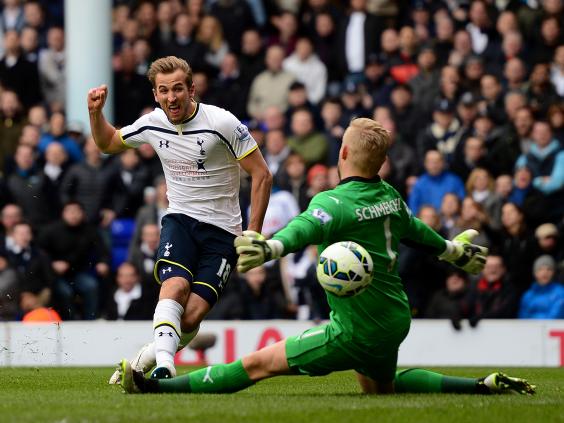 When asked on television whether he spoke to the referee about it, the Leicester manager responded: "The arrogance of the man is frightening. What's the point in speaking to him, he's one of the most arrogant men I've ever met." Pearson could face an FA inquiry into those remarks.
The incident did ensure, though, that everyone would again be speaking about Kane. The penalty gave the 21-year-old the chance to complete the first League hat-trick of his career, and cap a fine week for him. It was also crucial to his team, anabling them to secure  three points after they had let an initial 2-0 lead slip to 2-2.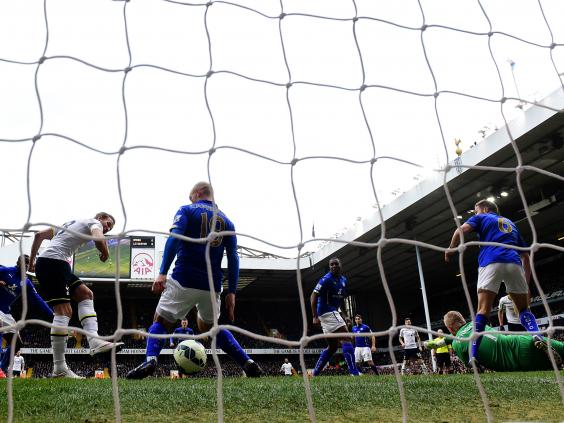 Leicester showed the kind of spirit they have so often managed against the better sides, but also the hapless defending that is set to doom them to relegation. Yet they were not the only side here guilty of defensive howlers, and Pearson was not the only manager in angry form. As Nugent thumped in the last goal of the game to make it 4-3, Mauricio Pochettino angrily threw a water bottle at the ground in frustration.
It was that kind of game, and it was the kind of flaw that illustrates how short of the top level this Tottenham team still are.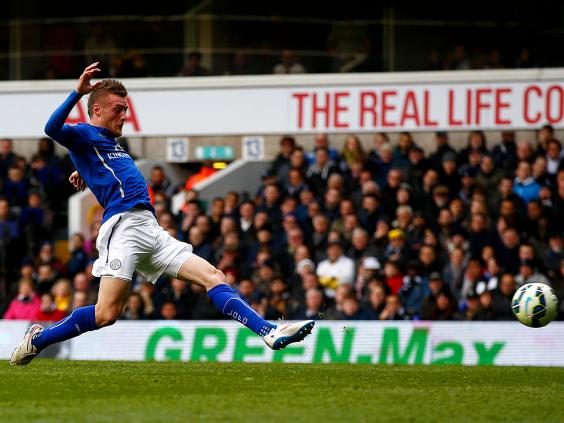 It started negatively enough for Pochettino as a Hugo Lloris injury will only add to the manager's concerns. The goalkeeper was taken off after just three minutes following a collision with Kyle Walker that left him with a cut on his tendon.  The Spurs doctor will assess the situation overnight.
At least there was Kane. He opportunistically tapped in after six minutes to give Spurs the lead before claiming a second seven minutes later with a scuffed effort that deflected in off Robert Huth. The Dubious Goal Committee may yet take that second strike away from Kane, but there was no taking away from his performance.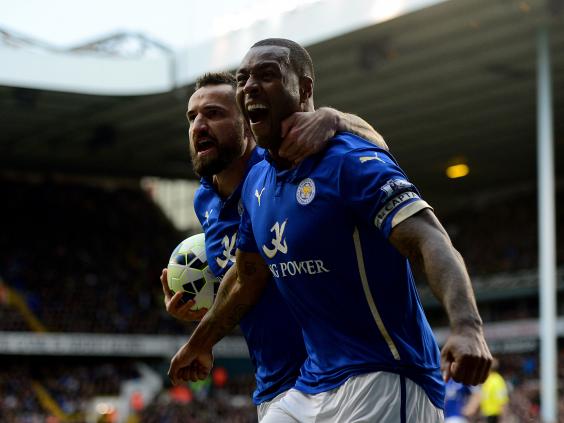 Not for the first time this season, Pochettino praised his match-winner."If you see the [rest of] the English strikers, he is on top [form]," the Argentinian said. "I think [it was a] fantastic, fantastic game, fantastic performance. I'm very pleased for him, his first hat-trick in the Premier League. It's impossible to speak better."
When asked where Tottenham would be without Kane, Pochettino puffed his cheeks out. "I don't know. I think Harry is part of Tottenham, but we worked hard today. It was a difficult game, but it's true Harry is a very important player for us."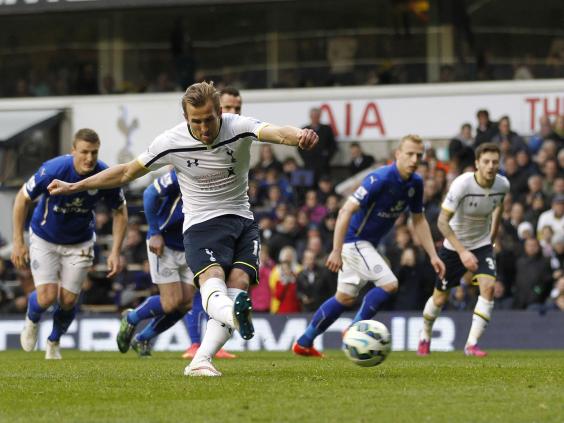 He was very important to this win. Without Kane on this kind of form, Spurs might well have been beaten, as they so quickly succumbed to the worst of their failings. After 50 minutes, Leicester were level. Jamie Vardy pulled one back on 37 minutes, and the tension could be felt around the stadium as the away side sensed blood. They soon drew it again, as Wes Morgan headed in from a corner for their second. It summed up Spurs' frustration that Nabil Bentaleb was lucky to stay on for appearing to swipe at Leonardo Ulloa.
Then, on 64 minutes, came the moment that so angered Pearson. Nugent bundled over Rose but, despite the Leicester manager's protestations, it was one of those decisions that could have gone either way. Kane duly sent Kasper Schmeichel the wrong way.
Spurs then seemed to seal the win on 85 minutes as Jeff Schlupp turned Christian Eriksen's effort into his own goal, but the match was still not secure.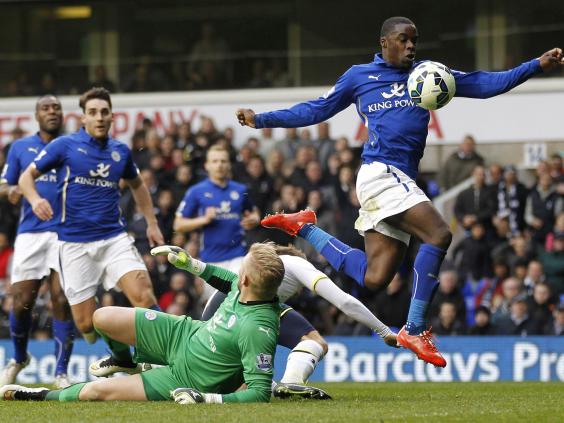 Nugent slammed in the game's seventh goal, and Pochettino slammed that water bottle at the ground. He admitted that his back line needs to improve, and that he was furious.
"It's true I'm a little worried. You need to understand, we concede after 2-0, two goals to go 2-2. After 4-2, we concede after 90 minutes. We need to improve. Maybe it's part of the process.
"We're a young team. This season, we need to improve our defensive game. I think, after the defeat against Manchester United, it was good to take the positives.
"We need to improve our performance in defensive situations. It's a collective problem."
However, they have one individual in Kane who regularly fixes such problems at the other end. That has never been clearer.
Tottenham Hotspur: (4-2-3-1) Lloris (Vorm, 3); Walker, Vertonghen, Dier, Rose; Mason (Dembélé, 88), Bentaleb; Townsend (Paulinho, 57), Eriksen, Chadli; Kane.
Leicester City: (3-4-3) Schmeichel; Morgan, Upson (Wasilewski, 45), Huth (Mahrez, 76); De Laet, Cambiasso (King, 86), James, Schlupp; Nugent, Ulloa, Vardy.
Referee: Mike Dean.
Man of the match: Kane (Tottenham)
Match rating: 8/10
Reuse content